GAME is taking advantage of high demand for amiibo figures. Initially, the retailer had the various figures priced at £11.99, which was £1.99 higher than the asking price on Amazon and Asda. But now, the price has risen to £14.99.
GAME stores across the UK will be distributing a pair of Pokemon for Pokemon X/Y later this week.
Starting on April 4, those who visit any GAME location can receive codes for Magmar or Electabuzz. Pokemon X players can earn the former while Pokemon Y players will receive the latter Pokemon.
Codes will be printed on cash receipts upon request. No purchase is necessary.
Electabuzz will come with an Electirizer whereas Magmar will be holding a Magmarizer. When traded holding these items, Electabuzz will evolve into Electivire, while Magmar will evolve into Magmortar.
You can find today's announcement below with additional information pertaining to the Pokemon card game and upcoming advertising.
A few days before Mario Kart 8 hits store shelves, PowerA will release a racing wheel based on the Wii U title.
UK retailer GAME has details about the item that is officially licensed from Nintendo. "Get closer to the action than ever before, and feel ever twist and turn of the race, with an authentic arcade experience," the product listing states. Users can easily attach their Wii Remote to the accessory, which features complete artwork from Mario Kart 8.
The "Wii U Super Mario Kart Racing Wheel" will be available in the UK on May 20. Pricing is set at £9.99.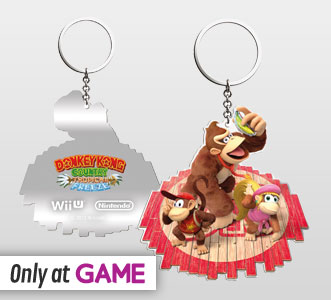 GAME
is giving out a special bonus with pre-orders of Donkey Kong Country: Tropical Freeze. Reserve Retro Studios' latest and you'll receive a special keyring. Note that the keyring is exclusive to GAME.