This week's issue of Famitsu has a big update on Rodea: The Sky Soldier. The magazine introduces the "R series" of humanoid robots, new characters, and more.
R Series
One portion of Famitsu's article reveals information about the "R series". This is a series of humanoid robots with the power of flight.
The emperor of Naga empire, Giado, launched the "R project" to produce robots to use as a spearhead in invading other countries. Rodea has lost the memory of that event, and is now protecting the people of Garuda by confronting his former allies. Rodea was a prototype, so the other members of the R series are more powerful.
Speaking of Giado, Famitsu has a couple of tidbits about the character. He was formerly a good father of Cecilia. That all changes, and he has since enhanced his body with machine parts.
Below is the full rundown of the R series: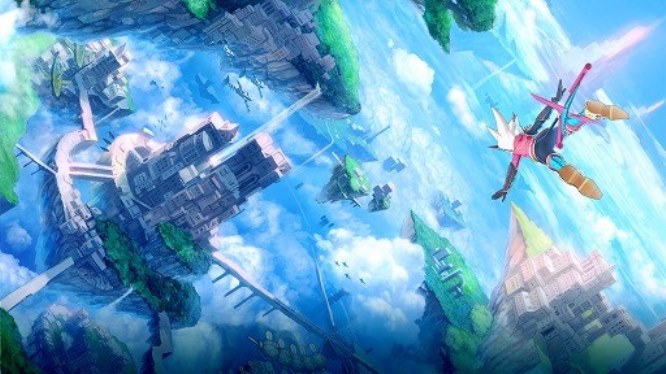 There's not one, but three different versions of Rodea: The Sky Soldier. Among the Wii U, 3DS, and Wii versions, the story and foundations of stages are shared, though there are some key differences between each edition. Japanese website 4Gamer recently put up a preview of all three releases and provided information about how each one plays.
If you haven't been keeping up with Rodea or need a quick refresh, let's recap the core plot. "Gravity Energy" has caused everything to become mechanized in the Naga Empire, which sets out to invade the floating continent Garuda for the first time in a millennium. When this happened previously, the princess of Naga Empire entrusted her will to the robot Rodea and disappeared. A mechanic named Ion finds Rodea in some ruins (now in present day), who awakens once more. His knowledge of the old princess' whereabouts reside deep within his memories.
With out of the way, let's move on to gameplay details!
Continue on for Rodea: The Sky Soldier on Wii U…
Japanese outlet 4Gamer has uploaded screenshots showing the different versions of Rodea: The Sky Soldier. Along with Wii U images, we have first direct-feed screenshots of the 3DS edition, plus Yuji Naka's original game for Wii. The full set can be found above.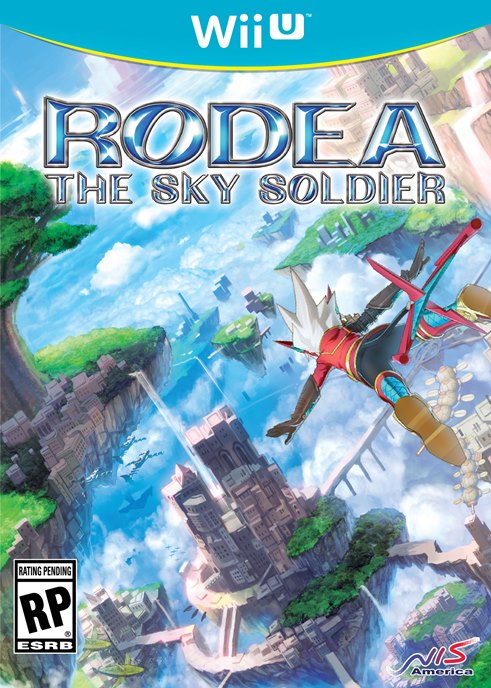 NIS America has announced that all first print copies of Rodea the Sky Soldier for Wii U will include the Wii version, creator Yuji Naka's original vision. The offer applies to both North America and Europe. Note that this is exclusive to the retail release, and once the first printing is finished, the Wii title will no longer be included.
Source: NIS America PR
Last week's episode of Denjin Getcha, a live show broadcast on Nico Nico had Hasegawa Hitoshi from Kadokawa Games present. During the episode they featured quite a bit from the Wii U version of Eodea: The Sky Soldier as well as a minor snippet from the 3DS version. Check out the video above for some actual gameplay!
By the time Rodea: The Sky Soldier hits store shelves in Japan, it will be about 3.5 years since the game was originally announced. So what took so long? Prope's Yuji Naka, along with director Jin Hasegawa, commented on this and more at Kadokawa Games' "Rodea: The Sky Experience Tour 2014 ~First~". You can find a summary of what was shared below, courtesy of 4Gamer and Siliconera.
– The Rodea discussions began with "what thoughts went into the creation of Rodea?"
– Director Hasegawa always wanted to make a game where you can fly
– He's dreamed about doing this since he was a kid
– Before making Rodea, Hasegawa had always been involved in the development of games with violence, so making an all-ages game is something he's been wanting to do for a while
– These two thoughts prompted Hasegawa to meet up with Yuji Naka
– After they met, he felt like he might be able to make two of his wishes come true
– Naka says a sequel to NiGHTS was highly demanded around the world, but it was never made sort of for the same reason that Steven Spielberg never made a sequel to E.T
– Naka: "I didn't want to do anything that could possibly take away from the good that was NiGHTS"
– Naka instead was doing research and development for a game that would allow you to fly around the skies more freely
– Making a game that lets you freely fry around in 360 degrees proved to be difficult, even with access to a gyro sensor-equipped controller
– Naka came across the Wii while going about his usual trial-and-errors for finding a way to make something work
– By using the Wii Remote, he felt that he might be able to make a new type of action game that would give you the freedom of flight in 360 degrees
– Naka now needed to get a game company to get on board with his project
– Naka crossed paths with Kadokawa Games when it was determined that the game could happen
– Development began, but opinions held by the developers at Prope clashed with those of the publishers
– Naka says out of the 9 years of existence since the establishment of Prope, they've never had as many arguments as they did while working on Rodea
– In the end everything worked out and both the publisher and developer were able to come to an agreement
– Naka still remembers all the trouble that went into the making of the game
NintendoWorldReport has published a new preview for Rodea: The Sky Soldier following NIS America's localization announcement last night. Read on below for an information summary.
– Game kicks off with an inventor named Ion reactivating Rodea
– Rodea is a tailed flying humanoid robot
– Rodea was a soldier for Princess Cecilia and the Garuda Kingdom who battled the Naga Empire a thousand years ago
– The Empire suddenly returns to wage war against Garuda, so Rodea again must battle
– Has a NiGHTS vibe
– Wii U/3DS versions are different from the Wii original
– These versions change from an "arcade" play style to a "sky adventure"
– No pointer controls like in the Wii game
– There is a targeting system in the Wii U/3DS versions
– Move a targeting reticle and press A to have Rodea travel in the desired direction
– Press X while on the ground to travel straight upward in the air
– Can perform a spin attack with the B button
– Y button: use equipped weapons to shoot down enemies
– Rodea's world is made up of many floating islands
– Rodea has a limited flight ability
– Can collect floating crystals in the air
– If you target one while flying in the direction of a several in a row, Rodea will automatically collect them all
– There are rings to fly through and other intermediate targets
– Final game has hidden areas and multiple paths
– There are also obstacles such as zip lines and time trial challenges
– StreetPass support for 3DS version
– This allows players to gain new items
– 2D art on the 3DS' touch screen
– Ion talks to you while flying around
– Game is full of voice dialogue