Another round of Attack on Titan: The Last Wings of Mankind details and screenshots have appeared. You can find a roundup of the latest content below.
– Play as humanity's strongest soldier in Levi's story
– Will encounter the female titan in the forest of giant trees
– World Mode: develop weapons by collecting raw materials
– Can also hire soldiers to fight with in battle in this mode
– Customize equipment before each mission
– The Three Dimensional Maneuver Gear and Plug-In Blades used for fighting titans have many variations
– It's handy to have recovery items ready
– "Normal Mission" and "Investigation Mission" available in World Mode
– Normal: number of Army Corps members increases every time you complete a mission
– Once you reach a certain number of Corps members, new missions will become available
– Investigation: total number of group members decreases regardless of the mission's outcome
– Can obtain valuable items instead
– Can sometimes pick up a "Ring" during combat
– This allows players to become a titan for a fixed time
– If you become a titan, you'll become stronger, use punches and kicks to attack, and can stomp titans of smaller stature
Thanks to Jake for the tip.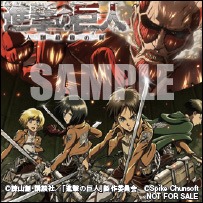 Retailers in Japan are offering various pre-order bonuses for Attack on Titan: The Last Wings of Mankind. Animate will be giving out a mini Attack on Titan microfiber cloth while HMV is providing can badges (pins). Reservations at Imagine come with a cloth poster pack, and Sanyodo is providing a clear folder. Lastly, Stellaworth has a bromide card.