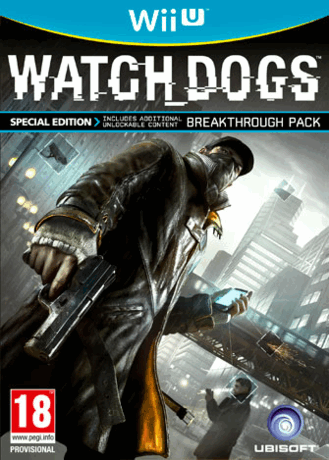 Ubisoft prepared a few special releases for Watch Dogs in Europe, including the Dedsec and Vigilante Editions. These were originally thought to be coming to Wii U, but UK retailer GAME has now indicated otherwise.
"It is with great disappointment that we can confirm that unfortunately on this occasion Ubisoft will not be producing either the Dedsec or Vigilante editions on Wii U," GAME said in a recent email sent out to consumers. Those who pre-ordered either of the two versions are now being switched to the GAME-exclusive Special Edition.
For those wondering, the Special Edition seems to feature a bit of exclusive digital content. It includes the "Breakthrough" mission pack as well as the "Vehicle Expert" pack. These sound like DLC items to me (unless I'm missing/misunderstanding something), which makes things a bit confusing given how, just yesterday, Ubisoft confirmed that there are no plans to bring Watch Dogs' downloadable content to Wii U.
Thanks to Derek for the tip.
CVG is reporting that Ubisoft has created a dedicated "core team" within the company featuring members from the Child of Light development group.
In an interview with the site, Ubisoft Montreal's VP of creative Lionel Raynaud said:
"We are super happy with Child of Light. The team did a good job and the game had a great reception. We were proud to deliver something new and unique – a lot of people were surprised that Montreal was delivering this kind of game. The team learned a lot about RPG mechanics during development and this has resulted in us creating a core team. The people who made this game now want to work together again, whether it's on a small game or not. This dynamic has incredible value in the industry and it's what we want to do: we want to create core teams that want to make great games."

"So yes, we will encourage other initiatives like Child of Light and there's a chance that we will have many more games like that in the future. I already have many different projects that are in the pitch stage – I even had one in my office this morning, which was super exciting."
Plourde himself has "moved on" from the Child of Light team to work on a different project. However, the chance to work on a smaller game provided him with the opportunity "to grow and try something different."
"It wasn't the most commercial idea so it became very personal – I even did a lot of the PR myself; GDC talks, global tours etc. I have moved on. I guess I'm a special snowflake in this case, because I hate being stuck in one place. At some point somebody put me in a room and said, 'Pat, you're the Rainbow Six guy!' or 'You're the Assassin's Creed guy!' but I said no, even after Far Cry."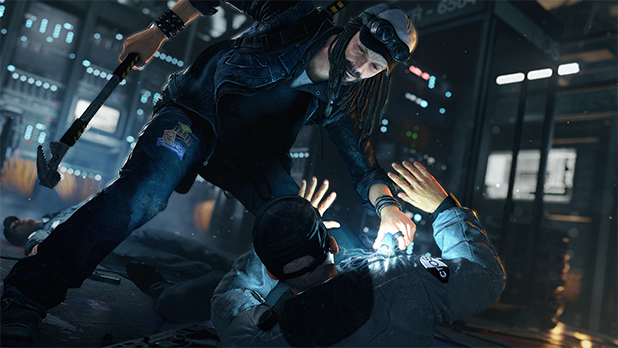 Despite shipping later on Nintendo's platform, the Wii U version of Watch Dogs will not feature any downloadable content. It doesn't seem as though any extra DLC will be included in the base game, and items won't be available for purchase either.
The official Watch Dogs Twitter account confirmed today:
@snowyday2 Unfortunately, the DLC will not be available for the WiiU_

— Watch Dogs (@watchdogsgame) September 24, 2014
Watch Dogs launches for Wii U on November 18. All other versions shipped in May.
Ubisoft published the full tracklist for Just Dance 2015 today. The game features many songs from the Billboard Hot 100 chart such as "Black Widow" by Iggy Azalea ft. Rita Ora, "Happy" by Pharrell Williams and "Bang Bang" by Jessie J, Ariana Grande & Nicki Minaj.
Here's the full listing:
"Bang Bang" – Jessie J, Ariana Grande & Nicki Minaj
"She Looks So Perfect" – 5 Seconds of Summer
"Problem" – Ariana Grande Ft. Iggy Azalea and Big Sean
"4×4" – Miley Cyrus
"Best Song Ever" – One Direction
"Happy" – Pharrell Williams
"Till I Find You" Austin Mahone
"Addicted To You" – Avicii
"Black Widow" – Iggy Azalea Ft. Rita Ora
"Maps" – Maroon 5
"Birthday" – Katy Perry
"Bad Romance" – Lady Gaga
"Built For This" – Becky G
"Holding Out For A Hero" – Bonnie Tyler
"Summer" – Calvin Harris
"Tetris" – Dancing Bros.
"You Spin Me Round (Like A Record)" – Dead Or Alive
"Let It Go" – Disney's Frozen
"Burn" – Ellie Goulding
"Bailando" – Enrique Iglesias Ft. Descemer Bueno & Gente de Zona
"Mahna Mahna" – Frankie Bostello
"Never Can Say Goodbye" – Gloria Gaynor
"I Love It" – Icona Pop Ft. Charli XCX
"You're On My Mind" – Imposs Ft. J. Perry
"Love Me Again" – John Newman
"Only You (And You Alone)" – Love Letter
"Ain't No Mountain High Enough" – Marvin Gaye and Tammi Terrell
"Get Low" – Dillon Francis & DJ Snake
"Diamonds" – Rihanna
"Me And My Broken Heart" – Rixton
"Walk This Way" – Run-DMC & Aerosmith
"Don't Worry Be Happy" – The Bench Men
"Epic Sirtaki" – The Bouzouki's
"Speedy Gonzalez" – Los Pimientos Locos
"Macarena" – The Girly Team
"Love Is All" – The Sunlight Shakers
"It's My Birthday" – will.i.am Ft. Cody Wise
"The Fox (What Does the Fox Say?)" – Ylvis
"XMas Tree" – Bollywood Santa
"Fatima" – Cheb Salama
Just Dance 2015 will be available on October 21 in North America and October 23 in EMEA territories.
Source: Ubisoft PR
Ubisoft has officially announced that Watch Dogs will be coming to Wii U on November 18 in North America. The European version is set for November 20.
In the Wii U version, a detailed and interactive map of Chicago will be displayed on the GamePad. Off-TV play is also supported.
Ubisoft Bucharest has been working on the Wii U version of Watch Dogs in collaboration with Ubisoft Montreal.
Source: Ubisoft PR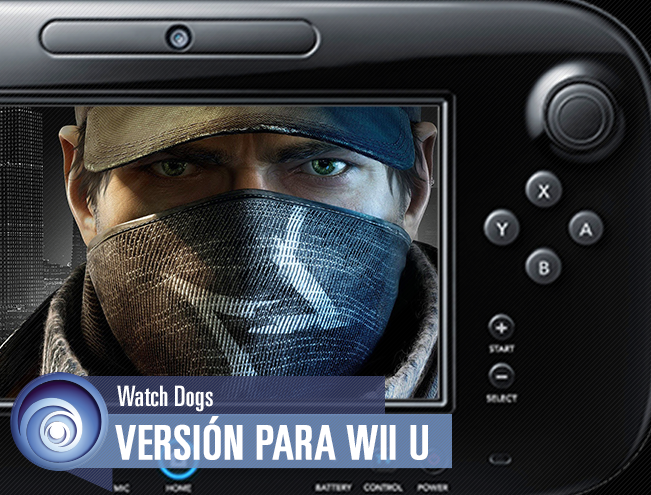 Watch Dogs will be heading to Wii U on November 18, if Ubisoft Mexico's Facebook page is to be believed.
A message posted on the page reads:
We'll follow up with Ubisoft's US branch to see if the date can be verified. Until then, consider this a rumor.
Ubisoft has officially confirmed Poptropica: Forgotten Islands for 3DS. You can find a trailer above and the announcement below.
Today, Ubisoft announced that Poptropica®: Forgotten Islands, the brand-new adventure based on the massively popular virtual world for kids, is coming to Nintendo 3DS™ system. The game hits the shelves on October 14, just in time for the holiday season.

Poptropica fans will embark on exciting quests in the ultimate on-the-go Poptropica 3D experience. In Poptropica: Forgotten Islands, players explore the vast, uncharted Island chains of Poptropica, discovering the secrets of their past one artifact at a time. They must uncover the truth to prevent a shadowy force from destroying the Forgotten Islands' history forever.

On the adventure through the Islands, players will find items that unlock new areas, gameplay challenges and mini-games. They will encounter different types of challenges focused on literacy and building problem-solving skills, so kids learn while having fun! Players can also customize the look of their avatars with new clothes and accessories to create their own Poptropica style icon.

For the latest information on Poptropica: Forgotten Islands, please visit www.poptropica3ds.com.
Source: Ubisoft PR
Ubisoft CEO Yves Guillemot has issued a challenge to Nintendo's Shigeru Miyamoto. Guillemot is looking for Miyamoto to participate in the ALS Ice Bucket Challenge.
Nintendo of America president Reggie Fils-Aime was recently called out by Xbox boss Phil Spencer to take part in the same event. Reggie hasn't posted his video yet, but we can apparently expect big things.
The mobile title Poptropica Forgotten Islands will soon be coming to 3DS, according to a Best Buy listing. Ubisoft will apparently be publishing the game on October 14 in North America.
Here's a brief overview of Poptropica Forgotten Islands from Best Buy's listing:
A thrilling adaptation of the popular virtual world for kids, Poptropica Forgotten Islands sets you off on an unforgettable journey throughout a chain of uncharted islands whose origins are shrouded in mystery. Climb aboard your blimp and explore the islands from the sky or take off on foot, running, jumping and steering clear of hazards, as you experience the islands from an up-close and personal vantage point. This isn't just a relaxing trip to paradise though, you'll have to embark on exciting quests in order to get to the bottom of Poptropica's past.

Poptropica Forgotten Islands is set on the vast Poptropica islands, which are based on dynamic themes, allowing you to explore and collect artifacts and other items that grant access to new areas and gameplay challenges. Each artifact you collect brings you one step closer to discovering the secret of Poptropica's origins. Personalize the appearance of your avatar thanks to more than 100 unlockable costumes and accessories, so your character can truly reflect your personal style. Complete quests and a host of mini game challenges. Find out how the Poptropica islands began in Poptropica Forgotten Islands.
You can find the boxart and a few screenshots for Poptropica Forgotten Islands above.
Ubisoft's European boss Alain Corre commented on the status of Wii U while speaking with GamesIndustry at Gamescom 2014 last week.
Corre's mainly discussed the new Super Smash Bros., which he believes "will be a trigger to increase the momentum of the Wii U at Christmas." He added that the series "could be magical" on the console.
Corre's comments in full are as follows:
"To be honest, we always want more consoles. Just Dance 2015 is resonating very well. We think it will please a lot of [existing] Wii U owners and push more families to buy extra Wii Us. But we also believe that Super Smash Bros. will be a trigger to increase the momentum of the Wii U at Christmas. As a gamer, I was playing [Super Smash Bros.] over ten years ago, and it has some of the best moments that Nintendo has shared. I think that franchise could be magical [for the Wii U]. Nintendo has some of the best franchises in the world and it knows how to make great games. It proved that with Mario Kart, and it will prove that again with Super Smash."