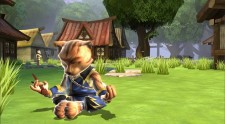 1 month ago
By
Brian
(
@NE_Brian
)
11 Comments
The news of Legend of Kay's revival was unexpected, to say the least. It originally launched for the PlayStation 2 back in 2005, and ended up as more of a niche platformer for the console. Yet now the game is back in a remastered format for Wii U and a few other platforms, thanks to Nordic Games and developer Kaiko.
Nordic recently announced that Legend of Kay Anniversary is slated for spring. With the title's launch coming sooner rather than later, we caught up with Kaiko's Peter Thierolf for an interview. We asked Thierolf about why Legend of Kay is returning after so many years, what sort of improvements are being implemented, how it will play on Wii U, and more.
Read on below for our full interview.