Players are also encouraged to visit the newly launched website

Torrance, Calif., (January 28, 2010) – XSEED Games announced today that Ragnarok DS has gone gold, and will start shipping to retailers across North America beginning February 16th with a suggested retail price of $34.99. The game releases with an early pre-sale program that supports the game's popular MMORPG PC counterpart, Ragnarok Online PC (iro.ragnarokonline.com). Developed by Gungho Works, Ragnarok DS brings the same addictive gameplay of customization and exploration enjoyed by more than three million North American registered users in the PC version to Nintendo DS. More information can be found at the newly launched website at www.ragnarokds.com

Players step into the roll of young Ales as he steps into the world in search of adventure with the goal of eventually starting his own Guild. It is not long before this young rookie adventurer is propelled down a path toward danger, excitement, and a heroine in distress. Throughout his travels Ales encounters individuals who help in his quest for fortune and fame, as these friends will become invaluable new allies as they join his party.






A Collection of the Legendary Mega Man ZERO Titles Bundled Together For On-The-Go Action!
SAN MATEO, Calif — January 28, 2010 — Capcom®, a leading worldwide developer and publisher of video games, today announced that the Mega Man® ZERO Collection is coming to Nintendo DS™. The Mega Man ZERO Collection is comprised of all four Mega Man ZERO titles bundled together. Having sold over 500 thousand units in North America, all four titles will be available on one DS cartridge for the first time at a great price. The portable Mega Man® fun will begin when the title arrives in early Summer 2010.

The first Mega Man ZERO game was released in 2002 on the GameBoy® Advance. It featured Zero, a popular Capcom character that was introduced in the Mega Man® X series. The Mega Man ZERO series follows Zero through a dark and thrilling 2D action-adventure with high-quality visuals and action. Users can expect to make use of Zero's trademarks weapons like the Z-sabor and Buster Shot. There will also be interesting devices like the Chain Rod and Zero Knuckle. For the first time, the Mega Man ZERO series will be available for Nintendo DS™, complete with all-new modes.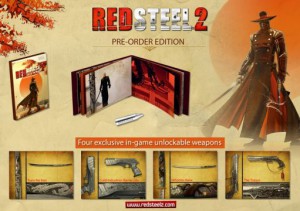 – Comes with a 20-page 20-page book of art, which sketches from the developers
– A metal bullet branded with the Red Steel 2 logo
– 4 unique weapons
Thanks to Captain N for the news tip!


Attention! Brave brain training enthusiasts take on the Drill Sergeant in 'Brain Cadets'

Rising Star Games announces its first ever WiiWare release that takes training your brain to another level

Thursday 28th January: Brain Cadets, one of the most entertaining brain training games for Wii, will be available to download for 1,000 Wii Points from Friday 5th February, courtesy of Rising Star Games.

Brain Cadets challenges gamers to complete a number of tests under the watchful eye of the toughest Drill Sergeant around, in the race to progress from lowly Private up to the prestigious roll of Field Marshall.


On January 28, 2009 (Japan time), Nintendo Co., Ltd. reported financial results for the first three fiscal quarters and earnings for the period ending Dec. 31, 2009, and left unchanged prior forecasts for full year global sales and profits.

The nine month figures for net sales, operating income, ordinary income, and net income represented the third best corresponding performances in company history, but they all saw a decline from the results of the prior year. The net sales and operating income declines in comparison to the record-breaking previous year primarily stem from year-on-year decreases in Wii hardware and Nintendo DS software sales, a price cut for Wii hardware, and the significant impact of a stronger yen.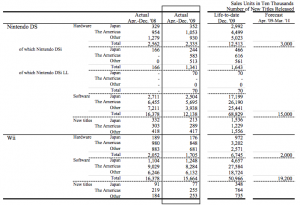 Worldwide LTDs
Wii (hw): 67.45m
Wii (sw) 509.66m
NDS (hw): 125.13m (of which 16.43m DSi, 0.70m DSiLL)
NDS (sw): 688.29m