[Nintendo Everything Podcast] – episode #26 – Persona 5 Fake Out, Tencent-Nintendo in China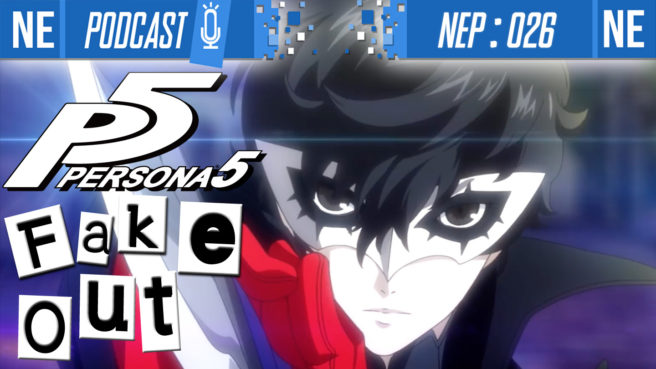 What's good, spider balls and morph balls! It's bonus time! We had so much to talk about in NEP 026 that we made it double the length! We'll also be doing an EXTRA episode during the week: a spoilercast for Chocobo's Mystery Dungeon: Every Buddy!
In this episode of NEP, we discuss Persona 5 Scramble: The Phantom Thieves, the controversy of Persona 5 not being announced for Switch and the community's negative reaction. This leads us to talk about reality vs expectation, vocal gaming culture and how some gamers handle disappointment. We then lighten things up by talking about Super Mario Maker 2's upcoming release, Nintendo's financial briefing (including Pokemon and E3 details), and some more information about Nintendo and Tencent Holdings partnership to break into the Chinese market with the release of Nintendo Switch. And even more!
We hope you enjoy the extra effort this week! As ever, we would appreciate your help in growing the show by sharing the podcast with a friend!
Thanks for listening!
Timestamps:
08:05 – Adventure Log: Big games discussion of Momodora: Reverie Under the Moonlight, Super Mario Party, Yoshi's Crafted World, mentality when playing games (Oni is a self-described "Finishist", not a Completionist).
23:21 – Persona 5 Scramble: The Phantom Thieves, controversy in the Nintendo community, expectation vs. reality, vitriol on the internet, Oni's frustrations with Shibuya, the state of disappointment among gamers and how they handle it, vocal gaming culture, Galen rants and expresses his feelings on situations such as these and the recent Gearbox/Borderlands 3 backlash.
52:31 – Super Mario Maker 2 release date and limited edition console bundle in EU.
1:04:39 – Nintendo financial briefings, Pokemon talk, hardware talk, E3, future of Switch
1:19:29 – Nintendo confirms partnership with Tencent Holdings for launching Switch in mainland China. Discussion of the restrictive game application policy to the Chinese government.
1:26:09 – Nintendo makes a comment to Kotaku that they have no new first-party games to announce for the Nintendo 3DS.
1:27:35 – Additional DLC and Ant-man/Thanos memes.
1:33:15 – Listener Mail: Snacking while gaming and introspective self-pity chips.
Additional DLC:
Send us an email and we'll discuss it!
NintendoEverythingPod [at] gmail [dot] com
Listener Bonus: Help the show grow and support us by giving us ☆5 STAR☆ iTunes review, likes and comments on YouTube, and share the Spotify playlist with your Nintendo-loving buddies!
Thank you!
YouTube
iTunes
https://itunes.apple.com/podcast/nintendo-everything-podcast/id1441241130?mt=2
Spotify
https://open.spotify.com/show/0zifaLm4st7KtUzDEojWBh
Direct Download
PocketCasts
Stitcher
https://www.stitcher.com/podcast/nintendo-everything-podcast
PlayerFM
https://player.fm/series/nintendo-everything-podcast
ListenNotes
https://www.listennotes.com/@NintendoEverythingPodcast/
PodTail
https://podtail.com/en/podcast/nintendo-everything-podcast/
Follow us on Twitter and Instagram
@NinEverything
twitter: @Oni_Dino / insta: Oni__Dino
@mobius087
A HUGE thank you to Headphones of Listening for NEP's intro music!
Check him out on soundcloud!
Links
Leave a Reply