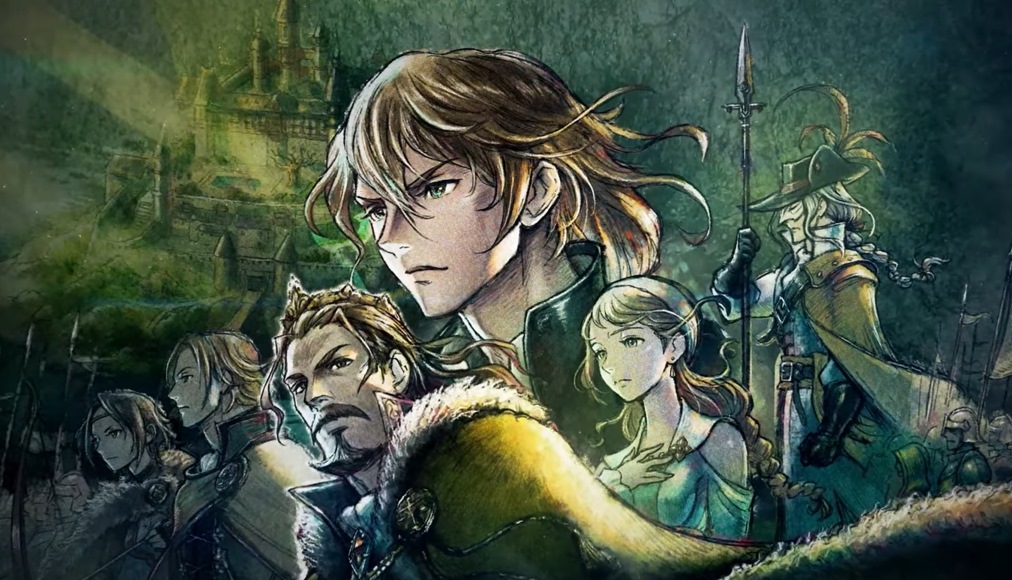 Nintendo shared a new Triangle Strategy interview this week with two of the game's prominent developers, Tomoya Asano and Yasuaki Arai. As part of the discussion, we again get to hear about how Square Enix settled on the name. They also covered some other notable topics like the game's plot, why multi-tiered maps were included, and more.
The full discussion is below: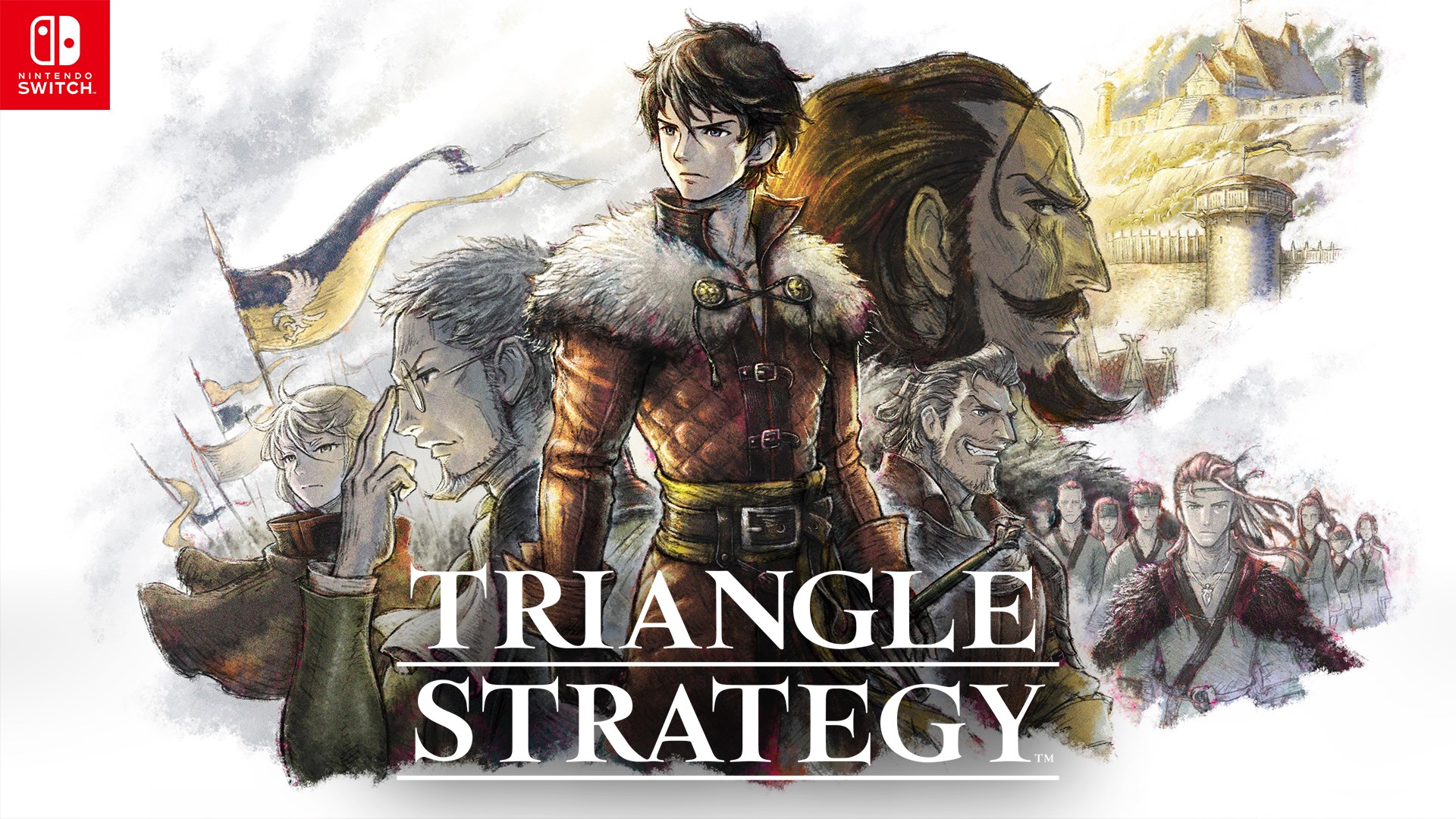 A new 1.0.3 update has gone out for Triangle Strategy, Square Enix's tactical RPG. Nintendo and Square Enix have shared the official patch notes, though they aren't very exciting.
According to Nintendo: "Several issues have been addressed to improve the gameplay experience." Unfortunately, the patch notes don't dive into any specifics. It's unclear what problems have been addressed specifically, but you'll want to install the patch for the best experience.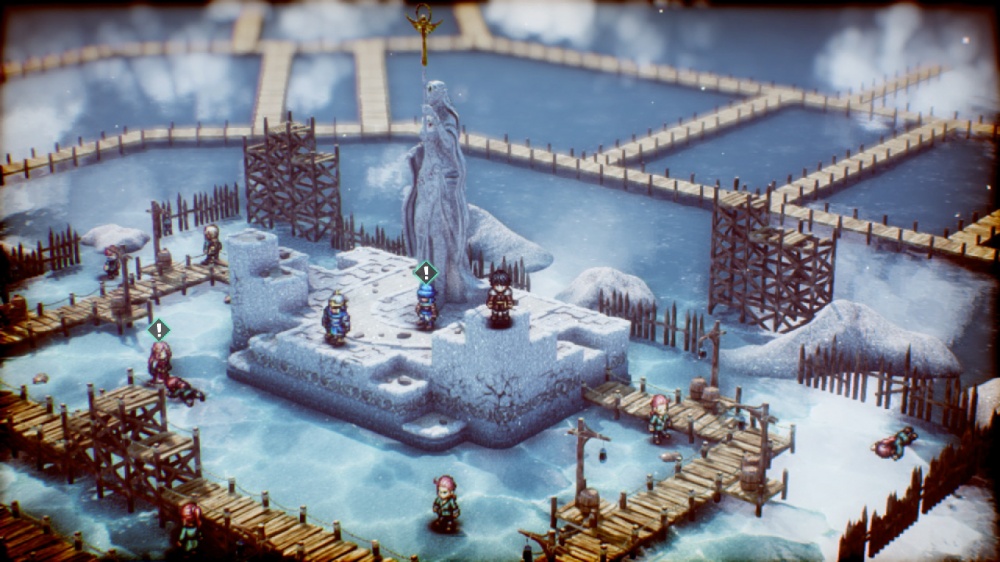 Square Enix is no stranger to unconventional game names, and that tradition has continued with their HD-2D titles on Switch – those being Octopath Traveler and Triangle Strategy. In a recent interview, producer Tomoya Asano shared some insight into the team's thinking.
Asano told Inversus that Square Enix considers "if the player can imagine what kind of game it is based on the title." With Triangle Strategy, you play it from three angles and it's a strategic experience. Square Enix initially included "Project" so that there would be "a little bit of room to be able to change the name". Since it was well-received by fans, the "Triangle Strategy" name stuck.
Asano's full words: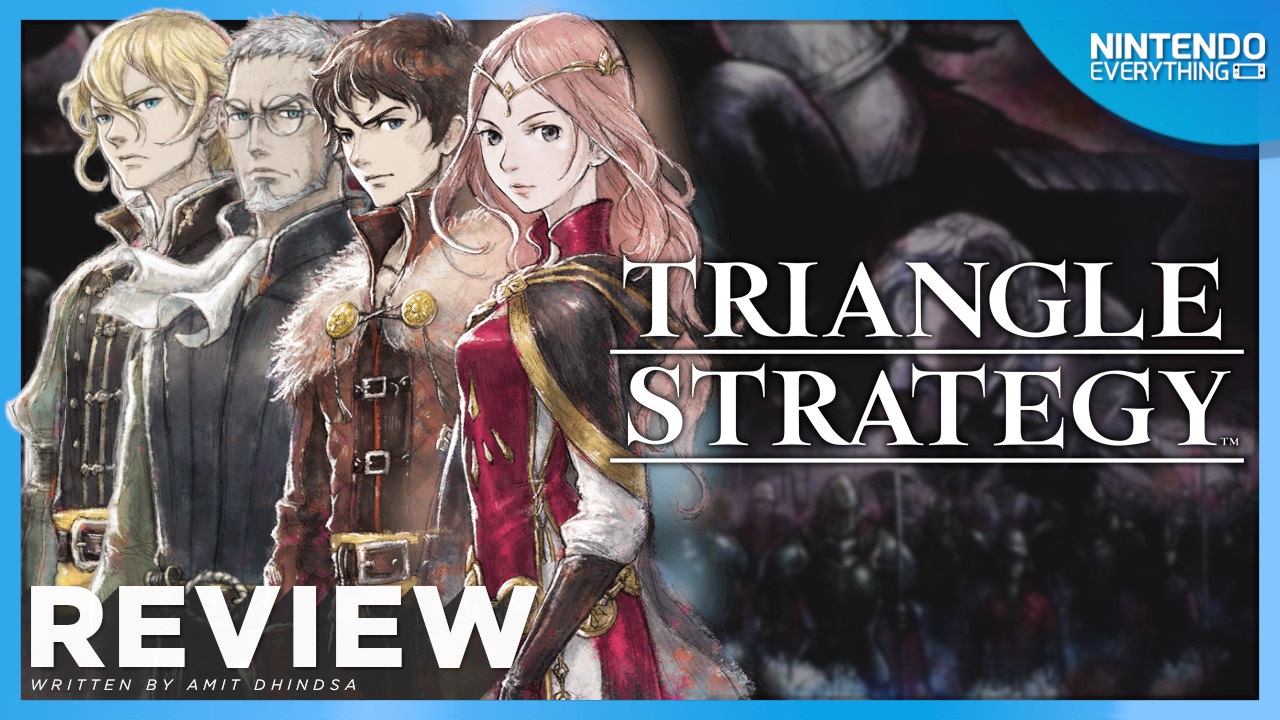 System: Switch
Release date: March 4, 2022
Developer: Square Enix / Artdink
Publisher: Square Enix
---
Square Enix's Team Asano has been a force to be reckoned with on Switch. Their debut on the system, Octopath Traveler, was a showpiece at the first real Switch blowout in January 2017 and released the following year to great acclaim. Returning to the glory of their 3DS days, the highly requested Bravely Default 2 came out just last year. Now the third entry in the team's Switch JRPG trifecta returns to Octopath's HD-2D style, but delivers gameplay so different that it might as well be considered a different genre. That certainly doesn't hold it back however: different as it is, Triangle Strategy is a tremendous overall package and possibly Team Asano's finest work yet.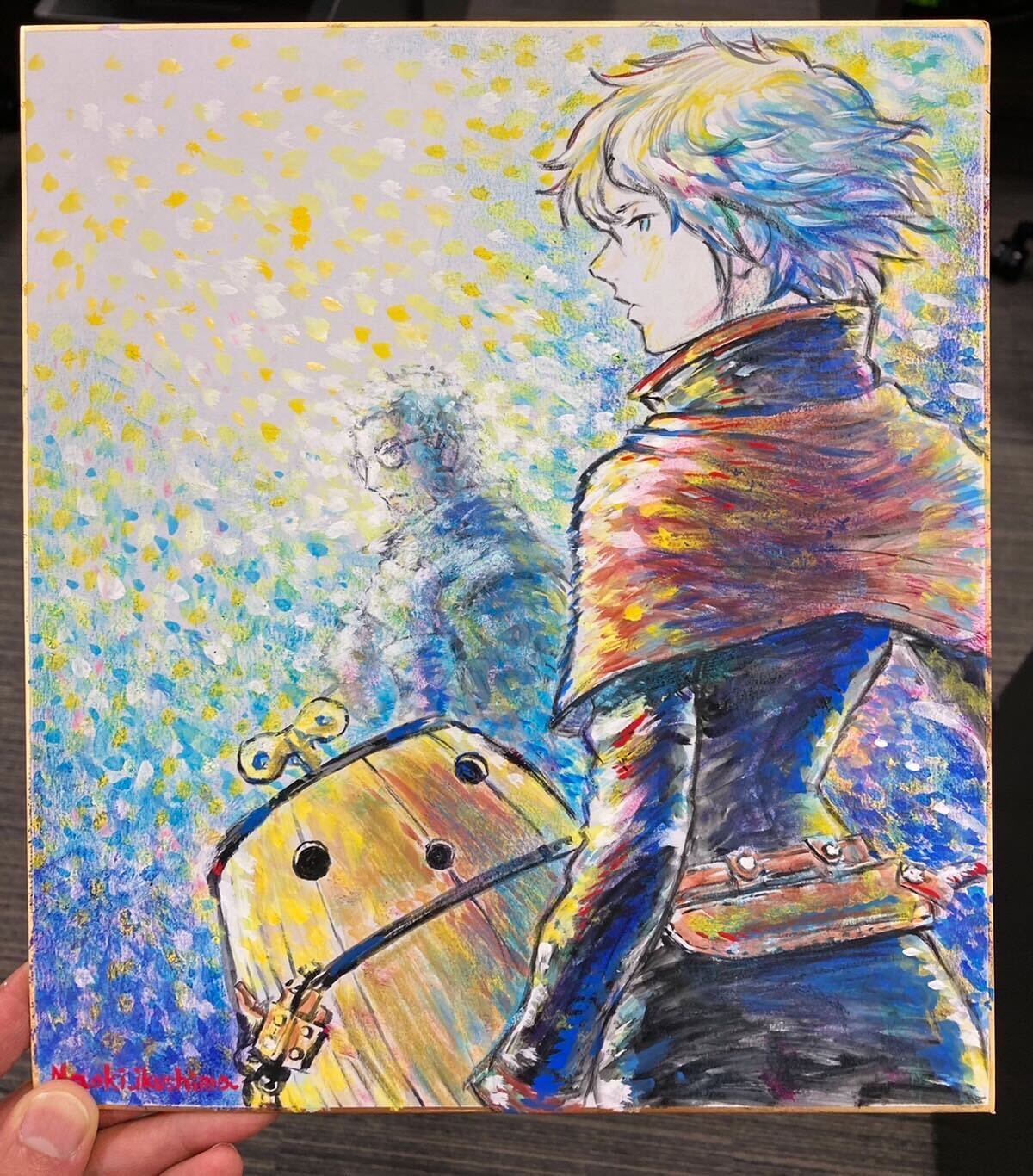 Triangle Strategy has sold nearly 800,000 copies, Square Enix has announced. That feat was accomplished in just two weeks.
Square Enix says that Triangle Strategy has sold over 200,000 copies in Japan and Asia combined. That plus other units worldwide bring the game to almost 800,000. The figure is ultimately based on copies shipped and download sales.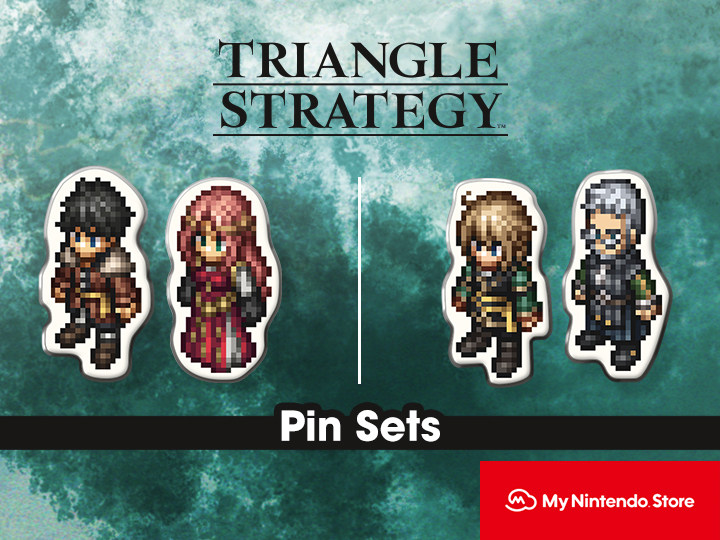 Over in Europe, My Nintendo members can spend their points on new Triangle Strategy rewards. A pair of pin sets were just added to the site.
The first set features Serenoa & Frederica while the second is for Roland & Benedict. They measure 3.0 x 3.0cm (backing card: 8.5 x 5.0cm) while the material is zinc alloy, nickel coated.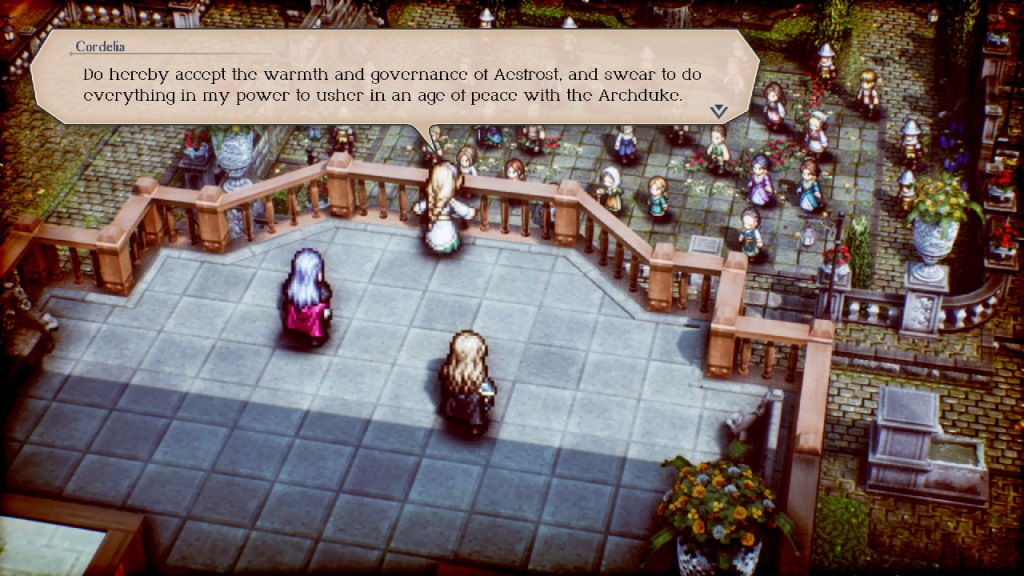 For those that are picking up Triangle Strategy today, keep in mind that there's a day one update for the game with Nintendo and Square Enix distributing version 1.0.2. This is available to everyone now.
According to the patch notes, "Several issues have been addressed to improve the gameplay experience." Nintendo hasn't shared any information beyond that, though it goes without saying that you'll want to have version 1.0.2 installed.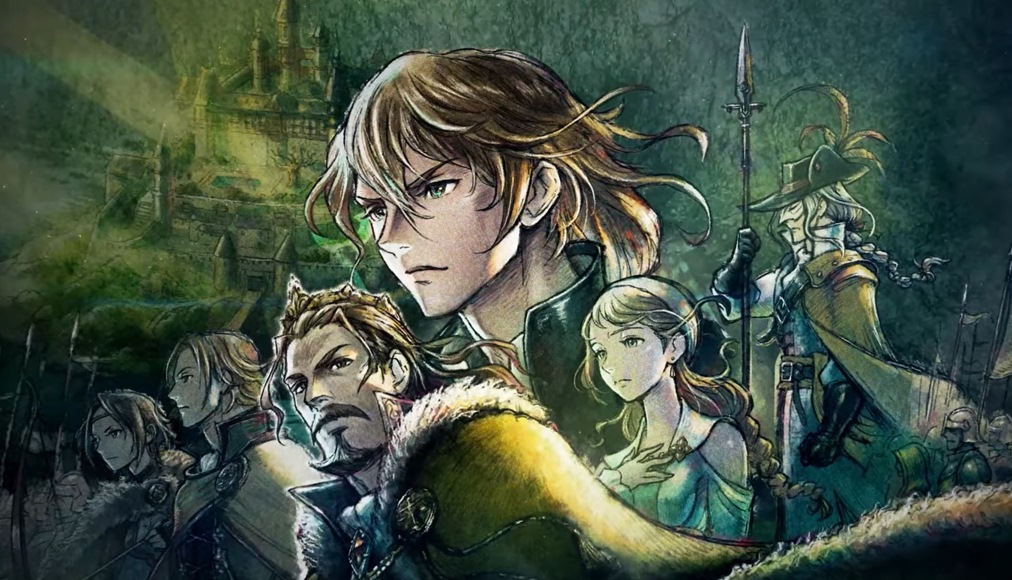 With Triangle Strategy arriving on Switch tomorrow, a bunch of reviews are starting to come online. We've gone ahead and rounded up a bunch of the early verdicts.
Triangle Strategy is a new HD-2D game from Square Enix similar to Octopath Traveler, though the gameplay is quite different. This time around, rather than a pure RPG, players strategically command a group of warriors after being entangled in a surging conflict between three nations. One notable part of the gameplay is that choices made throughout influence the story and outcome.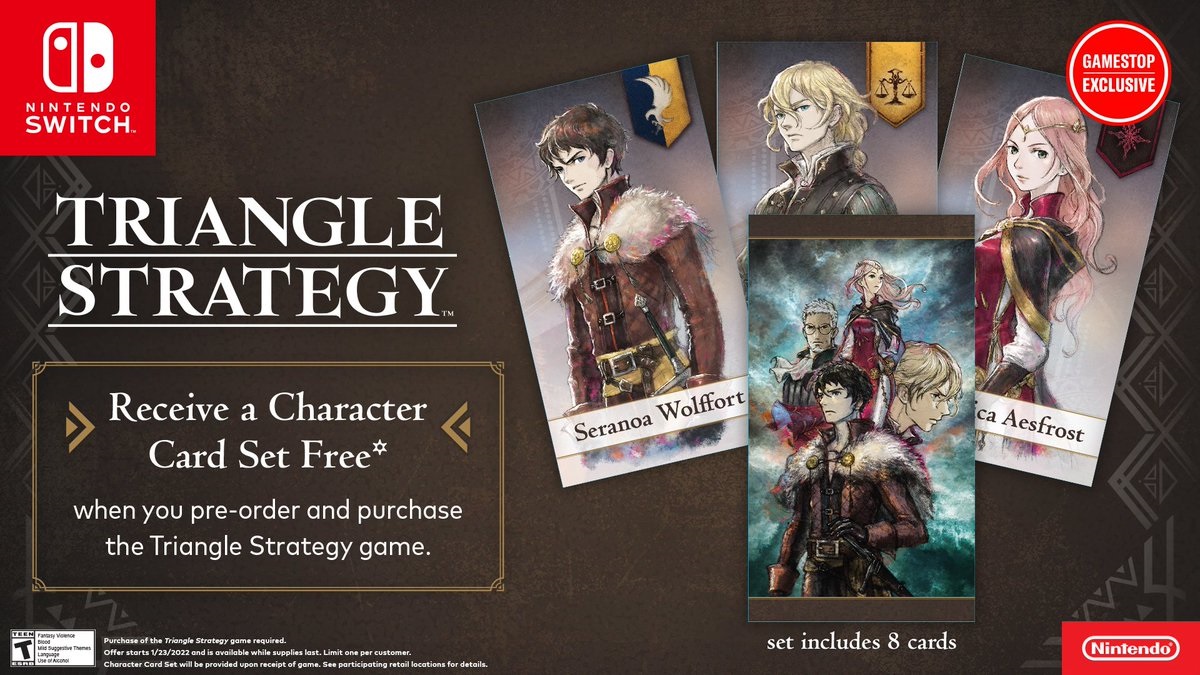 GameStop will be offering a pre-order bonus for Triangle Strategy, the retailer has revealed. Those that reserve the tactical RPG will be provided with an character card set (eight in total). We have a look at some of the designs above.
We've included some information about Triangle Strategy below.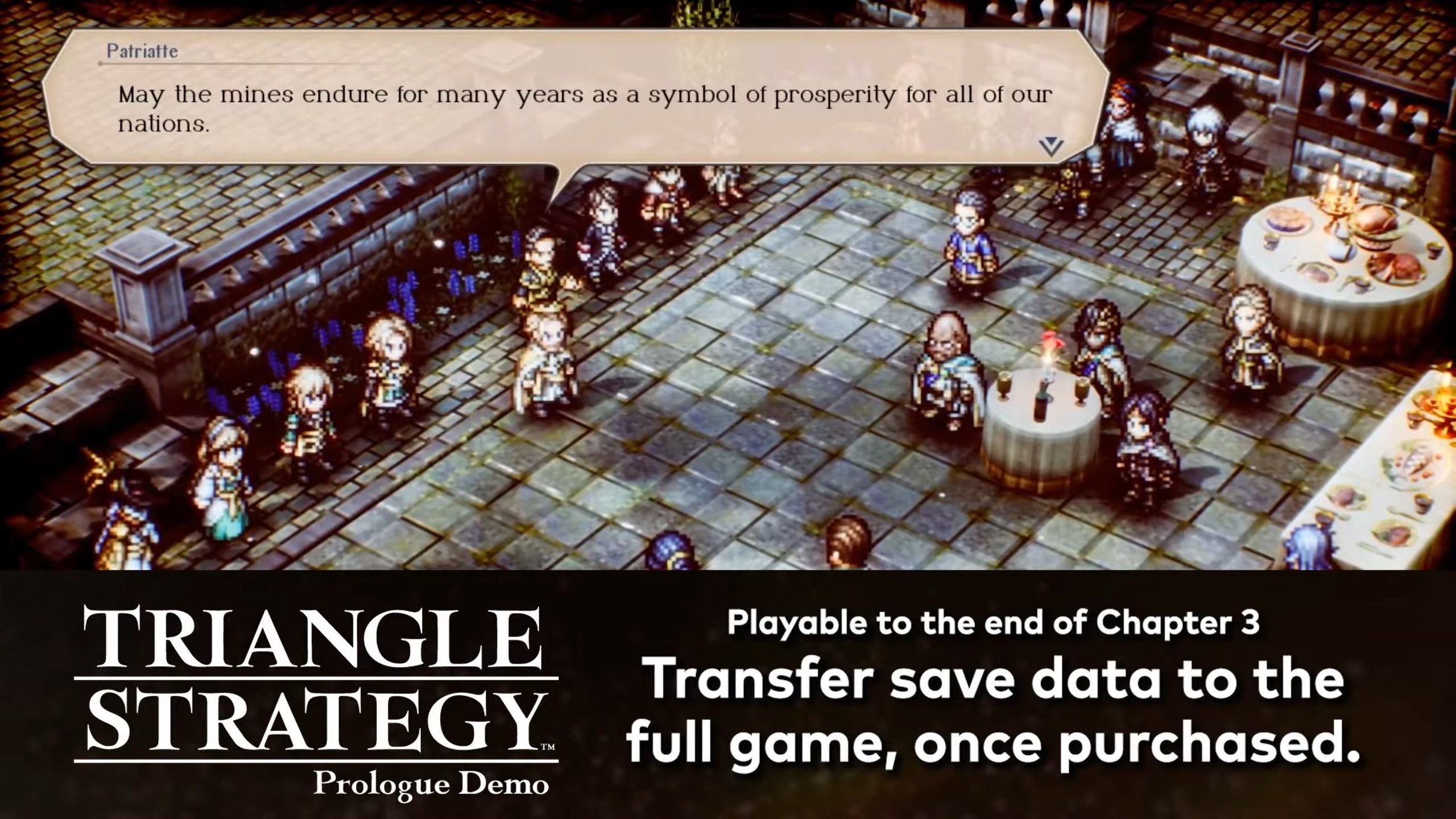 A new demo for Triangle Strategy is going live on Switch today, Nintendo and Square Enix have announced. That news just dropped during today's Nintendo Direct.
This is technically the second demo for Triangle Strategy. After the game was unveiled a year ago, Square Enix let fans experience a trial and provide feedback to assist the development team and ultimately make the final product better.