It may not be much, but we have a little bit of footage from Shovel Knight: Plague of Shadows, the game's upcoming expansion. You can check it out above.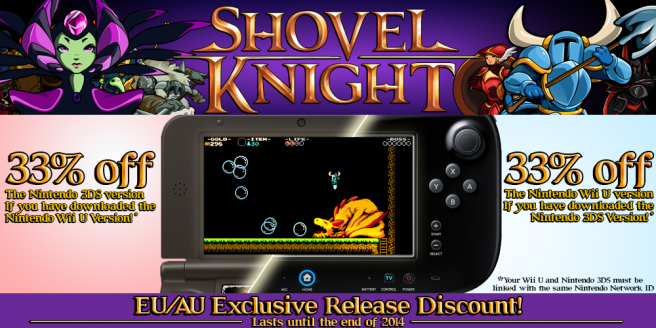 The folks over at Yacht Club Games are seriously committed to making up for the European and Australian delay of Shovel Knight. Today they announced a cross platform discount for those that are looking to pick the game up, offering a 33% discount on the subsequent purchase of the game until the end of 2014. Still no word on release date but with a promo window like that I'd imagine it's got to be soon!
GameSource recently had the opportunity to interview David D'Angelo from Yacht Club Games. The discussion isn't in English, but we were presented with a couple of noteworthy translations.
Here's what D'Angelo shared regarding Nintendo's support for Shovel Knight:
Nintendo was very helpful. They provided a great deal of marketing from featuring the game on the eShop and their website, to bringing the game with them to conventions around the country. They were also helpful behind the scenes, dealing with technical questions and listening to our wildest dreams. Creating Shovel Knight for the Wii U and 3DS was a smooth process, but of course, still a ton of work. Building a game for any platform comes with its own challenges and making a game feel unique and at home on the console is an important but hard problem to tackle!
On the topic of Shovel Knight's sales, D'Angelo stated:
The game is selling really well on Nintendo platforms, and hopefully we'll continue to keep making games for their systems. We love Nintendo, and they have been really great to work with for Shovel Knight.