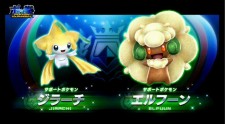 6 minutes ago
By
Brian
(
@NE_Brian
)
0 Comments
More news regarding Pokken Tournament has come out of today's stream.
First up, we have a final release date for the game. Pokken Tournament will be arriving at Japanese arcades starting on July 16.
Two new Pokemon have been announced as well. Jirachi and Whimsicott will both be included as support types.