New Interactive Video Game Challenges Players with Four Decades of Survey Questions

SAN FRANCISCO – August 10, 2010 – Ubisoft revealed today that it will be publishing Family Feud® Decades, an interactive video game that challenges players with thousands of authentic survey questions from four different eras: 1970's, 80's, 90's and 00's. Created by Ludia and licensed by FremantleMedia Enterprises, Family Feud® Decades will be released November 9, 2010 in North America for the Wii™ system from Nintendo.

Similar to the Emmy Award–winning game show, which will launch its 12th season in national syndication with new host Steve Harvey the week of September 13th (check local listings), Family Feud Decades pits two families against each other in a contest to name the most popular responses to survey-type questions posed to 100 people. Players will be challenged to answer questions from various decades correctly. The game has a fun, retro feel, featuring the classic set designs and scoreboards from each of the decades the TV show has aired. Additionally, players design a personal avatar to represent them in the game, with hilarious outfits from different eras including hippie, disco, grunge and more.

"Family Feud Decades is a fun game to play in a group setting. Players will get a chance to practice their trivia knowledge from recent decades in an engaging and entertaining way," stated Adam Novickas, U.S. director of marketing at Ubisoft. "It's the perfect game for the entire family as the questions represent information from a wide range of generations, and it's a great opportunity for parents to educate their children on events that may have happened before their time."
Source: Ubisoft PR


This information comes from Natsume's VP of Operations, Graham Markay…
"I think Hiro's [Natsume CEO] pretty excited about it. From a company standpoint, the 3DS looks innovative, it's moving forward. Anything that's shown and then it causes you to start thinking in your head how you can utilize it, or what you can make for it, I definitely think is something that excites us. So, uhh…we are actually looking into the 3DS, and who knows, maybe some announcements in the future… [Laughs] …Okay, that one's an announcement (Harvest Moon)! So that one should probably come in the future. [Laughs] Moving forward, I can pretty much say that Natsume will be a definite supporter of the 3DS."
At this point, it looks like Harvest Moon 3D won't be a launch title for the 3DS, but you can expect it sometime after launch. Besides that title though, I'm sure we can expect a ton of other Natsume releases for the system – they've really supported the DS and it sounds like the company is fully on board with the Nintendo's next handheld.


Update: Official PR here.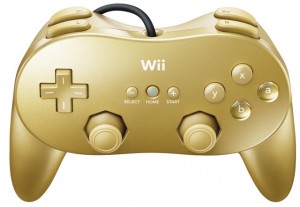 Rumors of a gold-colored Classic Controller Pro have surfaced a number of times, even before GoldenEye 007 was officially announced by Activision. Today, however, the company finally confirmed that it's the real deal. For $69.99, consumers will be able to purchase a bundle, which will include a copy of GoldenEye 007 and the controller. A stand-alone release of the game itself will also be sold for $49.99, the typical price of Wii titles.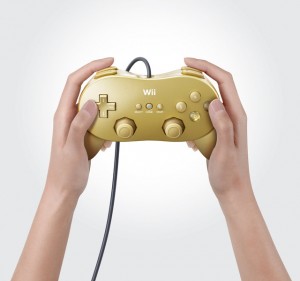 Thanks to Ross M for the tip!




Are you ready for the launch of Super Scribblenauts on October 12?

Imagine all of the creative, descriptive and fun adjectives you can use to help Maxwell, the adventurous hero, solve puzzles and challenges and attain his Starite!

Now, consumers who pre-order Super Scribblenauts at GameStop will be eligible to receive their very own set of Maxwell's headphones when they pick up their copy of the game at launch, so they can play the DS title in style. Quantities of this exclusive premium item are limited, so be the first to pre-order for the chance to receive Maxwell's chic, colorful and plush headphones, available in three randomly selected styles: grey, polka-dot and camouflage.
Source: Warner Bros. Entertainment PR




Metroid: Other M is just around the corner, and Nintendo isn't planning on letting the game go unnoticed. The company's planning a big marketing campaign in the UK. You can check out the details below.
– Includes a 'high-impact' TV campaign
– TV ads will appear two weeks before release
– The ads will continue for a month on terrestrial and satellite channels
– Nintendo also planning online ads, which include banners
– Online ads will show up on sci-fi sites
– Trailers will be shown in theaters
– POS materials
Thanks to Robert for the tip!


Thanks to Johannes for the tip!


Nintendo's internal sales figures show that the Wii™ video game system has now sold 30 million units in the United States alone. This significant milestone was reached in just 45 months. This further establishes Wii as the fastest-selling console in the history of the industry, reaching this milestone 15 months faster than the next best-selling console.

Wii launched in November 2006 and ushered in a new era of video games. The built-in motion controls of the iconic Wii Remote™ controller drew millions of new players to the world of video games. Kids started playing with their parents and grandparents, people got up off the couch and got active, and seniors and baby boomers formed virtual bowling leagues.