AVIENNA, Austria – August 4, 2010
The highly anticipated puzzle platformer for WiiWare™, And Yet It Moves, officially receives a launch date of August 23, 2010, and pricing of 1,000 Wii Points™. Indie studio Broken Rules brings the award-winning downloadable PC game experience to the living room, introducing all new levels and game controls using the Wii Remote™ that will have players physically rotating environments to overcome various obstacles and challenges. Experience a new twist on the game that won the 2007 Independent Games Festival Student Showcase, was nominated for the 2007 EUROPRIX Top Talent Award and qualified as a finalist during IndieCade 2008.

And Yet It Moves is a physics-based platform game in which players rotate the world at will to solve challenging puzzles. A tilt of the Wii Remote also tilts the world, turning walls into floors, slides into platforms, and stacks of rocks into dangerous hazards when flipped upside down. Players navigate through a paper collage world created with colorful pieces of cardboard and set to distinctive music. With four different environments and multiple unlockable modes, And Yet It Moves will provide gamers with endless challenges.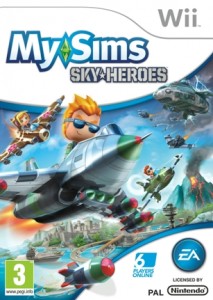 This information comes from Masahiro Sakurai…
"Yes this is indeed my first 3D game but I have a feeling that it's going to be hard to go back [to 2D]. For example when you watch Avatar in 3D you take notice of the 3D element initially but then as the movie goes on you forget about the 3D novelty as your eyes get used to it and simply enjoy it for what it is. That's the nature of the way we get used to things as they become familiar. The problem is that when you go back to 2D after 3D it feels flat. So in terms of game development I would think that going back to 2D after working on a 3D project may be very difficult for me."
In a few years, it wouldn't surprise me if 3D is dominating the industry. I expect that all of Nintendo's future handhelds will have 3D support, and eventually, so will the company's home consoles. Because of that, I don't think developers will have to worry about returning to 2D.


1. [PSP] Hatsune Miku: Project Diva 2nd
2. [PS3] Sengoku Basara 3
3. [Wii] Wii Party
4. [DS] Kamen Rider Battle: Ganbaride Card Battle Taisen
5. [Wii] Sengoku Basara 3
6. [DS] Metal Max 3
7. [PSP] Ys vs. Sora no Kiseki: Alternative Saga
8. [DS] Inazuma Eleven 3
9. [Wii] Dragon Quest Monsters: Battle Road Victory
10. [PS3] Jikkyou Powerful Pro Yakyuu 2010


– Quark has earned the trust of his peers because he is skilled in combat and because he does negotiations with potential employers
– Quark and Elza have been traveling together since they were young
– Seiren fights with twin blades
– Seiren drinks a lot
– Seiren is a squad leader, likes fighting, will jump to the front lines of combat
– Yuris uses fire in combat
– Yuris is the most skilled in the mercenary group
– Yuris doesn't speak much, is unsociable
– Yuris thinks of mercenary work just as a means of survival
– Battle system offers good amount of player choices
– Attack enemies head on and through other means
– "Focus" move is important in battles
– Focus lets you lock onto objects and enemies
– Use Elza's bow gun for distant attacks or call out commands to allies when an object or enemy is in focus
– Elza's sword is the basic attack
– Can see special abilities and weak points of enemies in focus
– Famitsu suggests sniping out healers from enemy groups when in focus, sneak up on the enemy by sticking closely to walls or boulders
– Focus on the enemy when you get close enough
– Game switches to a behind-the-shoulder view in focus
– Targeting reticule shown when the game goes behind-the-shoulder
– Trailer hints at using the Wiimote as the reticule
– Example of using focus on an object: Enemies on the bridge, focus on the bridge, Yuris can cast magic at it, then it will break and the enemies will die
– Look around the areas for objects to use for focusing


NBA Jam
– Not a Wii-exclusive anymore
– A lot of people are upset
– It had been announced as a Wii-exclusive
– 6 months later, that's not the case
– Need to buy NBA Elite 11 for the PS3/360
– Comes with a download come to download a different version
– Wii game is the full version
– Craig thinks that you'll be able to buy the game on the download channels eventually
– Craig ticked off that EA immediately announced that it'll be online for the PS3/360 versions
– From what Craig has heard, Wii version will still be fully-featured for single-player, still 4-player local NBA Jam and a huge progression by yourself that won't be in the PS3/360 versions
– Extra stuff on Wii
Metroid: Other M
– Just as many pickups as there are in other games
– Find about 30% of the pickups in a normal playthrough
– That news seems to confirm that it's more of an exploration-based game than Sam previously thought
– It was said in Famitsu that the devs are really focusing on cutscenes
– Theater mode features all the cutscenes from the game and pre-rendered gameplay
– Really worked on loading times
– Seamless saving
– Sam not sure what to make of all the cutscenes