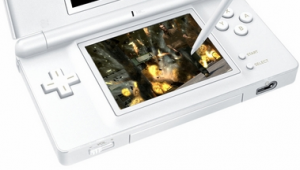 Once again, this is news from the interview with Dan Houser, cofounder of Rockstar Games..
NP: What do you feel are some GTA features that, because of the technical limitations, won't make it into the game?
DH: Well, really, the perspective. To go to the isometric view rather than make it fully 3-D. There was never any belief that we'd do anything different than that because we're always about high performance and the number of cars. I think that's the only major difference between this and the console version of the game in terms of what the game is. It's a city with a criminal adventure stuck in, and a bunch of things to do. Because we're making this game from the ground up for the DS, we were never really looking at it in terms of limitations. It's more in terms of strengths, and what works well on the hardware and what doesn't work well on the hardware. Obviously minigames work 'cause you can bounce between two screens so well. We weren't trying to compress something down this time–it's more building up for the hardware.
There are some other details I've written down from the interview, but I'm pretty sure these are the last important notes from the GTA coverage.
– Wanted to capture the feeling of the GTA games but wanted to provide the game with some evolution too
– Leeds was very keen about making a DS game, took awhile to figure out the format that the game would take
– In some ways it was more difficult to figure out how to make a GTA on the DS rather than on PSP
– Might be the reason why PSP games have come about earlier
– Important to the devs that the game feels like a city, feeling of GTA in general
– Nintendo has really been supporting the game
– GBA version of GTA wasn't really looked at when making Chinatown Wars
– This is a game built ground up for the hardware
– Once again, simply couldn't do full 3-D for the game.
– Same developers also created Max Payne for GBA
– GTA IV didn't touch on Chinatown too much, but developer's weren't really conscious of that – it's not really a sequel
1) Star Wars: The Force Unleashed – LucasArts
2) Wii Fit – Nintendo
3) Mario Kart Wii – Nintendo
4) Warhammer Online: Age Of Reckoning – EA
5) Tiger Woods PGA Tour 09 – EA
6) Mercenaries 2: World In Flames – EA
7) Wii Play – Nintendo
8 ) Carnival: Funfair Games – 2K Play
9) TNA Impact! – Midway
10) Spore – EA
MTO plans on releasing a puzzle title, Minna da Asobou Koinu de Kururin (roughly translated as, Play Together: Kururin as Puppies) for WiiWare this October in Japan. The main objective of the game involves lining up the same colors of puppies and connecting groups of dogs to a same colored dog house in order to clear the puppies from the screen.
Minna da Asobou Koinu de Kururin supports up to four participants in local multiplayer. The game has online functionality as well, but only for national rankings. Minna da Asobou Koinu de Kururin will be releasing in Japan October 7 for 500 Wii points.
– completely new title taking place in brand-new world
– gameplay heavily based on Phantasy Star Online, but with a different presentation
– Sega went with the DS due to the wide range of players
– "Zero" was used in the title to help players this of this as a fresh start
– you will be able to play online with people that aren't real-life friends
– no voice chat or vibration
– it is possible that PSO's world select feature will be used, but it has no been confirmed
– no symbol chat in this game, due to the ability to create custom messages with your stylus
– expect many familiar items and techniques
– developers are really hoping this game brings back fond memories of previous entries in the series
Sheffield UK , 22nd September 2008 – Lexicon Entertainment, a leading publisher and distributor of interactive entertainment and leisure software for video game console systems and personal computers world-wide, is pleased to announce, in collaboration with CyberPlanet Interactive, the publishing of Ocean Commander for Nintendo DS and Wii.

Game Story:

In the year 3011 the planet Earth evolved through disastrous changes. Mountains and sheets of ice in the Arctic melted due to global warming. Volcanoes under the sea emerged causing 90% of Earth's continents to be entirely flooded.

What are left of the mass continents are scattered islands. Ten years after the Chaos Empire was born, marine technology progressed instantly to adapt to the changing environment, whilst the main objective is to rule the Earth.
REDMOND, Wash.–(BUSINESS WIRE)– Today, two popular Nintendo characters launch their new video games on a rare dual-launch day. Conniving Wario™ appears in Wario Land™: Shake It! for the Wii™ console, while "super tuff pink puff" Kirby™ arrives in Kirby Super Star™ Ultra for Nintendo DS™. Both characters have millions of fans, and each game plays to the strengths of its lead character.

Wario Land Shake It! looks like a hand-drawn cartoon that players can control. It's a classic-style side-scrolling game in which players navigate Wario through a series of enemies and hazards. The game features motion controls: Players shake the Wii Remote™ controller to help Wario shake down his enemies, free coins from treasure bags and even cause earthquakes. Wario's narcissistic personality is on full display as he sets out to get his hands on the Bottomless Coin Sack.

What Wario is to greed, Kirby is to kindness. But the little pink powerhouse is not to be trifled with. Fans know that Kirby has the ability to inhale enemies and copy their abilities, a trait used to progress through the game and defeat anyone who gets in the way. Kirby Super Star Ultra for the Nintendo DS updates the beloved Super NES™ classic including new graphics, new adventures and new challenges. In local wireless mode, up to four Nintendo DS owners can compete, even if they only have one game card.
Two WiiWare Games and Two Virtual Console Games Added to Wii Shop Channel

What does your Wii™ library say about you? Are you fanatical about one style of game, or do you favor a brimming variety of sports, puzzle and fantasy titles? Fortunately for gaming fans of all kinds, the Wii™ Shop Channel makes it easy and fun to expand your collection in any direction. A few waves of the Wii Remote™ controller will introduce you to the latest Virtual Console™ and WiiWare™ offerings this week, featuring classic sci-fi adventure and some invigorating twists on familiar pastimes.

Nintendo adds new and classic games to the Wii Shop Channel at 9 a.m. Pacific time every Monday. Wii owners with a high-speed Internet connection can redeem Wii Points™ to download the games. Wii Points can be purchased in the Wii Shop Channel or at retail outlets. This week's new games are:
Sing and Dance Your Way to SuperStardom Performing Today's Hottest Music .

For any girl who has ever dreamed of being a star, EA Casual Entertainment brings you one step closer with Boogie™ SuperStar. Combining the hottest music hits from around the world with the coolest dance moves and total character customization, Boogie SuperStar provides the ultimate gaming experience: to sing and dance your way to superstardom!

Boogie SuperStar features nearly 40 songs made famous by popular artists such as Natasha Bedingfield, Rihanna, Fergie, Katy Perry, Maroon 5, Leona Lewis, Alicia Keys, Good Charlotte, Britney Spears, Kanye West, and more. Bedingfield, who has topped the Billboard charts with number one singles and albums in both the US and the UK, has joined forces with EA as featured spokesperson for the game. Additional songs are available on an International version of Boogie SuperStar, allowing players to also perform songs made famous by local European artists.
– Missions have been designed with shorter spurts of play, feel more arcadey
– A lot of cars and pedestrians moving in the streets
– Chinatown Wars revolves around a man named Huang Lee, member of Chinese Triads
– Must deliver your father's Yu Jian (he was just assassinated) to his Uncle Wu "Kenny" Lee
– Yu Jian is a family heirloom/sword
– Ambush occurs, Huang must locate the sword, avenge his father's death
– Hand-painted cut-scenes, there is limited animation in the cut-scenes
de Blob (Wii) – 92%
Order Up! (Wii) – 80%
Ferrari Challenge: Trofeo Pirelli (Wii) – 83
Samba de Amigo (Wii) – 71%
Final Fantasy Fables: Chocobo's Dungeon (Wii) – 84%
Rock Band (Wii) – 60%
Madden NFL 09 All-Play (Wii) – 87%
Tiger Woods PGA Tour 09 All-Play (Wii) – 85%
Twin Strike: Operation Thunder (Wii) – 74%
Super Mario RPG (Wii VC) – 95%
Super Mario Bros.: The Lost Levels (Wii VC) – 88%
Chase HQ (Wii VC) – 68%
Dig Dug (Wii VC) – 62%
MaBoshi: The Three Shape Arcade (WiiWare) – 85%
My Aquarium (WiiWare) – 21%
Sonic Chronicles: The Dark Brotherhood (DS) – 93%
Spore Creatures (DS) – 66%
Jewel Quest: Cradle of Rome (DS) – 81%
Phoenix Wright Ace Attorney: Trials & Tribulations (DS) – 85%
Zubo (DS) – 84%
Lego Batman (DS) – 80%
Dungeon Maker (DS) – 70%
Spongebob SquarePants: Drawn to Life (DS) – 51%
Pipemania (DS) – 82%
Gauntlet (DS) – 53%
Thanks to Joclo for the review scores!