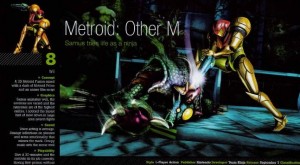 Keep in mind that this is from the Australian edition of Game Informer. The next U.S. issue of the magazine won't be out for a couple of weeks.
Thanks to Mike H for the tip!


Metroid: Other M won't be out for another week, and most reviews won't arrive for a few days. However, the latest issue of Best Buy's @Gamer has been released, which seems to have the first review of the game. You can check out some information from the article below.
– Going into first-person described as finnicky (sometimes you'll suddenly be looking upwards instead of pointing directly at the enemy)
– Smooth/effortless third-person combat
– Weak points for these enemies are not immediately apparent
– Much exploration
– Nate Bihldorff was a placeholder voice at one point, but was used in the final game when it was decided that he delivered an impressive performance as a nasally scientist
– "It may not be the pinnacle of the series, but longtime fans shouldn't let that deter them from checking out an overall enjoyable experience. Again, it's all about managing your expectations."
– Awarded a 4/5


XSEED Games' New Project from Legendary Video Game Creator of Sonic, Yuji Naka, Takes Players of All Ages through an Engaging Storybook Adventure

TORRANCE, CA (August 24, 2010) – XSEED Games, an independent-minded publisher, has announced today that Ivy the Kiwi? has begun to ship to retailers across North America. Developed by PROPE, the development studio led by the legendary creator of Sonic Yuji Naka, Ivy the Kiwi? is rated "E" for Everyone and is available on Wii™ for the suggested retail price of $29.99 and on Nintendo DS™ for the suggested retail price of $19.99.

"I am especially excited that the Western edition of Ivy the Kiwi? is now available for gamers of all ages," said Yuji Naka, founder of PROPE. "This game is extremely special to me as it has the potential to resonate with consumers of all ages with its touching storyline and innovative gameplay controls, so I look forward to seeing Ivy's storybook journey transcend so American players can engage with this special creature and her friends to experience her magical world."


This information comes from Nintendo Power…
"Yes, definitely [improved graphics were a priority]. We wanted to do things that were not possible on the previous handheld. For example, I'm developing Nintendogs + Cats, and I really wanted to realize the sense of fur on the pets." – Hideki Konno
Honestly, I was shocked when Kid Icarus: Uprising was revealed. I couldn't believe that it was running on the 3DS. Aside from Uprising, though, there are equally impressive games on the way like Resident Evil: Revelations. Capcom even stated that the trailer they released a few months ago was running in real time.


Eiji Aonuma on the significant of Skyward Sword's title and how it relates to the original piece of artwork…
"Did you happen to watch the trailer? That last scene where Link dives off the big cliff and goes flying through the clouds is a key hint as to the connection between the game and the Skyward Sword title.
Link lives on Skyloft, a series of floating islands that are above the clouds. He's a normal kid living up on these islands above the clouds, but then an incident occurs and Link is forced to travel to the land beneath the clouds. This other world below the clouds has been captured and is being ruled by evil forces. So he has to go down there and start his adventure. The juxtapositon between the two worlds is very important.
What leads Link on this adventure is the Skyward Sword and when that Sword is actively guiding Link, it actually transforms into a feminine figure. I wouldn't say that it's female per se but it's a feminine figure."


This information comes from Scott Pilgrim Vs The World game designer Jonathan Lavigne…
"If consumers are willing to embrace new technology then for sure we'll see a new batch of consoles, but we're more likely to see that in the form of peripherals like Kinect on Xbox 360 and Move on PS3 rather in a whole new console. We'll probably see Nintendo have the first real new console because they've really lasted a long time on refurbished Gamecubes with the Wii."
It's very possible that we'll see Nintendo introduce their next home console before other companies. However, I don't think we'll see it until 2012 at the earliest. Next year Nintendo will be concentrating most of their efforts on the 3DS.




New range from the Home of Japanese Games will bring top Japanese developed DSiWare titles to Europe and North America.

Tuesday 24th August 2010: Western gamers are in for a treat as Rising Star Games and Gamebridge announce the new digitally distributed GO Series will soon be available in Europe and North America – exclusively on DSiWare. The GO Series will bring the best Japanese DSiWare games to Europe and North America, benefitting from relationships Rising Star Games and Gamebridge have with top developers in Japan and Asia.

The GO Series will distribute games from renowned Japanese studios including: G-mode, ArtePiazza, SUZAK and TOM CREATE. The studios selected to be part of the GO Series are responsible for impressive titles such as: Wario: Master of Disguise, Dragon Quest, Innocent Life and F-Zero GP Legend.


WiiWare
And Yet It Moves – 289 blocks
VC
Ufouria: The Saga – 16 blocks
DSiWare
Rytmik – 127 blocks
My Farm – 45 blocks
Absolute Reversi – 45 blocks
G.G Series NINJA KARAKURI DEN – 23 blocks