Thanks to Hugo for the news tip!


Update: Added a slightly higher-quality video.
I apologize about the video/audio quality, but this was the only reasonable way that allowed me to capture the videos and combine them into one. However, you can also check out the videos separately on Nintendo's Japanese Super Mario Galaxy 2 site.


ABYLIGHT ANNOUNCES "NEVES Plus: Pantheon of Tangrams"

The addicting puzzle craze to come out of Japan! AVAILABLE SOON ON EUROPEAN WiiWare

April 15th, 2010 – BARCELONA

Abylight is pleased to announce the upcoming release of "NEVES Plus: Pantheon of Tangrams", the very acclaimed tangram-style puzzle.
The game, also know as "Neves Plus" in America and "Lucky Puzzle" in Japan, is expected to be soon released on the European Nintendo's WiiWare™ service.

Fully localized to English, German, French, Spanish, Italian and Dutch, this release will allow European users to enjoy more than 500 charming puzzles with a variety of multi-player game modes, including Speed, Versus, Lucky Number and Party Trivia.


(April 14th, 2010) — Interplay Entertainment Corp. and G1M2 will partner to bring the classic Descent to the Wii.

"Descent remains the most popular 1080º 3D blasting game. Translating its 3D worlds and game play to WiiWare™ is an exciting move", said Hervé Caen, CEO of Interplay. "Descent will pair perfectly with the motion sensing Wii Remote™ controller and we can't wait to show players how intuitive the game play and control can be" seconded Scott Hawkins, the Founder of G1M2.

Descent is expected for initial release during Fall 2010 and is planned for electronic distribution through Nintendo's WiiWare™ service.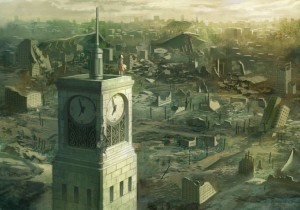 This is what the letter says…

"Dear Mario,
Do you fancy watching the shooting stars, whilst eating cake?
I'll be waiting at the castle.
Peach."
– Stardust will be falling on the Mushroom Kingdom again
– Princess Peach invites Mario to watch
– Mario sees a mysterious light while heading over, sees a small/lost baby star (Baby Chico)
– Baby Chico follows Mario to the castle
– Baby Chico can use a spin attack to defeat enemies


01. [Wii] New Super Mario Bros. Wii – 37,000 / 3,655,000
02. [PS3] Fist of the North Star: Warriors – 34,000 / 491,000
03. [PSP] Pro Baseball Spirits 2010 – 31,000 / 82,000
04. [PS3] Pro Baseball Spirits 2010 – 30,000 / 88,000
05. [DS] Tomodachi Collection – 22,000 / 3,090,000
06. [DS] Pokemon Ranger: Tracks of Light – 20,000 / 36,000
07. [DS] Etrian Odyssey III – 19,000 / 107,000
08. [PS3] Yakuza 4 – 18,000 / 519,000
09. [Wii] Wii Fit Plus – 15,000 / 1,818,000
10. [PSP] Monster Hunter Portable 2nd (PSP the Best) – 11,000 / 246,000
11. [PS2] Pro Baseball Spirits 2010
12. [DS] Nicola Kanshuu: Model Oshare Audition
13. [PSP] Judie no Atelier: Guramnat no Renkinjutsu – Toraware no Morito
14. [PSP] Gundam Assault Survive
15. [PSP] Dead or Alive Paradise
16. [Wii] Wii Sports Resort
17. [DS] New Super Mario Bros.
18. [Wii] Mario Kart Wii
19. [PS3] God of War III
20. [DS] Dragon Quest IX: Hoshizora no Mamoribito (Ultimate Hits)
21. [DS] Pro Yakyuu Famista DS 2010
22. [PSP] God Eater
23. [PSP] -Saki- Portable
24. [DS] Zelda no Densetsu: Taiyou no Kiteki
25. [DS] Crayon Shin-Chan: Obaka Daininden – Susume! Kasukabe Ninja Tai!
26. [DS] Pokemon HeartGold/SoulSilver
27. [PSP] Holy Invasion of Privacy, Badman! 3D
28. [DS] Dragon Quest VI
29. [PSP] Kenka Bancho 4: One Year War
30. [PS3] Winning Post World 2010




This information comes from Chris Bromley's LinkedIn profile…

n-Space has worked on only a handful of Wii games such as Marvel Ultimate Alliance 2 and Target Toss Pro: Bags for WiiWare. Their new game for Nintendo's console will supposedly be released Q4 2010. An announcement will probably be made sometime in the next few months.