[Nintendo Everything Podcast] – episode #16 – Nintendo Direct Special Feature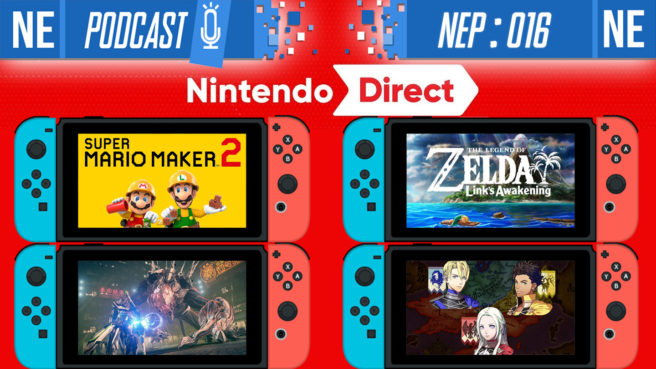 Hello, my lovely Hylians!
This week on NEP, we've got a special episode: a bonus feature with twice the content!
A Nintendo Direct dropped just the other day, so we're breaking down each release in the North American AND Japanese presentations with supplemental information and our added commentary. Galen gets analytical, Oni gets cultural; come hang out with us!
Also, we can't figure out why Kingdom Hearts keeps on coming up during this episode. Is it fate? Like, is any of this for real… or not?
A big thank you to all of our listeners and to those who share the podcast. NEP keeps growing! We hope you're enjoying the show. Please leave us your feedback, and check below for more details and timestamps.
Timestamps:
02:27 – Adventure Logs: Yoshi's Crafted World demo, Daemon X Machina Prototype Missions and Wargroove.
14:59 – Nintendo Direct Start! Super Mario Maker 2
21:39 – Marvel Ultimate Alliance 3
28:59 – Boxboy + Boxgirl, Smash Ultimate ver. 3.0 with Joker and amiibo talk
36:12 – Captain Toad co-op and new DLC. Oni can't contain his excitement!
38:07 – Bloodstained and Japan Direct-only announcements
43:48 – Dragon Quest! Builders 2 and XI S –Echoes of a Super Long Title–
50:31 – Gettin' super Japanese with Tsum Tsum, Starlink and Rune Factory
54:59 – Dragon Quest Rivals, sharing data between Switch and mobile, plus Oninaki and its Japanese secrets
1:00:57 – Yoshi's Crafted World boxes, demo and A Hat In Time
1:05:06 – Fire Emblem: Three Houses, and Oni explains the meaning behind the Japanese title
1:16:37 – Tetris 99 Battle Royale, Dead By Daylight, Japan-only Baseball and Deltarune Ch1 is free!
1:24:39 – Daemon X Machina Prototype Missions demo live on eShop, Japan Direct-only announcements, and a TON of third party support!
1:33:49 – WE JUST WITNESSED ASTRAL CHAIN! And the best Zelda, or so we've heard, is getting remade: Link's Awakening!
1:45:53 – Additional DLC
1:48:12 – Listener Mail: Words of positivity! What's on our 3DS activity log for its lifetime? Oni is embarrassed at his #1.
Additional DLC:
Send us an email and we'll discuss it!
NintendoEverythingPod [at] gmail [dot] com
Listener Bonus: Help the show grow and support us by giving us ☆5 STAR☆ iTunes review, likes and comments on YouTube, and share the Spotify playlist with your Nintendo-loving buddies!
Thank you!
YouTube
iTunes
https://itunes.apple.com/podcast/nintendo-everything-podcast/id1441241130?mt=2
Spotify
https://open.spotify.com/show/0zifaLm4st7KtUzDEojWBh
Direct Download
News Discussed
Follow us on Twitter & Instagram!
@NinEverything
@Oni_Dino
insta: Oni__Dino
@mobius087
A HUGE thank you to Headphones of Listening for NEP's intro music!
Check him out on soundcloud!
Leave a Reply