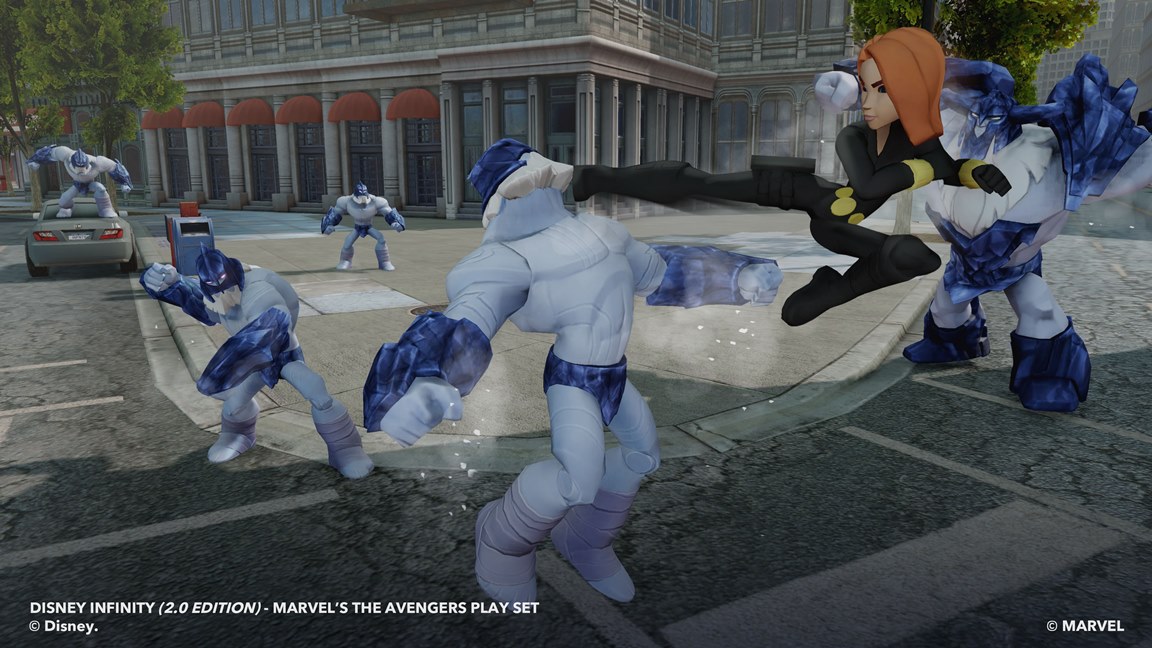 Polygon has gone live with a new Disney Infinity 2.0: Marvel Super Heroes article featuring comments from executive producer John Vignocchi and TQ Jefferson, vice president of production for games at Marvel Entertainment. You can find the roundup of information below, and the site's full article here.
– Began development while the original Disney Infinity was being made
– Some of Marvel's top creatives, including writer Brian Michael Bendis and chief creative officer Joe Quesada, have been involved in the project for the past year
– Idea of bringing in Marvel characters started in 2011
– "This has been a long time coming."
– Will drawn upon the much larger Marvel universe of heroes, villains, teams and intergalactic locations
"What you're going to see as we roll out and reveal more characters, is that they're going to be more characters that you've known forever and they make sense. And the other characters, you may not know them as well, but once you see them in-game, you're going to understand why we made the choices that we made. These characters bring a certain narrative strength with them and, just as important, they bring a unique bit of gameplay with them … [these are the] characters that are the most fun to play … that have the most impact on story." – Jefferson
"Once you see the full spectrum of characters, it's not just an Avengers game. It's very much a Marvel super heroes game." – Jefferson
"We made sure that we focused on characters that were very game-able and that were priorities to Marvel moving forward." – Vignocchi
– The characters, the story, the settings used in play sets will all tie together in a narratively connected way
– Play Sets will have a "common theme between them."
"One thing we haven't talked about that's really exciting is crossover characters, characters that will have specific content and stories from one play set to another to fully flesh out the world of how all the Marvel Super Heroes collection is connected." – Vignocchi
– More than just a new set of characters/technological gimmicks
– Gameplay tweaks included
– This includes how characters play/evolve and how they create custom levels and game types in the Toy Box
"For us, the focus came down on innovating on the software side of things. Ultimately let's not forget that we're a video game at our core. Really providing the most value to our players and responding to what they were asking for was our top priority." – Vignocchi
– Characters from the original Disney Infinity will be getting a boost in 2.0
– These upgrades are in-game and won't require new purchases
– Players will be able to play with their existing collection, further level those characters up and unlock new abilities for them
– New Disney and Pixar-themed content also coming
Disney Infinity 2.0 is heading to Wii U, but not any other Nintendo system. Wondering why this is so?
"They chose the platforms that were able to support the features and top quality play experiences Disney wanted to deliver to gamers worldwide," a Disney representative explained to NintendoWorldReport.
When Disney Infinity launched last year, it was made available for all three Nintendo platforms – Wii U, Wii, or 3DS. Wii U will be the only Nintendo-supported system this time around.
DISNEY AND MARVEL TEAM UP FOR SUPER-POWERED SEQUEL – DISNEY INFINITY 2.0: MARVEL SUPER HEROES

New Chapter in Best-Selling Disney Infinity Franchise Delivers More than 20 Marvel Super Heroes Including Captain America, Iron Man, Black Widow, Thor and More

BURBANK, Calif. – (April 30, 2014) – Today, Disney Interactive and Marvel Entertainment confirmed that the world's most iconic Super Heroes are assembling for Disney Infinity 2.0: Marvel Super Heroes – the 2.0 edition of the #1 best-selling new hybrid toy / video game of 2013, according to the NPD Group's video games retail sales data.

Disney Infinity 2.0: Marvel Super Heroes features more than 20 new interactive figures from across the Marvel universe, original storylines penned by award-wining Marvel comic writer Brian Michael Bendis, and an all-new Toy Box mode that makes it easier for players to create and share their one-of-a-kind levels and mini-games with family and friends. In addition, all characters and power discs from last year's release of Disney Infinity will be compatible with the Disney Infinity 2.0: Marvel Super Heroes Toy Box.
Disney Interactive has pulled back the curtain on the next development in the Disney Infinity series. Today, the company revealed "Disney Infinity: Marvel Super Heroes".
Disney Infinity: Marvel Super Heroes will star Iron Man, Captain America, The Hulk, Thor, and more well-known characters from the Marvel universe. The game will launch this fall.
Details include:
– Note: to clarify, Disney Infinity: Marvel Super Heroes acts as a new "2.0 Edition"
– All Disney Infinity figures from the original version will be compatible
– This applies to Power Discs as well
– All Toy Boxes from Disney Infinity 1.0 are compatible with 2.0
– Disney Infinity base is also compatible
– New Starter Pack comes with Avengers Play Set piece, 3 Marvel characters, 2 interactive game pieces
– Coming to Wii U, PS3, 360, PS4, and Xbox One
– New massive environment: Marvel Manhattan
– This is four times larger than The Incredibles Play Set
– Character locomotion, special skills and combat, attributes and skill trees
– Hover mode, forward flight
– Combat being added into both of these
– Super jump feature for The Hulk, Captain America
– Hulk has a wall crawl ability
– More characters have this ability as well
– Combat will be true to the characters
– Brawler character: Thor and Captain America
– Can upgrade Captain America's shield ability
– Range character: Hawkeye
– The Hulk is incredibly strong, doesn't take as much damage
– Hulk has a rage mode
– Level cap being raised to 20
– Can upgrade health, other stats
– Structured play in the Toy Box mode
– Toy Discs bring the structured play
– Usability being worked on; players can go into the Toy Box and use it in a variety of ways
– Won't be as complicated to use this time around
– City brush: put in roads, buildings, lamp posts, etc.
– Brushes for race tracks, dungeons, castles, treehouses, etc.
– Builders: drop them inside the world, they'll start building things automatically for you
– Can edit anything the builders create
– New interiors feature
– Home: reflects your progress as you play the game (trophies, etc.)
– Express your personality and progress in here
– Unlock tower defense, dungeon crawler Toy Box games with the new Toy Box game discs included with the Starter Pack
– These offer about 3-4 hours of gameplay
– 80 new Power Discs
– Discs are coming in 2 different waves
– Discs include assist characters, costume changes, new vehicles
Disney Interactive shared the following sales bits during its press conference for the Disney Infinity 2.0 reveal:
– Over 3 million Disney Infinity Starter Packs have been sold since launch
– $500 million estimated global retail sales
– In the US, Disney Infinity has outperformed the competition in terms of total sales revenue
Another little nugget for you: 10 million Toy Boxes downloaded for Disney Infinity thus far.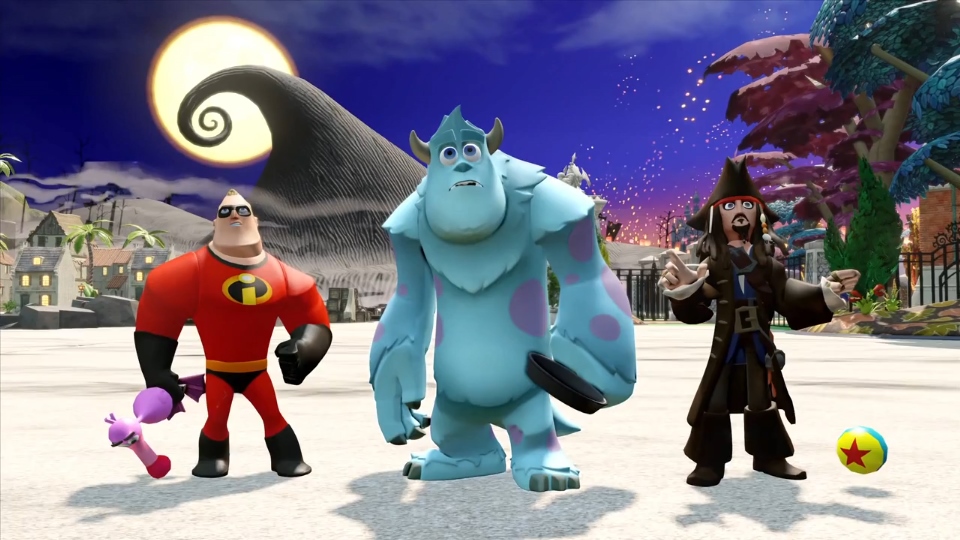 Yesterday we heard that Disney Infinity 2.0 could be launching in August. That information was based on a deleted post on the official Disney Fan Club D23 website. As it turns out though, the report was "incorrect."
Disney Interactive passed along the following statement to Game Informer:
"In D23?s News Briefs published April 15, 2014, we erroneously reported about the launch of the next chapter of Disney Infinity. This information was incorrect. More news about Disney Infinity will be shared on April 30, and we hope you will check back for that update."