This information comes from Bayonetta director Yusuke Hashimoto, speaking with USGamer…
– Bayonetta 1 includes all of the bells and whistles of the sequel
– This includes GamePad support and touchscreen functionality
– As previously mentioned, there are also costumes based on Nintendo characters like Link and Samus
"That was something that Mr. Kamiya wanted. He drove us a little crazy with his demands."
– Bayonetta 1 has been in the works for about a year and a half
– Port is done now
– First conceived with the blessing of Nintendo
"We thought it would be awesome to let fans play both on the same console."
– Much of Bayonetta 1 was outsourced to Bee Tribe
– "every aspect of its development" overseen by Kamiya
Bayonetta 2
– All content available out of the box
– No DLC
"I feel like there's enough content there for one and a half games."
"We don't know when to stop. There's so much we want to do. We're just greedy."
This information comes from director Yusuke Hashimoto and executive producer Atsushi Inaba…
Bayonetta 1
– Includes optional touch screen controls
– Original Japanese voice track also included
– Gyro sensor functions in certain places
– However, "that's not a very big part of the game"
– Inaba and Hashimoto say they can't reveal whether they had planned to develop a port of the original game when they first signed the sequel with Nintendo, or later as a reaction to negative comments online
– Platinum wanted to do it and suggested it to Nintendo
– They also hint that Bayonetta 2 may include certain Nintendo references as well
Bayonetta 2
– Kamiya has been overseeing Bayonetta 2
– Kamiya helped create the story and monitored the world in a supervisory role
– Work is done on Bayonetta 2
– Just working on bug fixes
– Game is coming out 5 years after the original
– Development only lasted 3 years
– Bayonetta 2 went through an experimental phase for its first two years
– In the third year production "spiked exponentially"
A Bayonetta 2 fact sheet from Nintendo provides a little insight into the game's two-player online co-op feature known as "Tag Climax". Check it out below:
In online quick matches, you can wager halos, the in-game currency that you
earn by defeating enemies. You receive a large sum back if you can prove
you're a better fighter than your partner. Halos can then be traded in a story
mode shop to unlock new techniques, buy accessories and pick up alternate
weapon variations.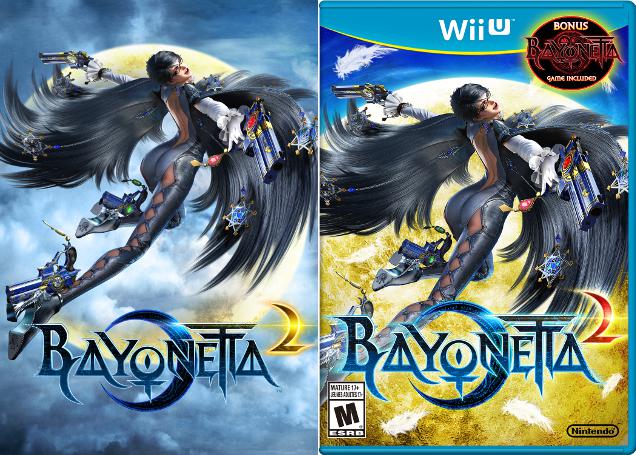 I hate the logo of WiiU ver. Junk. RT @SEGAbits We love all three Bayonetta box arts, but which one is your favorite? pic.twitter.com/CZedgSqcNc

— ???? Hideki Kamiya (@PG_kamiya) June 10, 2014
They removed the crescent behind Bayo & put full moon & changed the color of "2" in red. JUNK. RT @clefairyirl what would you have done diff

— ???? Hideki Kamiya (@PG_kamiya) June 10, 2014
No. They did it without any permission. RT @SgtAdam As supervisor of the game, you don't have control over that?

— ???? Hideki Kamiya (@PG_kamiya) June 10, 2014

Coming from the official website:
New features, only on Wii U

Wii U GamePad features

You can use the Wii U™ GamePad controller's touchscreen and a stylus to control the action in both Bayonetta and Bayonetta 2.

You can play using just the GamePad screen, without having to use your TV.

Japanese-language option

Choose between English and Japanese audio tracks, and select either English or Japanese subtitles to accompany the voiceovers.
– Much of the story demo is the same as last year's
– More of a focus on battle and advanced combos
– Triggers on the gamepad are only used for charged attacks
– This includes Umbra Climax
– The game lets players know when these powered up attacks are ready to go,
– Two main button-mashing attacks: physical and guns
– Holding down either the X or A buttons allows Bayonetta to repeatedly fire an endless supply of bullets from the guns either on her heels or hand
– Jump button can also be held down to trigger Bayonetta's flying ability
– Activate Witch Time with a well-timed evade
– As you defeat enemies, small golden Halos will burst out for players to collect
– Use them on new combos, upgrades, costume changes
– Purchase Nintendo costumes for Bayonetta 1 with collected halos in the store