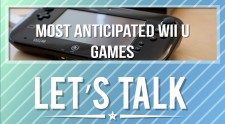 3 days ago
By
Brian
(
@NE_Brian
)
22 Comments
Let's Talk #16: Most anticipated Wii U games
There are still plenty of Wii U games to look forward to. From Nintendo alone, the company is bringing us Zelda Wii U, Super Mario Maker, Star Fox Zero, Shin Megami Tensei X Fire Emblem (Genei Ibun Roku #FE), Xenoblade Chronicles X, Yoshi's Woolly World (in North America), Fatal Frame: Maiden of Black Water, Devil's Third, Animal Crossing: amiibo Festival, and Mario Tennis: Ultra Smash. There are also a smattering of third-party offerings like Rodea: The Sky Soldier, LEGO Dimensions, Disney Infinity 3.0, Skylanders SuperChargers, and Guitar Hero Live. It goes without saying that there's still a ton of indie content on the way as well.
All of that being said, is there one Wii U game that you're looking forward to above all else? If you can't pick one, what are your top highlights? Let us know in the comments below!
---
Right now there are three games I've been wanting to get my hands on above all else. Let me briefly talk about each.
– Zelda Wii U: it's Zelda! This series is what really motivated me to pay more attention to video games. Even though I had played games before, going through Ocarina of Time is when my interest really spiked. I was disappointed when Nintendo announced Zelda Wii U's delay to 2016, but we should be getting a fantastic title in the end.
– Xenoblade Chronicles X: honestly, I do wish this one had already launched in the west at this point. That original January 2013 trailer feels like so long ago. Still, Xenoblade Chronicles X should be worth the wait. Xenoblade ended up as one of my favorite games of all time, and while X should be a fairly different experience, I'm anticipating that there will be enough there to make it both familiar and new at the same time.
– Super Mario Maker: after Nintendo showed this game at last year's E3, I was mildly interested. I knew I'd pick it up eventually, but it wasn't something where I thought I needed it at launch. My opinion changed greatly following Super Mario Maker's showing at E3 2015. I'm just amazed by the amount of crazy things you can do inside different levels. I'll be playing other creations rather than making them myself, so I can't wait to see what people come up with.