Fire Emblem Engage introduces Griss, Mauvier, Yunaka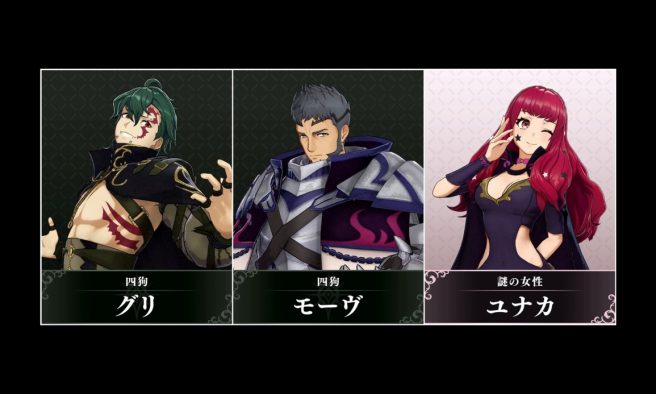 Three more characters have been introduced for Fire Emblem Engage – specifically Griss, Mauvier, and Yunaka. Tidbits were shared on the series' Japanese Twitter account and translated by Serenes Forest.
First up is Griss, who is voiced by Kenjiro Tsuda in the Japanese version. He's a loyal member of the Four Hounds – a group that intends to resurrect the Fell Dragon. Griss is both a violent and utterly deranged wielder of magic. With his cruel personality, the fiercer his foes are, the more power he'll unleash. Zephia does appear to trust their leader, Zephia.
Mauvier is voiced by Tomoaki Maeno in the Japanese version. Another member of the Four Hounds, he's a loyal, honest, and simple warrior. While Mauvier seems to be the most level-headed, one has to wonder what's really going on inside his head.
The final character we learn about today is Yunaka, who is voiced by Fairouz Ai in the Japanese version. She's a mysterious woman who players meet on their travels. Along with a cheerful and energetic personality, she also easily gets along with people she's just met thanks to her friendliness.
Yunaka's begins Fire Emblem Engage with the Thief class. This class is good at picking locks and can startle foes with their swift movements. They're also skilled with daggers and can use them to poison foes.
You can see a bit of footage for Griss, Mauvier, and Yunaka in Fire Emblem Engage below. The last portion highlights how Yunaka is having trouble looking for a lost item.
Fire Emblem Engage is set for January 20, 2023 on Switch. We have other character introductions for Alear here, Framme and Cramme here, Marth here, Alfred and Celine here, Celica here, Louis here, Chloe here, Sigurd here, Etie here, Boucheron here, Lumiere and Veyre here, Diamant and Alcryst here, Anna here, Ivy here, Timerra here, Zephia and Marni here, Byleth here, and Byleth here.
Leave a Reply