[Nintendo Everything Podcast] – episode #33 – E3: Waifus, Husbandos, Zelda Theories and Super Fightin Robots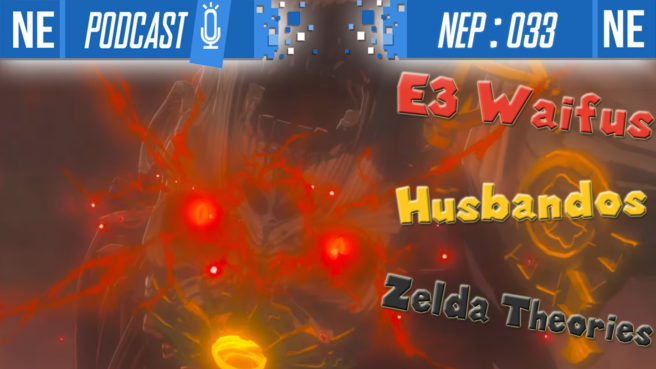 Hello my beautiful Banjos and Kazooies! This week is post E3, and we have so much to talk about, it's not even fair to our monthly data cap! Oni talks first-hand experiences on the Show Floor and discusses the entirety of the Nintendo E3 Direct and then some with Galen!
Part way through the episode, Galen suddenly had a swig of idiot juice and started being wrong about everything, but Oni keeps him on track as he recalls Eiji Aonuma's old plans for new gameplay in Breath of the Wild. The gang may have figured out how the sequel is gonna go! Or at least they'd like to think they have… Check below the break for the full details!
To celebrate E3, we're doing double content all month long! Mostly. We hope you're enjoying! The best way to support our show is to recommend the podcast to others, and rate us 5 stars on iTunes! We really appreciate all the support you've given us throughout the show.
Thank you so much for listening!
Timestamps:
06:56 – Nintendo Direct Discussion START-O! Dragon Quest XI, DQ Heroes in Smash, and general discussion on how the Direct was paced and its tone. Pre-show leaks
19:28 – Doug Bowser intro! A bumbling fool so precious in this Mushroom Kingdom. And Luigi's Mansion 3! How Luigi got his groove back. And The Legend of Zelda: Link's Awakening!
44:16 – Seiken Densetsu 3 is now Trials of Mana and the Collection is even coming West and Oni is the happiest he has been all year!
52:51 – Witcher 3! The rumors were true! Fire Emblem and the melodramatic waifu-husbando kerfuffle.
1:03:12 – Old Resident Evil games, and a little Parasite Eve chat, too.
1:07:39 – Henshin-a-go-go, baby! Travis Strikes Again with an announcement for No More Heroes III! Galen's never heard of the series so Oni explains it to him. Then they analyze the trailer together. And then! Galen confuses NMH with Tank Girl with Daemon X Machina. What is wrong with him?
1:13:10 – Contra one-two punch! Contra Collection and Contra Rogue Corps. And Daemon X Machina looking so fresh!! This brings Oni to peak excitement during the direct. And a little Pokemon Sword and Shield teaser/reminder for good measure. Then, Astral Chain and Empire of Sin! More anime cringe but not enough boy shorts.
1:25:00 – Galen gets more stuff wrong with Marvel Ultimate Alliance 3! Oni can't stand it. New characters and enemies, tho!
Also… Cadence of Hyrule! It was basically a S H A D O W D R O P. Galen played a bunch and gives off his impressions.
1:30:37 – Mario and Sonic at the Tokyo Olympics! Oni forgets words and does mental GYMNASTICS LIKE AN OLYMPIAN to try and get there. Give 'em a bronze medal, folks. And a story from Oni's flight from E3.
1:33:56 – Animal Crossing reemerges as Animal Crossing: New Horizons! We talk design and ideas for the future! Also, a sizzle reel happens and Galen fits in more time to be wrong.
1:40:02 – Grab your instruments and let's get jiggy with it, cuz Banjo-Kazooie are in Smash! Finally happening! It's a miracle. Oni and Galen break down the animation and the character interactions and discuss good design and bad design. Oni and Galen then discuss the Microsoft x Nintendo partnership, healthy ways to consume media, "reaction" videos and annoying thumbnails. We talk all the things on this podcast. Speaking of, Oni does more gymnastics on forgetting the most critical word for this format. THE MOST IMPORTANT THING AND HE FORGOT IT.
1:49:29 – THE SEQUEL TO LEGEND OF ZELDA: BREATH OF THE WILD. Outta freakin' nowhere! Oni recalls something Aonuma said years ago before BotW, and wonders if it's going to play into the story and gameplay for this upcoming game. Oni and Galen also talk about what they want to see from this new entry: open world? Traditional dungeons? Linear progression? Let's discuss, throw out theories, analyze and more.
2:05:05 – Additional DLC
2:12:10 – Listener Mail: Forcing yourself to play games, and how we choose the music we do.
Send us an email and we'll discuss it!
NintendoEverythingPod [at] gmail [dot] com
#nintendopodcast #gamingpodcast #podcast
Listener Bonus: Help the show grow and support us by giving us ☆5 STAR☆ iTunes review, likes and comments on YouTube, and share the Spotify playlist with your Nintendo-loving buddies!
Thank you!
YouTube
iTunes
https://itunes.apple.com/podcast/nintendo-everything-podcast/id1441241130?mt=2
Spotify
https://open.spotify.com/show/0zifaLm4st7KtUzDEojWBh
Direct Download
PocketCasts
Stitcher
https://www.stitcher.com/podcast/nintendo-everything-podcast
PlayerFM
https://player.fm/series/nintendo-everything-podcast
ListenNotes
https://www.listennotes.com/@NintendoEverythingPodcast/
PodTail
https://podtail.com/en/podcast/nintendo-everything-podcast/
Follow us on Twitter and Instagram
@NinEverything
twitter: @Oni_Dino / insta: Oni__Dino
@mobius087
A HUGE thank you to Headphones of Listening for NEP's intro music!
Check him out on soundcloud!
Leave a Reply