[Nintendo Everything Podcast] – episode #44 – Ass-tral Chain, Overwatch leak, Shovel Knight galore!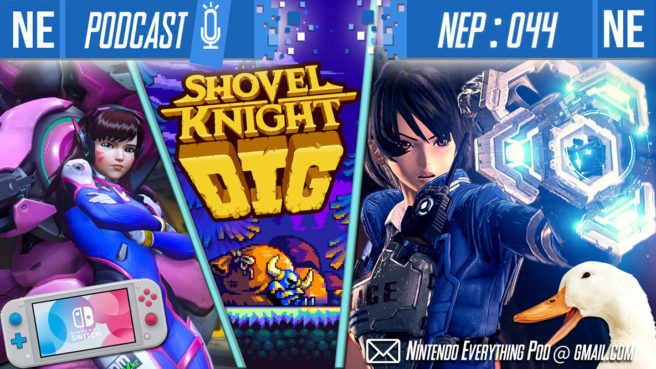 Hello, my boy cops and girl cops! In today's episode of NEP, we're catching up on a ton of game announcements and games we've been playing. Clifton Roy of Gayme Married on YouTube makes a brief cameo, Galen shares how he first found out about cheat codes and much more. Come hang out!
If you're enjoying NEP, please consider giving us a 5 star review on Apple Podcasts, aka new iTunes. It's incredibly helpful in getting us exposed to new listeners through algorithms, so we would greatly appreciate your help. Thank you for listening!
Timestamps
07:42 – Adventure Log DELUXE EDITION: Pokemon Masters, Gayme Married goodness with a cameo from Clifton Roy (Chasm, Never Give Up, Dragon Quest XI S, etc), Fire Emblem Three Houses, Enter the Gungeon, Astral Chain, Grandia HD Collection
49:58 – Overwatch probably on its way to Switch. And Galen brings up lootboxes. And 4chan rumors on a new female character with a mech design coming to Smash- then Galen blows Oni's mind.
59:03 – Yacht Club direct! King of Cards, Showdown, amiibo 3 pack, Shovel Knight Dig! Steamworld Dig similarities?
1:04:32 – Quickfire game announcements! Blade Strangers, Castle Crashers Remastered, Untitled Goose Game, Persona 5 Strikers announcement of an announcement, Disney Classic Games: Aladdin and The Lion King, Dusk Diver, Samurai Shodown, Mega Man Zero / ZX Legacy Collection, Warriors Orochi 4 Ultimate
1:31:47 – Additional DLC
1:35:05 – Listener Mail: 64gb carts- where are they? Will publishers even take advantage of them? Are they too costly? Should Nintendo eat the cost?
Additional DLC
Send us an email and we'll discuss it!
NintendoEverythingPod@gmail.com
Listener Bonus: Help the show grow and support us by giving us ☆5 STAR☆ iTunes review! Thank you!
YouTube
Apple Podcasts / iTunes: https://apple.co/2xLl0C5
Spotify: https://spoti.fi/2Gdgoch
Direct Download
PocketCasts: https://pca.st/IQVa
Stitcher: https://bit.ly/30uxOZR
PlayerFM: https://bit.ly/2yfCu9P
ListenNotes: https://bit.ly/2SINTbG
PodTail: https://bit.ly/2yfDgDL
Oni Dino's YouTube "Gayme Married": https://bit.ly/2JK21xd
Oni Dino's Twitter: @Oni_Dino
Oni Dino's Insta: Oni__Dino
Galen's Twitter: @mobius087
Galen's Insta: true_mobius
HUGE thank you to Headphones of Listening for NEP's intro music! Check him out on soundcloud!
News Links:
Leave a Reply