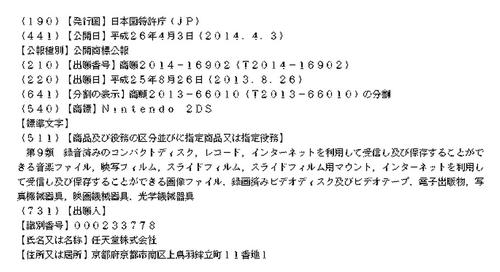 Just a few days ago, Nintendo filed a trademark for 2DS in Japan. The name was registered on April 3. Could this be a sign that the 2DS is being considered for release in the country?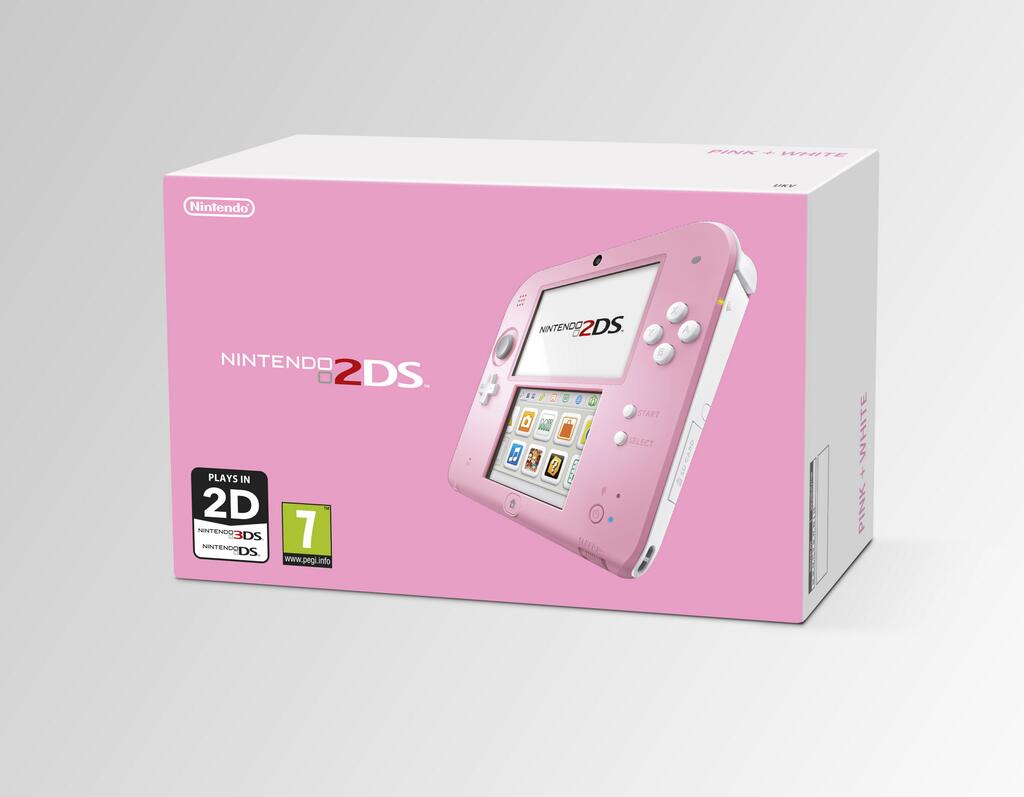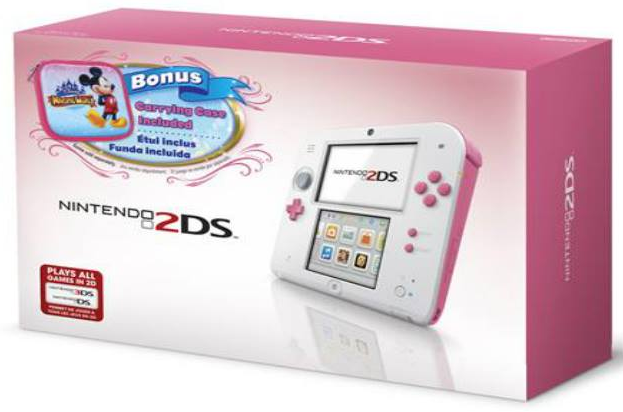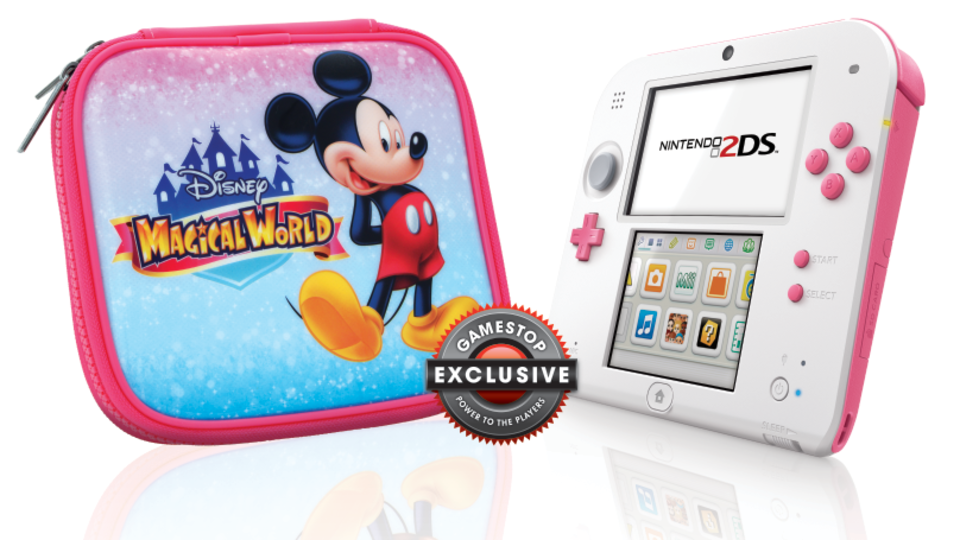 Update: Pre-order page can be found here.
Original: Starting today, GameStop will begin taking pre-orders today for an exclusive "Peach Pink" 2DS unit. The console comes with a free Disney Magical World-themed carrying case.
Like all 2DS models, the Peach Pink system is priced at $129.99. It should be out "alongside" Disney Magical World next month.
There are quite a few 2DS users who have experienced a "phantom stylus" problem with their system. The issue depresses the upper left corner and endlessly cycles the screen.
Thankfully, one 2DS owner appears to have come up with a fix. Watch the video above for some instructions which may solve the problem if you happen to encounter it.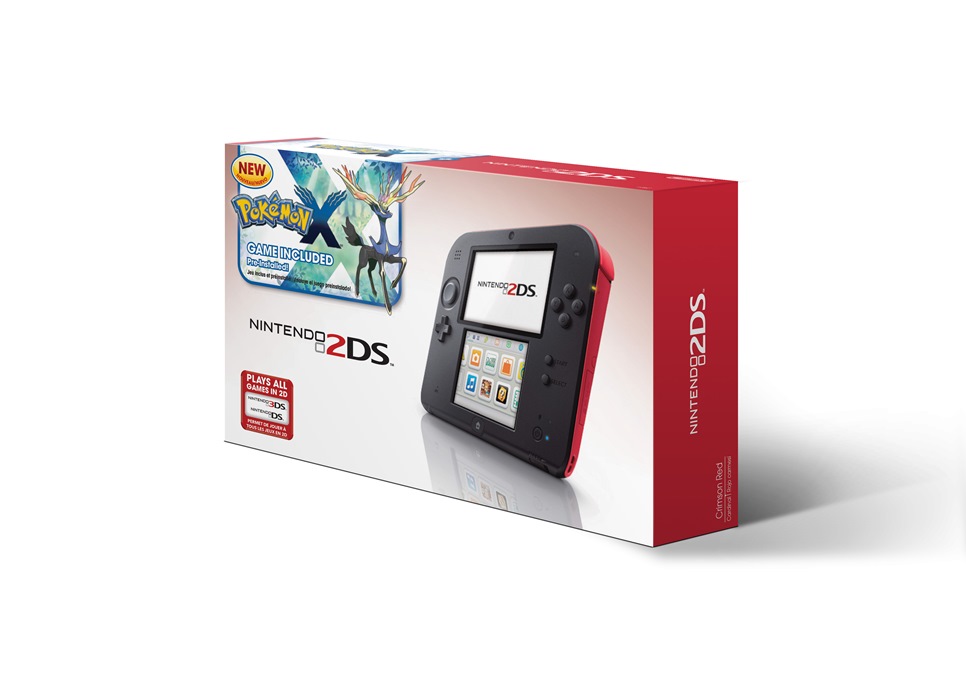 Nintendo has confirmed a pair of Pokemon X/Y 2DS bundles for North America.
Starting on December 6, consumers will be able to purchase a red system with a pre-installed copy of Pokemon X at Target. Toys"R"Us will be offering a blue system with Pokemon Y.
Pricing is set at $149.99 each. Bundles will be sold while supplies last.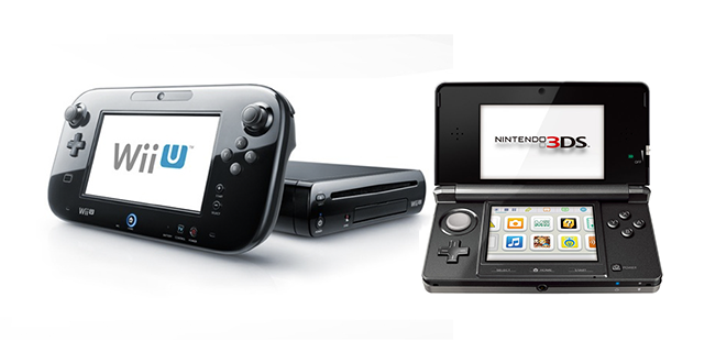 Nintendo of France deputy general manager Philippe Lavoué shared updated Wii U and 3DS sales figures for the country while speaking with JDLi.
According to Lavoué, Wii U's life-to-date hardware sales stand at 175,000 in France as of the middle of November.
As for 3DS, the system's life-to-date sales come in at 2,150,000 units. The 2DS accounts for 30 percent of the 3DS' total sales. 3DS possesses a market share of 50 percent of all systems at the moment.
It's also worth mentioning that 3DS software sales rose from 850,000 to 1,700,000 year-over-year during the same timeframe.
Additionally, Pokemon X and Pokemon Y collectively sold 220,000 copies in its first three weeks of availability.
We also have the following (Google translated) comments from Lavoué:
Some European retailers have already started selling the two Pokemon X/Y 2DS bundles. Kind of interesting how Nintendo still hasn't said a peep about these packages!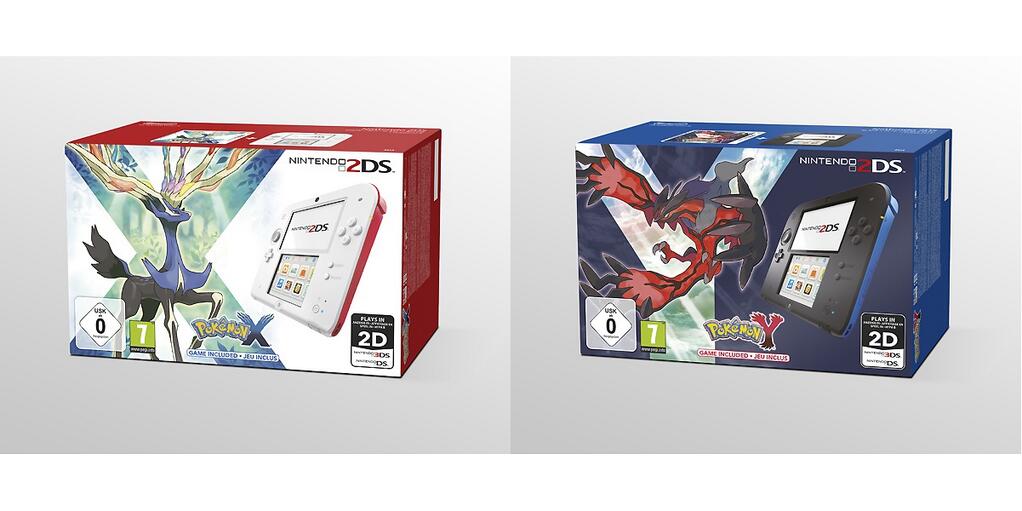 Just a couple of days ago, we reported on new 2DS bundles located on Amazon Spain and Amazon Germany. Since then, additional European retailers listings have been discovered – named ones on Game Mania and Toys XL. It's sounding like the 2DS bundles will begin hitting stores next month.
Several 2DS bundles have been listed by Amazon.
Over at Amazon.es, the site includes entries for Pokemon X, Pokemon Y, and Animal Crossing: New Leaf packs. Amazon Germany also seems to list the same bundles as well as one for Mario Kart 7.
Nintendo hasn't officially confirmed any 2DS bundles for the west, though the company did recently announce the two Pokemon packs for South Korea.
Thanks to snow for the tip.