Mighty No. 9 has updated their community page and posted some new pictures to give us an idea of what the production process looks like.
Hi again, Mighties! Reward manager Jon here, back with another glimpse into the rewards production process!

We've been working on all of the rewards in tandem, but probably the biggest challenge has been production of the art book/strategy guide. In terms of hours invested, materials needed and parties involved, it's taken more effort to plan, prepare and execute than almost all of the other rewards combined!
Check out the screenshots below!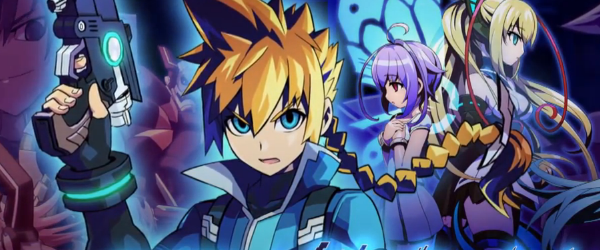 Inti Creates' eShop hit Azure Striker Gunvolt has just reached 100,000, the official Twitter for the game just tweeted.
Azure Striker Gunvolt has cleared the 100,000 worldwide downloads milestone! Thank you!! 😀 http://t.co/bUybcvEDZT pic.twitter.com/AomXY4eNnz

— Inti Creates (@IntiCreatesEN) March 13, 2015
This is certainly a much deserved milestone for this fantastic platformer. Have you played Azure Striker Gunvolt yet? A demo was just released a few weeks ago and is now available for download in the 3DS eShop. A sequel for the game is currently in the works.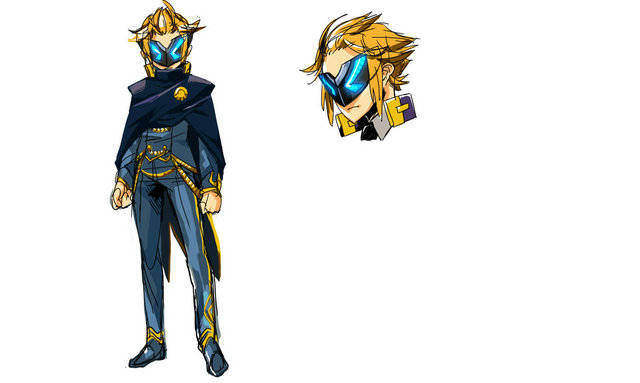 It could be awhile before we see Azure Striker Gunvolt 2. In an update covering Mighty No. 9, it was stated that Azure Striker Gunvolt 2 "is still in the concept phase".
We first heard about Azure Striker Gunvolt 2 at an Inti Creates fan event a couple of weeks ago. The original game launched on the 3DS eShop last August.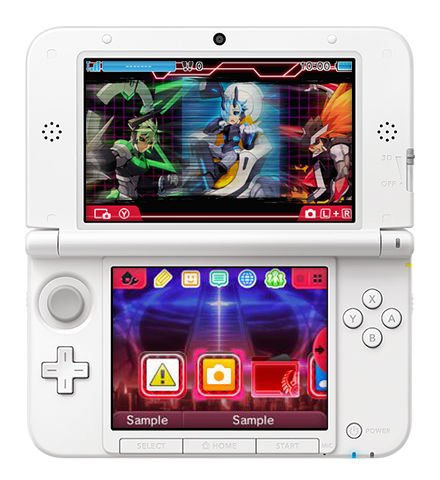 Inti Creates isn't slowing down on the Azure Striker Gunvolt news! There are two notable pieces of information to share.
The first is Azure Striker Gunvolt's new "The Sumeragi 7" theme for 3DS. This is due out on March 5 for $1.49.
Additionally, a demo for Azure Striker Gunvolt is launching on the same day. Data can be transferred to the full version.
Here's the full rundown from Inti Creates:
First let's have a look at the new theme, "The Sumeragi 7?. This one features the seven Sumeragi boss characters in a scrolling image on the upper screen, and some nighttime city scenery on the lower screen! The boss battle theme "Sumeragi Skirmish" plays in the background. The Sumeragi 7 theme will be available for $1.49.

For those of you who haven't had a chance to play Azure Striker Gunvolt, you now have the opportunity to try before you buy! The demo version of Azure Striker Gunvolt will be playable up to 20 times, and includes a special bonus for those of you who purchase the full version after completing the demo version! Players will be able to enjoy 500,000Vig (in game currency) and ample item snyth materials so that you can start powering up Gunvolt's arsenal right away!
Inti Creates shared official details about Azure Striker Gunvolt's 1.2 update, which is now confirmed for release in North America on March 5.
As previously mentioned, the patch adds New 3DS functionality and the Sakura Efflorescence song from Lumen. There's also a new Boss Rush mission, support to transfer demo save data to the full game, and bug fixes.
Read up on the full patch notes below.
As for the version update, Azure Striker Gunvolt has been recharged and loaded up with brand new features for Ver. 1.2!

No. 1: Boss Rush Mission

Beat the game to unlock the new Boss Rush mission! Get 1000+ Kudos during Boss Rush to hear the English version of Beyond the Blue!

No. 2: Brand New Lumen Song

Lumen's brand new song "Sakura Efflorescence" now plays during normal mission playthroughs!

No. 3: Support for New Nintendo 3DSTM

Use the ZL Button and ZR Button to change your weapon on the fly! Enjoy higher CPU power and shorter loading times too!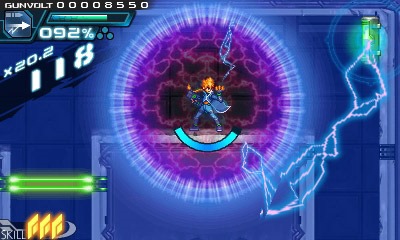 During a fan event in Japan yesterday, Inti Creates revealed that a new Azure Striker Gunvolt update is in the works.
Version 1.2 will do a few things. First, New 3DS owners will be able to change weapons on the fly with the ZL/ZR buttons, and system owners will experience faster loading times. Three new songs will be added as well including Lumen's new song "Sakura Efflorescence".
Azure Striker Gunvolt's 1.2 update will release on March 11 in Japan – and possibly North America as well.