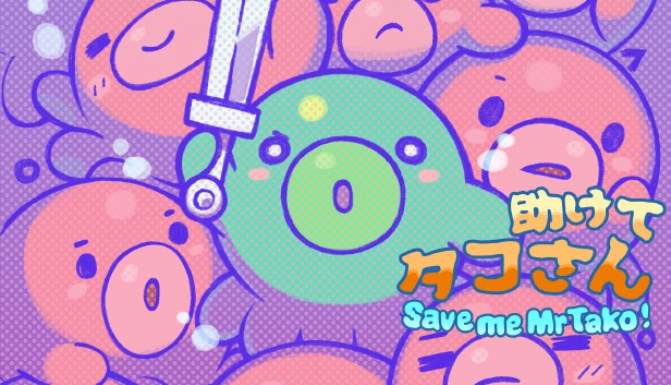 Nicalis teamed up with Christophe Galati on the retro-inspired platformer Save me Mr Tako: Tasukete Tako-San. Now with the game having just reached its second anniversary, a big change has happened.
It's confirmed that Nicalis no longer has the rights to Save me Mr Tako: Tasukete Tako-San, which has resulted in the game being temporarily pulled from the Switch eShop. However, Galati intends to bring the title back through self-publishing. Additionally, a patch is planned that he was not able to implement due to some unwillingness from Nicalis.
Nicalis and Galati posted the following statement on Twitter: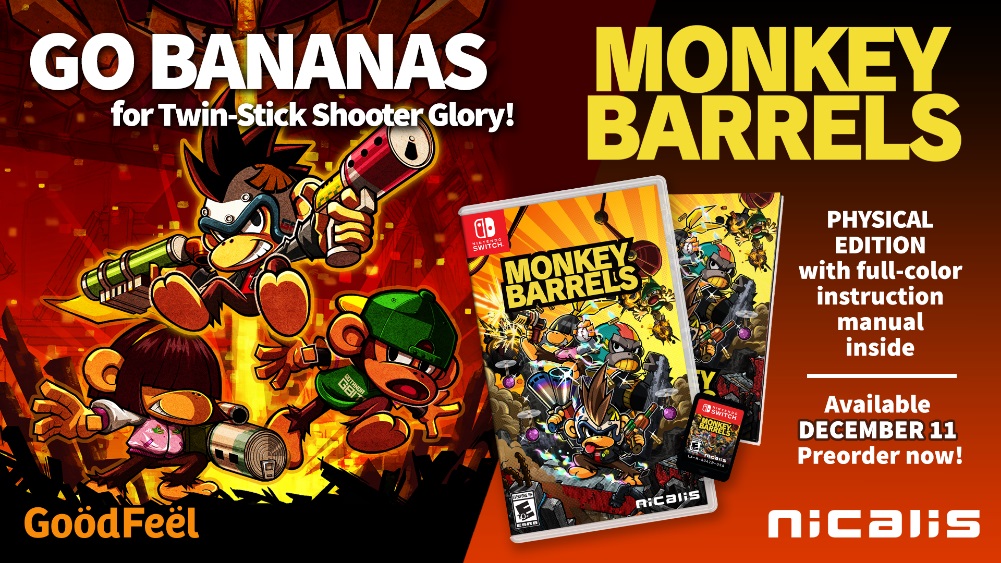 Nicalis has announced its latest physical release for Switch. Monkey Barrels, a twin-stick shooter developed by Yoshi's Crafted World developer Good Feel, will have a boxed copy in the west starting on December 11.
The physical version of Monkey Barrels includes a full-color instruction manual and a reversible cover insert with alternate artwork. Of course, you'll be getting the cartridge as well.
Monkey Barrels will cost $39.99 at retail.
Source: Nicalis PR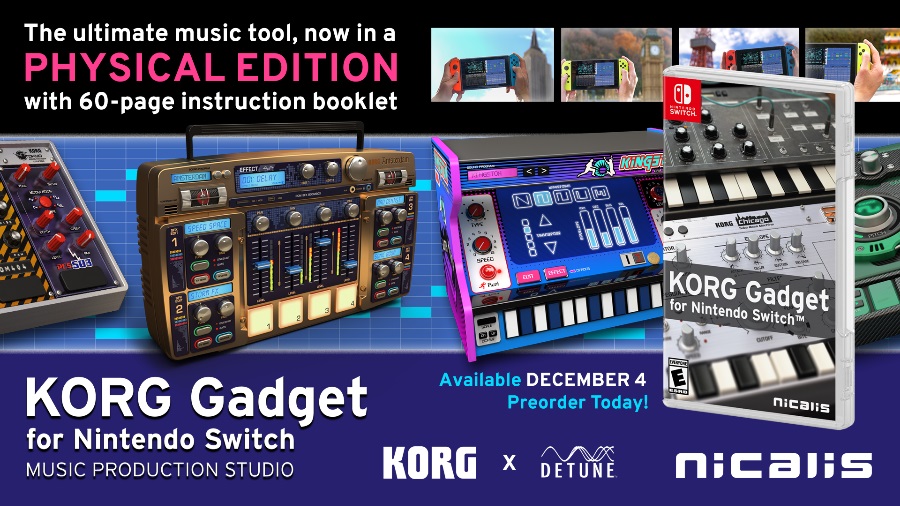 KORG Gadget for Nintendo Switch will soon be offered in physical form. Nicalis has announced that it's partnering with Detune on a physical version, which is slated for December 4.
The physical release of KORG Gadget for Nintendo Switch will include a 60-page instruction manual, which Nicalis says is "one of the most thorough booklets that has ever been created to accompany a console game release."
Pricing for KORG Gadget for Nintendo Switch is set at $49.99. The Nicalis online store is taking pre-orders here.
Source: Nicalis PR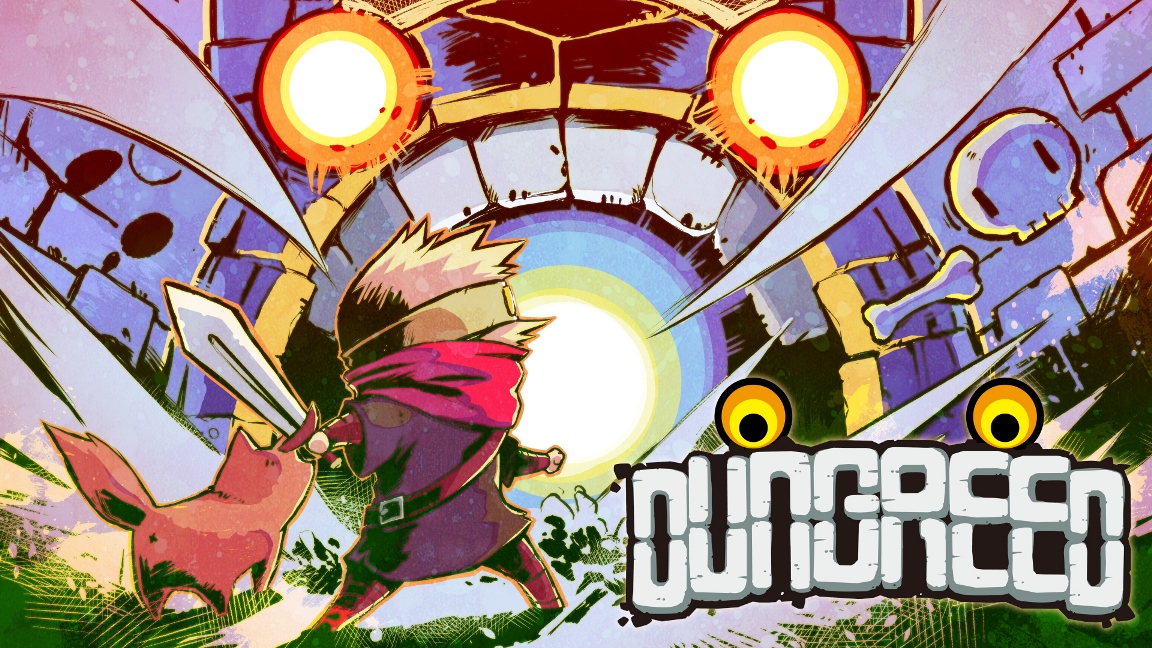 Dungreed, a 2D side-scrolling action game with 2D rogue-lite elements, is out today on Switch. We've included the official launch trailer below.
Dungreed can be purchased on Switch both physically and digitally.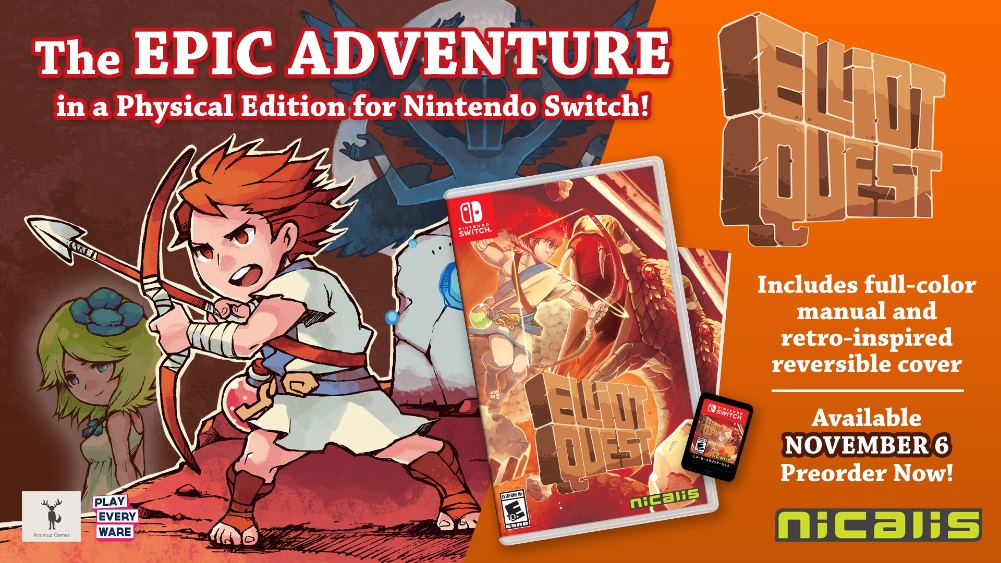 The action-adventure game Elliot Quest is no longer limited to the eShop. Today, Nicalis announced that it has teamed up with Ansimuz Games on a new physical version for Switch.
Nicalis says that the game's packaging "completes the homage with a full-color instruction manual and a retro-inspired reversible cover paying tribute to one game that influenced Elliot Quest directly."
The physical version of Elliot Quest releases on November 6 for $29.99. Nicalis is taking pre-orders through its online store here.
Source: Nicalis PR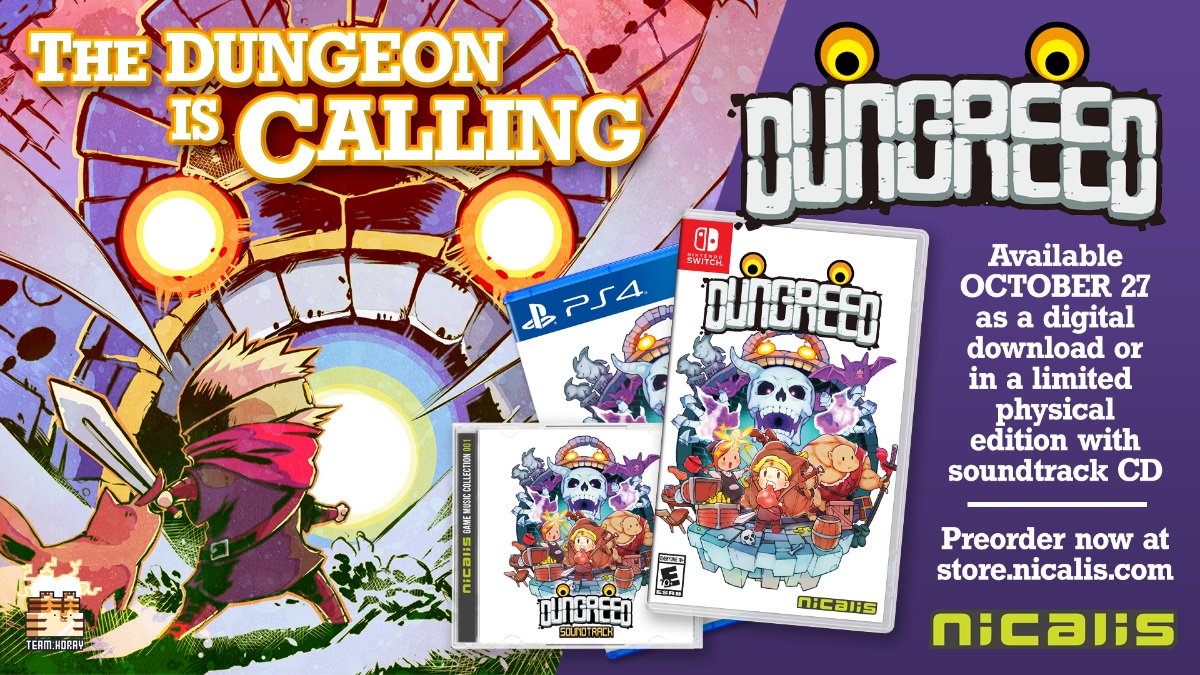 Today, Nicalis announced the final western release date for Dungreed, a 2D side-scrolling action game. It's planned for release on October 27 both physically and digitally.
Here's an overview of Dungreed, along with a trailer: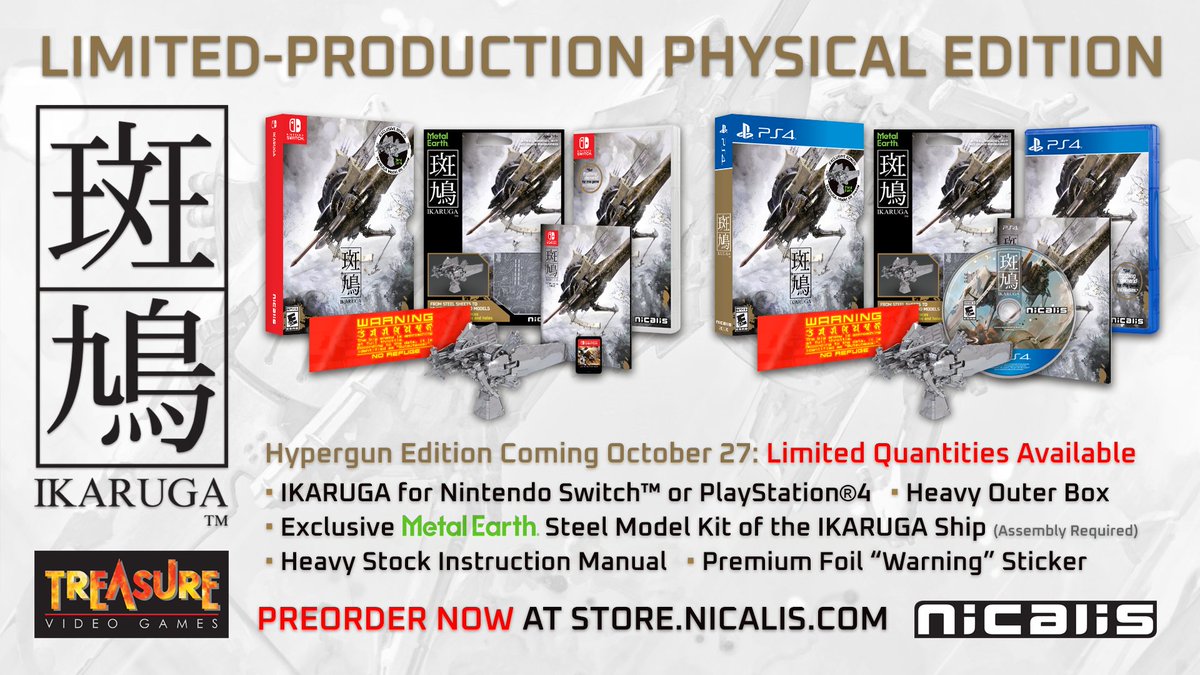 Nicalis has provided an update on the physical version of Ikaruga. In the west, the game is arriving on October 27.
The physical edition comes with the following extras: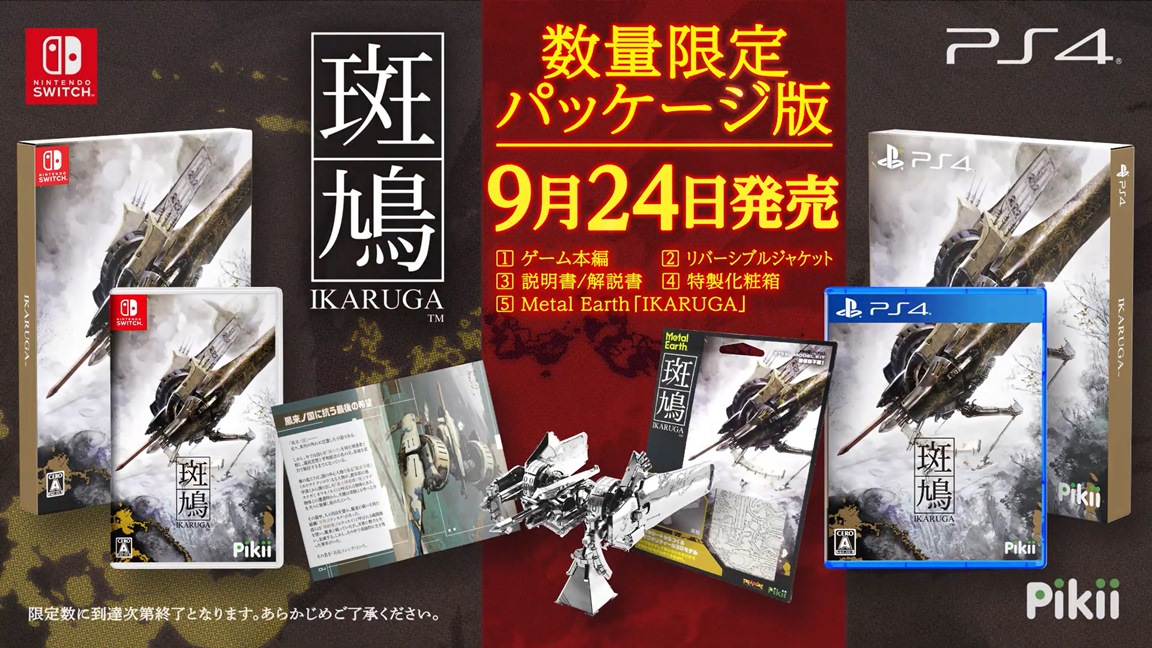 New information is in regarding the physical release of Ikaruga.
In Japan, there's already a confirmed release date of September 24. Nicalis, who is handling the overseas version, is only stating that it's coming "soon" and it'll be out by the end of 2020.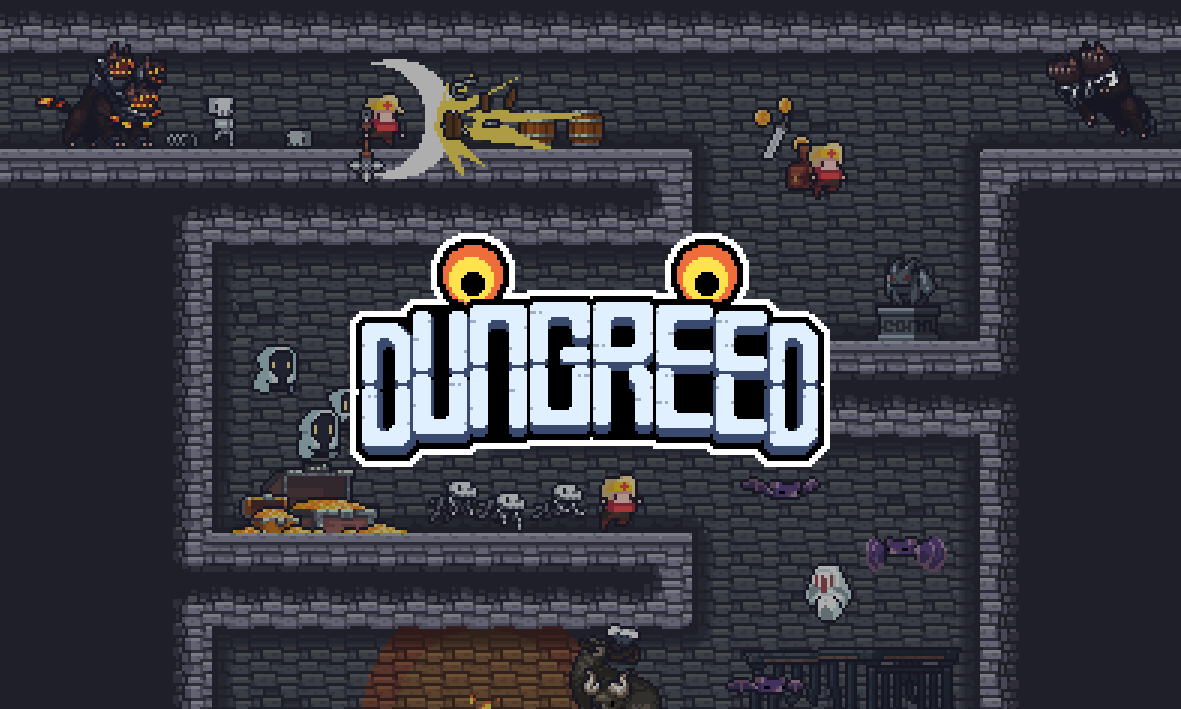 2D side scrolling action game Dungreed is planned to launch on the Switch according to the game's japanese publisher, Pikii. This will be on the eShop for most regions, but a physical release is planned for Japan. Check out an overview and a new trailer below.
Dungreed is a 2D side-scrolling action game with 2D Rogue-LITE elements.

Prologue:

A quiet and peaceful town was destroyed by a mysterious dungeon and all the townspeople were sucked into the dungeon. You must become an adventurer sent from the kingdom to solve this disaster. Enter the dungeon to face the endless threats, rescue the people and rebuild the town!

There are no checkpoints in the dungeon. When an adventurer is slain within the dungeon, his items are lost and he is sent back to town.
Don't worry too much though. There are various ways you can grow. You can permanently increase your stats through training and become even stronger with various items and food found in the dungeon. Train the adventurer and explore deep into the dungeon!

Key features:

– Procedurally generated, but intricately designed maps
– Training system to help explore the dungeon
– From rusty swords to cutting-edge sniper rifles, various weapons, and magical items
– High-quality appetizing pixel-art of food!
– Rebuild the town
– Dungeons with varying themes such as prison, jungle, and lava zone
– Exciting monsters, traps and bosses
Dungreed is slated for launch on September 24th on the Switch eShop.
Source: Nicalis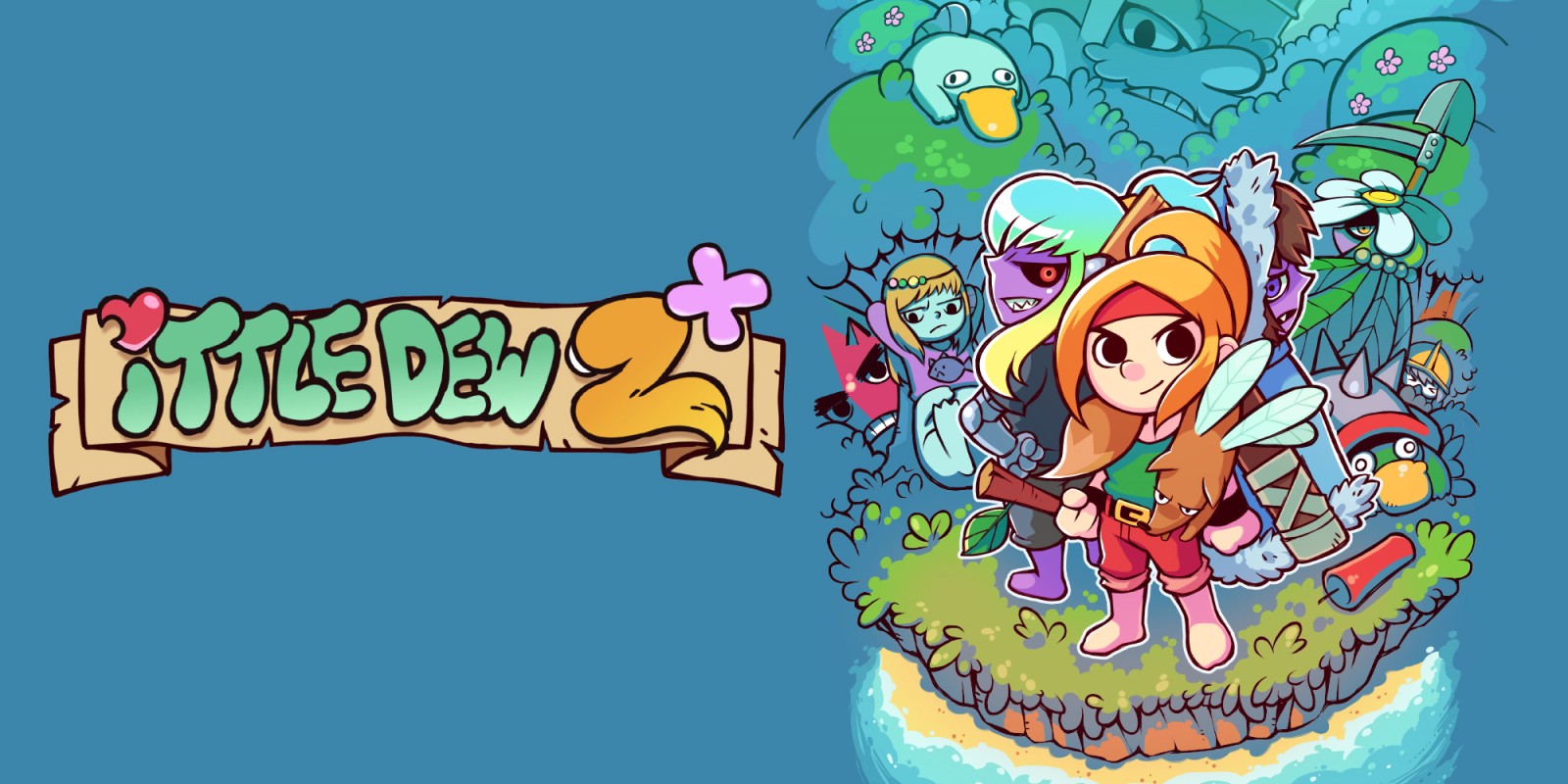 Months after it was taken down, Ittle Dew 2+ finally returns to the Switch eShop next week. Developer Ludosity is now able to release the game directly rather than having to go through Nicalis, the company that originally published its game.
The original issues came about last September after Ludosity terminated Nicalis' publishing license six months prior due to breach of contract. Though Nicalis said it would transfer the game back to the studio on consoles, CEO Joel Nyström said Nicalis never followed through, and the title was simply taken down entirely.
Interestingly, according to Nyström, Nicalis apparently tried to re-publish Ittle Dew 2+ consoles despite having lost the rights. Nyström commented on the situation on Twitter and while speaking with GamesIndustry, writing: