Earlier this week, Nintendo updated the trademarks for Eternal Darkness and the Wii Vitality Sensor in the United States. Both were updated on December 17. There's some talk about both products seeing some sort of development, but I'm not quite willing to go that far… yet.
Level-5 has picked up two new Youkai Watch-related trademarks in the United States. "Jibanyan" and "Whisper" – important characters from Level-5's series – had filings on December 9.
Back in January, Level-5 trademarked "Yo-kai Watch" in the states.
Spike Chunsoft has registered trademarks for "Zero Escape" in both the US and Europe. The European application was filed in July, whereas the US trademark was filed on October 2.
What do these trademarks mean? At the moment, no one knows unfortunately! It's certainly a possibility that nothing will come from either filing.


Nintendo has picked up a pair of new trademarks in Europe. "QUDY" and "Qudii" were both registered today – September 18.
No idea what these two names are at present. Perhaps you guys have some ideas?
Thanks to snow for the tip.
Nintendo has filed for a trio of "QOL" trademarks with the USPTO. Of course, these all pertain to the company's upcoming Quality of Life plans.
Just last week, Nintendo filed a trademark for "QOL" in Europe as well. It was also registered with the Japanese trademark database in March.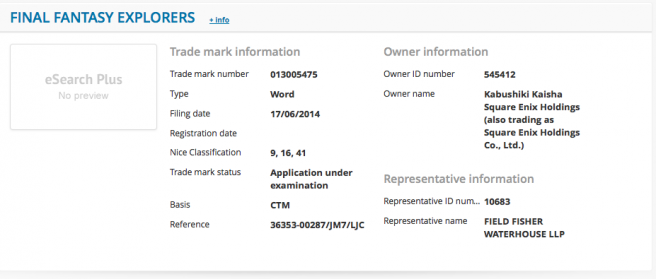 Looks like Square Enix has plans to bring Final Fantasy Explorers to the west. The name has been trademarked not only in the US, but Europe as well. Here's hoping Square Enix makes a localization announcement sometime in the future!
Thanks to snow for the tip.