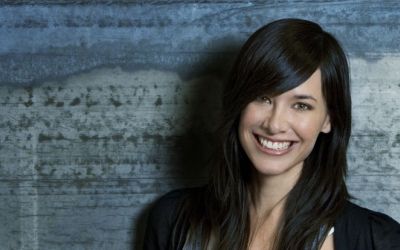 ---
"I think it's hard to say [there's no innovation] when you see games like Watch Dogs and The Division being announced, which I think are big triple-As and I think are innovating. I think that's the perception when you go to those conferences."

"I think the big question to me, as the expectations of these big triple-As keep on growing and the consoles become more powerful and teams get bigger, is how do we keep the costs in line? That's for sure one of the things that is going to stifle innovation eventually. Anytime you want to make a big triple-A, you're spending, let's say $100 million, you're not going to want to take a chance. It's got to be, I'm making the next Call of Duty or the Assassin's Creed and I know it's going to make 'X' amount, so we'll make money. I think that's the tougher thing."
– Managing Director of Ubisoft Toronto Jade Raymond
---
Raymond went on to say that she believes developers need to find new ways to make money if they want to keep making huge, AAA, innovative titles. Budgets like that aren't conducive to innovation unless you can find another source of revenue.


News has come out today that French mass-media-multicorporation Vivendi is planning on selling the majority of its stock in game publisher Activision-Blizzard, a move that would break the company from the shackles of shareholder interests and return it to being a publicly traded and by-and-large independent company.
What does this mean for their games? Not much. Business should operate as usual over at the publisher, and CEO Bobby Kotick will remain in position after purchasing the shares from Vivendi for a hefty $2.34 billion in cash.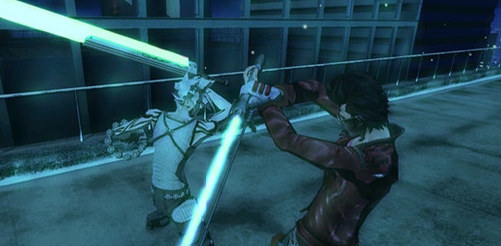 ---
"So I think video games are becoming an important, and a dominant form of entertainment worldwide. And in that landscape, I truly feel that our shooters, racers, and our mainstream games have been covered, checked off and done well. To really push games into the realm of culture and art, I feel that only doing realistic mainstream games won't be enough; we need to pursue new frontiers and new horizons with what we do, and the process of creation shouldn't be contained."

"Therefore, I feel at Grasshopper one of our obligations– our duties– to the video game world is to create revolutionary titles that really push the status quo."
– Game designer Suda51
---
One of the few folk truly approaching game design from an artistic standpoint, Suda certainly lives up to what he says with every game he's made that I've played. I'm not sure we need every single developer to go down the road he's on, but I do agree that more people should approach game design in fundamentally the same way.


Amidst seemingly insurmountable financial troubles, developer Atlus' parent company ("Index Corporation") will be delisting its stock on July 28th, and should begin taking bids for its goods and services next week. Atlus employees continue to say that the situation won't affect their daily operations, and the launch of games like Shin Megami Tensei IV (which came out earlier this week) and Dragon's Crown will remain unaffected.
Index Corp. CEO Yoshimi Ochiai and Chairman Masami Ochiai plan to resign.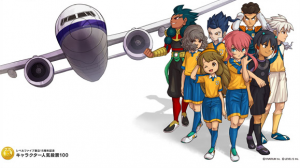 ---
Though I'm sure they don't mind in the slightest, game developer/publisher Level-5 was recently forced to publish a special wallpaper with characters from many of their most popular franchises… as well as the airplane and the "porter" from AeroPorter! The 3DS download title apparently held a spot in the popularity poll that they put up to determine which characters would be drawn into the wallpaper, and so many people put down their vote for the non-living, metallic flight-body that Level-5 had to include it! The airplane managed to snag 46,263 votes, ahead of the second-place Inazuma character who pulled in 38,339, and the porter himself (a character with no face or personality, mind you) got ninth, with 17,889.
Take a look at the wallpaper above, or click here to download a full-sized version.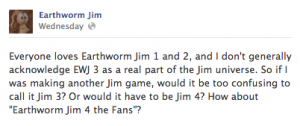 ---
The Earthworm Jim Facebook page is managed primarily by Doug TenNapel (creator), with some extra comments by MIke Dietz and Ed Schofield, all of whom worked on the series in some official capacity. Whether this means anything is hard to say… he could have just been thinking about the 3D entry in the series and pondering how fans don't really think too highly of it!


This data comes from a survey done by gaming social network "Pixwoo". 2000 people who identified themselves as "gamers" were questioned, and they're all from the UK:
---
– Average gamer in the UK is married
– They play, on average, for about 2.5 hours a day, five days a week
– Average age is 35
– They stay up until (on average) 10:58PM playing games
– The data stays relatively consistent from male the female gamers
---
– Average gamer owns two consoles, 18 games
– Takes around a month to complete each game
– Most of them argue more than twice a week with their partner about gaming (not sure if this means about games themselves or gaming habits)
– About 5% say gaming is a "constant cause" of arguments
– 15% have broken up with someone due to their love of gaming
---
– Average gamer has about 5 online friends
– 29% say they've met at least one of their online friends face-to-face
– 33% play multiplayer games locally
– 25% play online
– 20% play with their online friends consistently
– 44% will purchase an Xbox One, PS4, or gaming PC in the next 12 months
– Most popular console was Wii, followed by PS3, then Xbox 360
---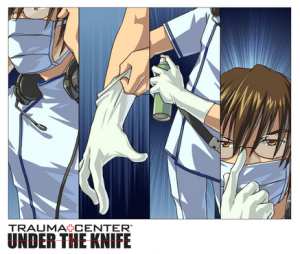 ---
"From hereafter also, the development and sales of the Atlus brand as well as the consumer business will continue. Other retail and download titles that are currently on sale will continue to be sold as they are currently."
– Official Statement from Atlus
---
As a big fan of Atlus' work myself, this is great news. What will happen to the parent company (and where Atlus may end up after their rough patch) is still up in the air, but with any luck things will maintain their current scheduling at the developer themselves.


---
Despite the fact that Capcom canned the project, some hardcore fans of the now-unreleased Mega Man Legends 3 have decided to go ahead and make their own version of the game in 8bit, classic Mega Man style. That's not all though: They're also getting help from two former Capcom employees that worked on the Legends series, Hideki Ishikawa and Makoto Tomozawa. Ishikawa was the character designer for the series and Tomozawa composed the music. Both will be helping out by contributing box art and music to the game.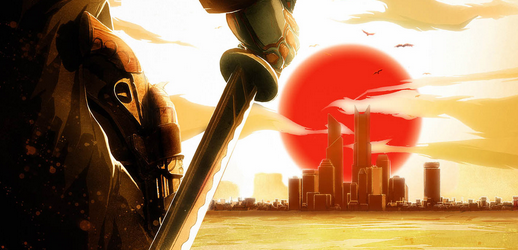 ---
"Games are loops, and if you want to leave yours closed, you will be in good company. No one has ever 'finished' poker, or football. There are a ton of games that don't even have endings. Most arcade-style games and most MMOs don't have real endings. The Sims doesn't have an ending. Poker? Chess? Football? In fact, a broad majority of the world's long-standing favorite games are specifically designed to never be finished. One game of Sudoku leads to another, which leads to another."

"The ability for players to stop playing whenever they feel like it is inherent in the form. This is not a bad thing; this is a good thing. It is part of the game-design landscape. And if you learn to worry less about insisting that everyone who starts finishes, and put your attention on the advantages this fact of gaming gives you, you will not find a more personally liberating moment in game design than in designing your end."

"Putting down the controller somewhere before the final climactic scene in a video game is not a sin. It is an intrinsic part of our art form. I never finished the first BioShock, yet it remains a game I thoroughly enjoyed. Grim Fandango? Never finished it. But I sure as hell use it as an example in design discussions! I have never finished a single Z, but, man, they are fun (usually)."
– Ubisoft creative director Jason VandenBerghe
---
I'm not sure I entirely agree with VandenBerghe. Like it or not, a game is a piece of art just as any other media experience is, and as a piece of art if you want to judge it you should first experience everything the game pushes you to experience. Single player campaigns are part of this, but so are things like multiplayer modes or side-content, and judging it without fully experiencing (to the degree the game wants you to) those things isn't necessarily fair.