Mighty Switch Force! Hyper Drive Edition likely won't be WayForward's last Wii U game.
WayForward creative director Matt Bozon explained how the studio could approach the console going forward:
"If it's anything like DSiWare, we'll test the waters a bit and then try to roll out something a bit heftier. That's a prediction, not a reveal of some secret project. I just see a lot of patterns in the way we work. Multiple Wii U retail titles for sure, and Wii U eShop exclusives are very likely too. From my own experience, the system is a game changer."
Hyper Drive Edition director Austin Ivansmith also showed great interest in support Miiverse going forward:
"We're definitely supporting it. We'd also like to try some innovative ideas with Miiverse, since there could be options for sharing data of some sort."
One final, random tidbit from Bozon. He revealed that WayForward had hoped to get involved with GBA's e-Reader, but "that's the one that got away."
"Heck, we even tried to get on the card e-Reader back in 2002 and got – as far as I know – the only external US dev kit. But alas, that's the one that got away."


In an interview with GamesMaster this month, Shigeru Miyamoto said that it's "very likely" he'll return to ideas that weren't realized with the GameCube – Game Boy Advance link system.
Nintendo originally revealed the functionality at E3 2002. It allowed players to unlock modes, extras, and other content. One of the first games announced to support the functionality was Pac-Man Versus. Miyamoto noted that it was "a really interesting game", but "it was rather hard for everyone to own four GBAs at the same time."
Miyamoto told GamesMaster:
"I think it is very likely. I cannot tell specifically what ideas I used to have at the time which might be realized this time around. But as you might recall, at one of the E3 shows several years ago we showcased a game of Pac-Man Versus, which was a really interesting game. Unfortunately however it was rather hard for everyone to own four GBAs at the same time.
"But at that time still it was not very easy or accepted. [Now, with Wii U], it's not just creators outside the company are finding fascinating possibilities to be able to realize a game dream come true."
Thanks to joclo for the tip.


Blizzard's Diablo series could have come to a Nintendo handheld.
According to author David Craddock, who is about to release a book about Blizzard North, reveals that a small team made a proposal for "Diablo Junior" following the release of Diablo II.
Junior would have been a prequel created for the Game Boy Color and/or Game Boy Advance as a single-player title. There were plans to release three cartridges, much like Pokemon. Each would feature a unique hero and items that could be traded across the different versions.
Craddock notes that the project was ultimately shelved "because of the steep production costs associated with developing handheld games."
"Following Diablo 2's release, Blizzard North split into two teams … kind of. One team immediately started in on D2's expansion set, Lord of Destruction. The other team went into spitball mode, kicking around ideas for a new IP. But several other developers ventured into groups of two or three and put together proposals for smaller projects. One of those was given the working title Diablo Junior, a game tentatively planned for the Game Boy Color and/or the Game Boy Advance, depending on market share and other business-y factors. Diablo Junior was intended as a single-player-only prequel to the original game. Taking a page from Pokémon's book, the team wanted to release three cartridges, each packing a different hero in the warrior-rogue-sorcerer vein as well as items that players would have to trade for in order to collect. Heroes started in a unique town before heading into dungeons and wilderness zones. Diablo Junior was ultimately put out to pasture (absent of cow levels, I'm sure) because of the steep production costs associated with developing handheld games."


Nintendo president Satoru Iwata has fielded a number of questions relating to handheld gaming – competition in particular. Head past the break for his comments on what it would take for his company to stop making dedicated gaming handhelds, the threat of smartphones, how the two platforms differ, and more.


Nintendo Easter Eggs never cease to amaze me. This latest one, despite being a smaller nugget (and perhaps known for awhile), is still pretty darn neat.
Basically, the GameCube has a cameo appearance in Metroid Fusion. It's embedded in at least one of the game's exhaust fans.
Take a look below: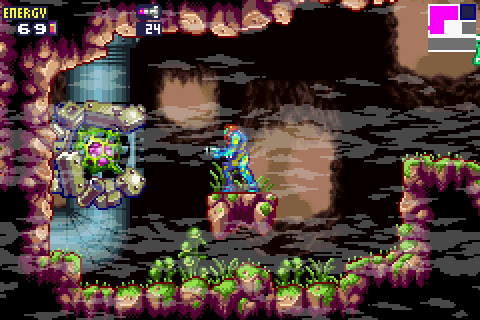 Can you spot it in the image? If not, head past the break to see its location!


A couple of months ago, Shin'en dished out some information on a never-released futuristic racing game featuring 3D polygons. The studio has now released a short video of the prototype in action – you can find it above.


Shin'en is one of the most dedicated and technically capable Nintendo developers, and they've been making games for many, many years now. We've seen the company pull off some impressive visuals on the Game Boy Advance, DS, WiiWare, and 3DS.
When the GBA was still alive and kicking, Shin'en was working on a racer that incorporated 3D polygons. Shin'en boss Manfred Linzner feels that the studio's prototype was "amazing", but it was shelved "because we had too much retail work to do at that time."
According to Linzner:
"We had a racing game on GBA that used 3D polygons. We still have that prototype – and it's amazing – but it was never finished because we had too much retail work to do at that time."


Last month, GamesMaster released its 250th issue. For its May 2012 edition, the magazine celebrated the accomplishment by compiling a list of the top 250 greatest gaming moments.
We have the list below, but you can pick up the the latest issue now and read about why GamesMaster made each selection. And beware of spoilers – even though most of these games have been out for years, some of these moments do mention important happenings such as character deaths.


The Official Nintendo Magazine has offered its opinion on the top 100 games made for Nintendo systems.
We've posted the first ten entries below. The entire list can be found after the break.
100. Super Monkey Ball (GameCube)
99. Little King's Story (Wii)
98. Tony Hawk's Pro Skater 2 (GameCube)
97. DJ Hero (Wii)
96. Trauma Center (DS)
95. Prince of Persia: Sands of Time (GameCube)
94. Conker's Bad Fur Day (N64)
93. Killer Instinct (SNES)
92. GTA: Chinatown Wars (DS)
91: Pushmo (eShop)
90. Beyond Good & Evil (GameCube)



The 3DS has sold over five million units in Japan. Nintendo shared the news in an announcement earlier today.
Nintendo's latest portable is the first system to reach this milestone in 52 weeks. Two other handhelds from the Big N, the DS and GBA, accomplished the feat in 56 and 58 weeks receptively.
Here's a chart comparing the sales trends for the GBA, DS, Wii, and 3DS: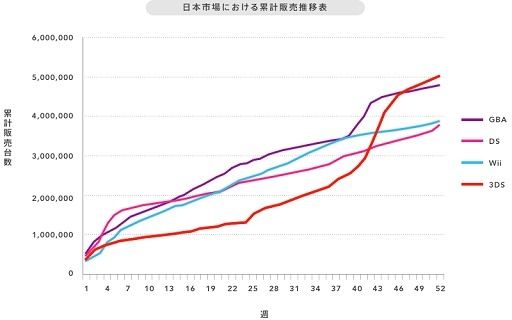 Thanks to 4Him for the tip!