Fire Emblem Engage introduces Fogato, Hortensia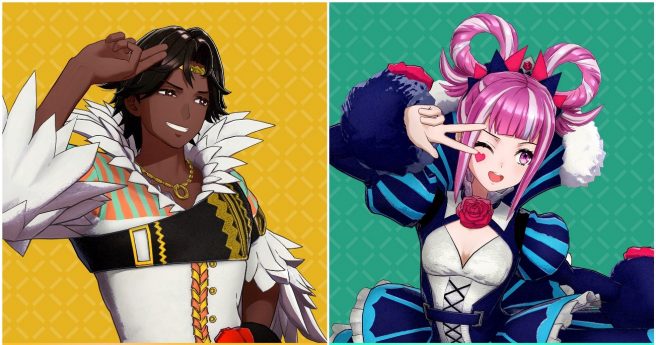 Nintendo and Intelligent Systems aren't slowing down on character introductions for Fire Emblem Engage having now introduced Fogato and Hortensia. Information was provided on the series' Japanese Twitter account with Serenes Forest providing translations.
Fogato, voiced by KENN in the Japanese version, is the first prince of the Kingdom of Solm as well as Timerra's younger brother. He was able to live more of a free live than his sister since the Queen inherits the throne. Fogato is optimistic and easy-going, and it seems he's traveling the country to protect his people.
Fogato begins Fire Emblem Engage with the Sentinel class similar to his older sister, Timerra. This is a bow user who rides a horse.
Next up is Hortensia, who is voiced by Hina Kino in the Japanese version. She's the second princess of the Kingdom of Elusia and Ivy's little sister. While Hortensia is innocent and selfish, she adores those closest to her. The King gives her orders to steal Alear's Emblem Rings.
Hortensia begins Fire Emblem Engage with the Wing Tamer class similar to her big sister, Ivy. Those with the class can attack foes with magic and staves while riding a pegasus.
You can see some footage for both characters below. At one point, we see that Fogato comes to Alear's assistance when they're lost in the desert. There's also a clip of Hortensia who has taken over a large Brodian bridge with her Elusian troops, and awaits the arrival of Alear and their companions.
Fire Emblem Engage will be out on January 20, 2023. We have other character introductions for Alear here, Framme and Cramme here, Marth here, Alfred and Celine here, Celica here, Louis here, Chloe here, Sigurd here, Etie here, Boucheron here, Lumiere and Veyre here, Diamant and Alcryst here, Anna here, Ivy here, Timerra here, Zephia and Marni here, Byleth here, Byleth here, and Griss, Mauvier, and Yunaka here.
Leave a Reply