18-year-old Lamar Roberts recently pleaded guilty to charges of child abuse-knowingly/recklessly, which caused the death of a seven-year-old girl. Roberts' girlfriend, Jennifer Finch, also pleaded guilty in May to child abuse-negligently.
Roberts and his girlfriend were babysitting Zoe Garcia when they decided to do movements similar to those performed in Mortal Kombat. These actions, sadly, let to the death of the seven-year-old.
There has been some doubt that Mortal Kombat was the primary reason for the young girl's death. Reports say that there was at least one incident in which Roberts was abusive towards Zoe Garcia when drinking.
Finch's prison sentence was changed after an agreement was reached that she would successfully take part in a six year youth offender program. Roberts' sentencing is scheduled for January 16.

Nintendo News

Club Nintendo Offers Special Membership for Fans

Starting today, Nintendo welcomes its North American fans to Club Nintendo™, a special club that rewards members for registering Nintendo products and completing surveys. Nintendo fans can sign up by visiting Club.Nintendo.com. After joining, fans can register select Nintendo hardware and Nintendo-published games in exchange for Nintendo Coins, which can then be redeemed for limited-edition Nintendo rewards available only to Club Nintendo members.

"Club Nintendo gives fans what they want – access to exclusive rewards for their loyalty to our brand and our products," said Cammie Dunaway, Nintendo of America Inc.'s executive vice president of Sales & Marketing. "We're offering some unique items as a way to say thanks for their support of Nintendo."


The Legend of Zelda: Twilight Princess launched in 2006, so naturally, Zelda fans are clamoring to hear word on the next title in the series. Shigeru Miyamoto has confirmed multiple times that the next Zelda is underway, but now he has also stated that it might be awhile before it is actually revealed.
"I'm really not sure when we'll be able to make a public announcement on that. I can't even say if the next E3 will be the right opportunity to do so. But rest assured, our teams are working on new projects right now."
It's possible that if the next Zelda title is not discussed at E3 2009, Nintendo might show it off at their annual Fall conference. Even if it takes a fairly long time to see images and video, we know that the Zelda team will work hard to deliver expectations.

CHICAGO – Dec. 16, 2008
YUKE'S Company of America today announced the launch of the official website for Evasive Space, a top-down space action/adventure title for WiiWare™ developed by High Voltage Software. The new website highlights all features found within the game and includes the official trailer providing an in-depth look at the game mechanics and challenges that lie within. You will be using the infrared capabilities of the Wii Remote™ to pilot Konki on timed and collection-based missions in a race to save the universe from Dr. Dark Matter, confronting many obstacles along the way across a variety of intergalactic environments for an experience that will challenge your reflexes.

Key features of the game include:
– Guide Konki through 20 hazardous space time and collection based missions spanning four differently themed worlds
– Deftly pilot your ship with innovative use of the Wii Remote's infrared pointer capabilities
– Pick up items and ship upgrades to enhance skills and increase your chances for survival
– Six different four person multiplayer matches locally on your home console
– Compete for best times with Nintendo® Wi-Fi Connection online leaderboards

View the new website and official trailer at www.evasivespace.com.


The following software will be available in Japan on December 24th:
– A Little Brain Age: Logic Version (800 DSi Punkte)
– A Little Brain Age: Word Version (800 DSi Punkte)
– A Little Magic Tournament (200 DSi Punkte)
– Art Style Aquario (500 DSi Punkte)
– Art Style Decode (500 DSi Punkte)
– Bird and Beans (200 DSi Punkte)
– Dr. Mario (500 DSi Punkte)
– Moving Memo Book (kostenlos)
– Paper Airplane (200 DSi Punkte)
– Simple Trumps (500 DSi Punkte)
– Utsusu Made in Wario (500 DSi Punkte)

VIENNA, Austria – December 15th, 2008

Bplus, independent software developer, today announces the launch of the official website to Niki – Rock 'n' Ball, its upcoming arcade platformer, available on WiiWare™ soon.

What is a ZeLeLi pearl?
How does the Amulet work?
Where do all the monsters come from?
Who is Niki?

This and more is revealed on the website together with an exclusive new video that illustrates the intriguing story of Niki – Rock 'n' Ball.

The website offers many new screenshots as well as detailed information about how the game can be played and introduces not only the hero Niki but also the Turbofan, the Bumper and some of the monsters Niki has to fight in his first adventure.

Visit: http://Niki.Bplus.at

Key Facts:
Genre: Jump 'n' Roll
Platform: Wii™
Developer: Bplus
Players: 1 or 2 Player cooperative
Control Styles: Wii Remote™ only – Retro or motion controlled
Presentation: 2D gameplay, 3D graphics and animations, 60 fps
Video Modes: 480p, 16:9 widescreen
Release Date: TBA
Price: 500 Wii Points™
ESRB rating: E for Everyone with Comic Mischief
PEGI rating: 7+ / 6+ Portugal
USK rating: Freigegeben ohne Altersbeschränkung

Guitar Hero vs. Rock Band
– Craig was impressed with Rock Band 2, but they don't have the instruments yet
– Tried using Guitar Hero controllers and they worked
– Feature-wise identical to PS3/360 games
– Visually isn't bad, it's lower-res. Looks better than the PS2 version.
– Rock Band 2 review coming on Wednesday
– Everything on PS3/360 will eventually be available on Wii (DLC)
– Bozon says World Tour star power isn't very well-done in Guitar Hero
– Actual gameplay in Rock Band is better than World Tour
– Track selection also better in Rock Band 2
– Daemon loves that you can play through Rock Band 2 solo, or bring in friends
– Overall the IGN team is very impressed with Rock Band 2
Teenage Mutant Ninja Turtles Fighter
– Bozon's really interested in the game
– Bozon will probably end up reviewing it
– Members of the Smash Bros. team and Ex Team-Ninja
– Darker look to the game – more edgy/aged up
– 4-player Smash style game
– No single-player like Subspace Emissary, it will be something else (might just be staged based)
– Can use different controller options
– Sounds like a cool project
– Going to try to have better online than Brawl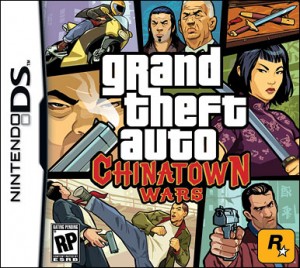 Just received an email update from Rockstar, and this boxart image was in it. Not sure if this is the final image (though it is missing the Wi-Fi logo), but I suppose this is what the company is using for now.