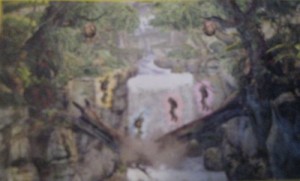 Update: Added different versions of the screenshots (see above), but I'm not entirely sure if they're any better.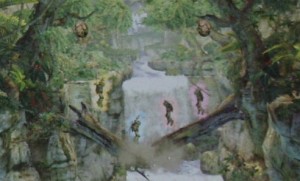 Make sure to pick up the latest Nintendo Power for more screenshots of the game! Also, I know that these shots are rather small and blurry, so I'll do my best to clean them up later.


VC
1 (1) – Super Mario Bros. 3
2 (2) – Super Mario Bros.
3 (3) – Super Mario World
4 (4) – Punch-Out!!
5 (5) – Super Mario Bros. 2
6 (N) – Sonic the Hedgehog 2
7 (6) – The Legend of Zelda
8 (7) – Pac-Man
9 (8) – Super Mario 64
10 (10) – Super Mario RPG: Legend of the Seven Stars
11 (9) – Sonic the Hedgehog
12 (11) – Mario Kart 64
13 (12) – The Legend of Zelda: Ocarina of Time
14 (13) – Donkey Kong Country
15 (14) – Donkey Kong
16 (16) – Secret of Mana
17 (17) – Tecmo Bowl
18 (15) – Mega Man 3
19 (19) – Excitebike
20 (20) – The Legend of Zelda: A Link to the Past

WiiWare
1 (1) – World of Goo
2 (2) – My Aquarium
3 (3) – Tetris Party
4 (5) – Space Invaders Get Even
5 (4) – Target Toss Pro: Bags
6 (6) – Brain Challenge
7 (7) – Dr. Mario Online Rx
8 (10) – Defend your Castle
9 (9) – Midnight Bowling
10 (11) – Mega Man 9
11 (8) – Sudoku Challenge!
12 (13) – Bomberman Blast
13 (12) – Wild West Guns
14 (14) – My Pokemon Ranch
15 (15) – TV Show King
16 (16) – Pong Toss – Frat Party Games
17 (18) – Final Fantasy Crystal Chronicles: My Life as a King
18 (17) – The Incredible Maze
19 (N) – Strong Bad Episode 5: 8-Bit is Enough
20 (N) – Hockey Allstar Shootout

Nintendo, Nyko Settle Patent and Trademark Infringement Lawsuit
Settlement Resolves Dispute about Wireless Controllers

REDMOND, Wash.–(BUSINESS WIRE)– Nintendo of America Inc. and Nyko Technologies, Inc. today announced they have settled a lawsuit brought by Nintendo regarding Nintendo's intellectual property rights relating to its popular Nunchuk® controller.

Under the agreement, Nyko will continue to sell a redesigned version of its Kama wireless controller.

"We are pleased to have resolved this dispute," said Nintendo of America President and COO Reggie Fils-Aime. "The Nunchuk and Wii brands are familiar to consumers worldwide, and Nintendo is dedicated to vigorous defense of those brands."

REDMOND, Wash.–(BUSINESS WIRE)– Continuing its commitment to create fun and engaging experiences for everyone, Nintendo of America Inc. today unleashes a broad list of exciting new games for the first quarter of 2009. Topping the list is Pokémon™ Platinum version for Nintendo DS™, a remarkable new entry in the beloved Pokémon series, slated for a March 22 launch across North America. Nintendo's roster of more than 100 new games includes an impressive array of challenges and experiences for new players and loyalists, as well as everyone in between. Notable titles include the enhanced New Play Control! Mario Power Tennis™ and New Play Control! Pikmin™ for Wii™, and Fire Emblem™: Shadow Dragon, Personal Trainer™: Math and Grand Theft Auto: Chinatown Wars for Nintendo DS.

"Our fans expect a diverse selection of entertainment options, and we're eager to deliver exactly that," said Cammie Dunaway, Nintendo of America's executive vice president of Sales & Marketing. "We're building on the momentum of a strong holiday season by offering new and experienced players an even greater library of game titles in 2009."


These rumors come from Game Lab, a well-known Japanese magazine that have been translated. Keep in mind that these rumors may turn out to be nothing at all.
* The popular RPG series "T" by game company "N" will see several releases in 2009. There are said to be six games in development, both outsourced and within the company, and at least one "T" game will hit every single current gen platform next year.
* Although the DS rhythm game sequel "R" by game company "N" received mixed reviews due to its change of input method from buttons to stylus, it performed so well that "N" has begun developing a Wii version. Staff from this year's Wii music game "W" are reportedly involved.
* Game company "S" is attempting to headhunt employees from American game company "L" to assist with its virtual online experience, "H"..
* Game company "N" is said to be working on a second iteration of its fitness game, "W". New features apparently include stretching and massages. A certain former U.S. Army instructor has reportedly been approached about endorsing the game.


The latest Famitsu review scores are as follows:
Happy My Sweets DS 6/6/6/7
PSO DS 8/8/9/8
Magical Zunou Power!! DS 4/6/5/4
RIZ-ZOAWD DS 7/8/7/6
Team Batista no Eikou: Shinjitsu o Tsumugu 4-tsu no Karte DS 7/6/6/6
White Knight PS3 7/8/7/7
Batman PS3/360 6/6/6/6
Alone in the Dark PS3 7/6/7/6
Alone in the Dark 360 6/6/7/5
Sid Meier's Civilization Revolution PS3/360 8/8/8/7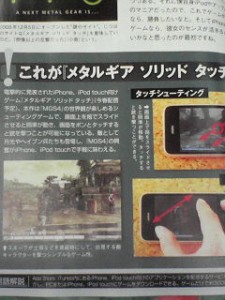 Contrary to Hideo Kojima himself, it looks as though the next Metal Gear title has been revealed ahead of schedule. The latest Famitsu shows that the series will be heading to the iPhone. A scan demonstrates touch elements, and speculation has begun that the game is a Metal Gear Solid 4 spin-off.
For Nintendo gamers, although this news may be mostly disappointing, at least the ends any additional speculation. Although, who knows. Perhaps one day we'll see a Metal Gear DS – The touch aspects in the Metal Gear title for the iPhone would obviously work on the DS.
Update: Changed the story following new information

The following is from Google product search data. Additional information notes that "Google trend searches for 'Wii' outpaced searches for 'God' by a massive 76 percent during 2008."
1. Wii
2. Wii Fit
3. iPod Touch
4. Xbox 360
5. Nintendo DS
6. iPod Nano
7. Ugg Boots
8. Nikon D90
9. Zune
10. Digital Picture Frame