We brought you the scoop on Astro Ranch for the DS yesterday, but you might be delighted to hear that the developers of the game are looking into a way for players of the iPhone, N-Gage, and DS to be able to interact with each other. "Right now the connectivity aspect of the game is the biggest technical hurdle for us to overcome," Paul Farley said. "Not only do we want players with iPhone's to be able to connect to each other but for the connected features to be device agnostic meaning it won't matter if you have an iPhone, N-Gage, DS or even mobile version of the game the same functionality will be available across them all."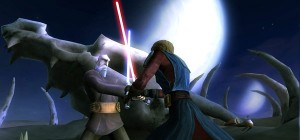 "Well it's funny, I was at LucasArts a lot during E3 and it was the forefront of what we were talking about. I mean obviously this year we can't, since the device isn't coming out yet, and Force and Clone are both hitting by thanksgiving, so that's out of the question. With the other stuff we're working on now though, we're definitely looking to incorporate it, so… I think next year it's going to be really, really cool. You're right though. The 1:1 control is on everybody's lips now, and yeah, not this year, but for next year we're definitely working on something. I'll leave it at that."
"Well… We're doing at least two more Wii titles for next year; maybe three. You know, we did Spyro already on Wii, we've got Force as our second one, and Clone as number three, so we've actually done three this year as well. It's a great console, it has performed really well in the marketplace, and Nintendo has created a device that people really want to play. They didn't necessarily go after "bigger and better" in every way – the power of the system, for example – but they made something people want to play, and it's paying off."
– Robert Walsh, Krome CEO
Down the line, I'm sure Krome (or at least a different company), will attempt for 1:1 controlling options for Star Wars titles. Meanwhile, Clone Wars and The Force Unleashed seem like two very respectable titles.


"We still have a [censored] ace up our sleeve. It's an ace, a [censored] ace… At TGS (Tokyo Game Show), the Capcom booth stage is going to make people's balls pucker up. It's going to be big." – Ben Judd, Capcom
This doesn't necessarily mean that it's Nintendo related, but after the news that Bionic Commando Rearmed won't be seeing a Wii release (for the foreseeable future, in any case), I'm hoping that the Wii will end up with some sort of Bionic Commando title.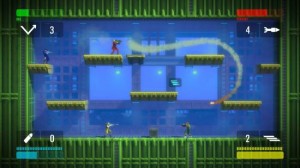 Bionic Commando Rearmed recently released on the PSN, PC, and XBLA, but the prospect of a WiiWare – or even Wii retail – version edition was never truly discussed. However, Capcom's Christian Svensson, Corporate Officer/VP of Strategic Planning & Business Development was approached with a question regarding a possible Wii disc release and provided a lucid answer. "No plans at this time. Sorry."
Nothing is ruled out for the future, it seems. Nonetheless, it's worth noting that Bionic Commando Rearmed is a spectacular game; Moreover, it would be a wise purchase on XBLA, PC, or PSN.

1. NDS Dragon Quest V 864503 / NEW
2. PS2 Persona 4 264319 / NEW
3. PSP Gundam Battle Universe 193378 / NEW
4. WII Wii Fit 103971 / 2365304
5. NDS Daigasso! Band Brothers DX 103446 / 225629
6. PS2 Jikkyou Powerful Pro Yakyuu 15 86950 / NEW
7. NDS Derby Stallion DS 75170 / 222328
8. WII Mario Kart Wii 74246 / 1600910
9. NDS Densetsu no Stafi: Taiketsu! Dire Kaizokudan 68570 / NEW
10. PS3 Initial D: Extreme Stage 67221 / NEW
11. PSP Monster Hunter Portable 2 G 51701 / 2352206
12. PSP Eiyuu Densetsu: Sora no Kiseki the 3rd 48737 / NEW
13. NDS Nanashi no Game 48705 / NEW
14. WII Super Mario Stadium: Family Baseball 48015 / 134257
15. WII Tales of Symphonia: Dawn of the New World 47035 / 198173
16. WII Wii Sports 45907 / 3055599
17. PS3 Metal Gear Solid 4: Guns of the Patriot 45216 / 621653
18. PS3 Tears to Tiara: Kakan no Daichi 42319 / NEW
19. WII Resident Evil 0 41304 / NEW
20. PS3 SIREN: New Translation 36341 / NEW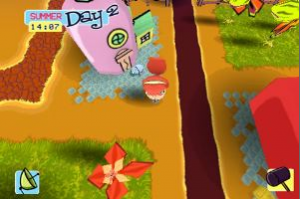 – Cross between Harvest Moon and Animal Crossing
– 50's in a sci-fi
– Sindy Starlight is the main character
– start a ranch on a new planet, and become friends with the aliens
– pan for gold
– compete in contests
– build fences
– lasso animals
– original soundtrack
– trade items
– send messages to other players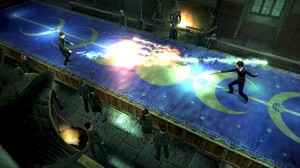 The newest iteration in the Harry Potter series was set to debut on all major video game platforms this Fall, but Warner Bros. announced yesterday that the movie would be pushed back – all the way to next summer, in fact. Now EA is faced with a predicament: Should they delay the release of the games to coincide with the launch of the movie, or should the company stay on schedule and release it this November? EA is obviously struggling with the decision and can be seen through the words of one of the company's representatives. "We are making a great game that Harry Potter fans will really enjoy — we are evaluating the impact of the movie date change." Usually, video game movie titles are released before the movie counterparts, but never this far in advance. Eleven or so months might be pushing things!

Wii:
Wall-E – 12 September 2008
Opoona – 13 September 2008
de Blob – 26 September 2008
G1 Jockey Wii 2008 – 26 September 2008
SpongeBob SquarePants featuring Nicktoons : Globs of Doom – October 2008
Tak and the Guardians of Gross – October 2008
Avatar: The Last Airbender – Into the Inferno – October 2008
All Star Cheer Squad – October 2008
WWE SmackDown vs. Raw 2009 – November 2008
Deadly Creatures – February 2009

Nintendo DS:
Viva Pinata: Pocket Paradise – 5 September 2008
Wall-E – 12 September 2008
Lock's Quest – 26 September 2008
SpongeBob SquarePants : Drawn To Life – 26 September 2008
SpongeBob SquarePants featuring Nicktoons : Globs of Doom – October 2008
Avatar: The Last Airbender – Into the Inferno – October 2008
All Star Cheer Squad – October 2008
WWE SmackDown vs. Raw 2009 – November 2008
Age of Empires: Mythologies – 4th quarter 2008
Back at the Barnyard: Slop Bucket Games – 2nd quarter 2009
Voyage au centre de la terre 3D – TBA
Bratz: Girls Really Rock! – TBA