Nintendo News

Nintendo's Wii Sits Atop April U.S. Sales

Wii™ emerged as the top-selling console in April, according to the independent NPD Group, which tracks U.S. video game sales. Wii sold more than 714,000 units in April alone, bringing its lifetime sales in the United States to more than 9.5 million.

"Wii sales were buoyed in part by the strong launch of Mario Kart Wii, which sold more than 1.1 million units," said Cammie Dunaway, Nintendo of America's executive vice president of Sales & Marketing. "Our belief in appealing to a broad, diverse audience of players continues to resonate with consumers, and we look forward to continuing our outreach to an expanded audience with the launch of Wii Fit next week."

Other Nintendo highlights from April's NPD report include:

* Mario Kart® Wii finished as the No. 2 game of the month.
* Six of the top 10 games of the month are for Nintendo systems: Mario Kart Wii (No. 2), Wii Play™ (No. 4), Super Smash Bros.® Brawl (No. 5), Pokémon® Mystery Dungeon: Explorers of Darkness (No. 7), Pokémon® Mystery Dungeon: Explorers of Time (No. 8 ) and Guitar Hero III: Legends of Rock (No. 9).
* Super Smash Bros. Brawl crossed the 3 million sales mark in the United States.
* Wii and Nintendo DS™ again finished as the two top-selling hardware systems.
Source: Nintendo PR email

Song list
Chop Suey (System of a Down)
All My Life (Foo Fighters)
Falling Away From You (Korn)
Last Resort (Papa Roach)
Somebody Told Me (The Killers)
Dance, Dance (Fallout Boy)
Dr. Feelgood (Motley Crue)
Run to the Hills (Iron Maiden)
We Won't Be Fooled Again (The Who)
EL SEGUNDO, CA – May 15, 2008 – Konami Digital Entertainment, Inc. today announced Rock Revolution, an unprecedented, authentic music-based video game that will re-define the rhythm genre. Brought to market by the company that created the music video game category, with breakthrough titles such as DanceDanceRevolution®, Karaoke Revolution®, Beatmania and Guitar Freaks, Rock Revolution provides an unmatched rock experience. Breaking new ground with its definitive drum experience, Rock Revolution also gives players a chance to rock out on the bass and lead guitar. Designed by musicians, Rock Revolution will be available with the most realistic drum peripheral on the market at launch for the Xbox 360 and PLAYSTATION®3 computer entertainment system.

"Rock Revolution will be the most innovative and realistic rock game to hit the market, that will provide a quality drum peripheral and music that players will appreciate," said Anthony Crouts, Vice President of Marketing for Konami Digital Entertainment, Inc. "As the originator of music-based games, we are dedicated to bringing fans a truly preeminent music experience. With Rock Revolution, we put the emphasis on the drum kit, delivering an experience unlike any other."

EL SEGUNDO, Calif. – May 14, 2008 – Konami Digital Entertainment, Inc. today announced three upcoming DanceDanceRevolution® titles will ship this Fall in honor of the 10th anniversary of the franchise. After a decade as one of the most popular franchises in the music genre, DanceDanceRevolution® fans can move their feet to different beats with DanceDanceRevolution® X for the PlayStation®2 computer entertainment system, DanceDanceRevolution® UNIVERSE3 for the Xbox 360™ video game and entertainment system from Microsoft and DanceDanceRevolution® Hottest Party 2 for Wii™.

"We cannot thank our fans enough for their continued devotion to the DanceDanceRevolution® franchise. The continued popularity and longevity of DanceDanceRevolution® has transformed it from a video game into something much bigger and more special," said Anthony Crouts, Vice President of Marketing for Konami Digital Entertainment, Inc. "We wanted to celebrate this special occasion by bringing to market three new versions of the game that offer the biggest and best musical selections along with a slate of unique features."

DanceDanceRevolution® X

In DanceDanceRevolution® X, players can dance their way through a soundtrack packed with major hits from some of today's top artists. The latest release for the PlayStation®2 system offers fans of the beloved dance video game enhanced graphics along with fun, interactive gameplay and innovative new game modes, including the brand new LAN Battle Mode — which lets up to eight players battle simultaneously through the LAN lines on their PlayStation®2 system. Additionally, players can work up a sweat by customizing their own workout and fitness programs and, by plugging in the EyeToy™ USB Camera (for PlayStation®2) peripheral, they can put themselves in the game.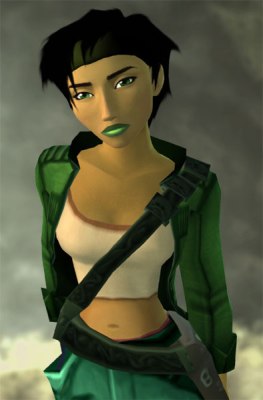 "I am working on Beyond Good & Evil 2. We have been in preproduction on the title for a year, and we're currently doing market research. But for the moment, it's in the early stages, and Ubisoft still hasn't agreed to it. We want to be in continuity with the first game, with a big variety of levels, lots of emotion in the gameplay, and characters we care about. This time we are dealing with planet Hillys' future, and the relationship with animals…" – Michel Ancel, Rayman/Beyond Good and Evil creator

Wow, I'm sure many people will be happy to hear this news – myself included. However, Ubisoft really needs to agree to publish this title for anything extremely positve to come out of this news. Oh, and bringing this to the Wii wouldn't hurt…

– Xbox 360 version was on display
– Dimps confirmed as developer for the Wii version
– Momentum is continues unlike Sonic and the Secret Rings – no enemies, objects suddenly appear
– Wiimote setup from Secret Rings gone, replaced by Wiimote + Nunchuck/GameCube control options
– Classic controller may be supported

The first rumblings of a Pokemon game for the DS began a few days ago with the first details from a Japanese magazine, CoroCoro. Nintendo themselves, however, have remained mum – until now. Nintendo has opened a new website for Pokemon Platinum, thus confirming the existence of the game. Pokemon Platinum is not an entirely new game, but more of a new rendition of Diamond/Pearl.

For the second year in a row, Nintendo will be the lead sponsor for London's Handheld Learning Conference. Slated to take place on October 13-15, the conference (now in its fourth year) aims to demonstrate the capabilities of handheld devices and how they affect learning for people of all ages.

"We are proud to be supporting this important event once again and look forward to hearing from the some of the world's leading thinkers in the field of learning," said Darren Gorton, Business Development Director for Nintendo. "With over 70 million DS units in peoples hands we are genuinely interested in the positive impact that they can have for self-improvement and collaborative learning."

Graham Brown-Martin, founder of Handheld Learning, said, "We are delighted to receive such confident support both from government agencies and industry alike. The provision of the Nintendo DS handheld is far from a gimmick as we are encouraging delegates to do the kind of things during the event that are often not allowed in classrooms throughout the world despite the power and possibilities of such devices".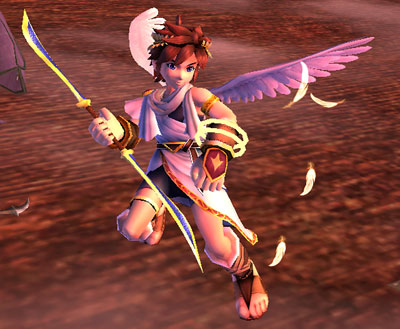 It's pretty safe to say that Kid Icarus is pretty close to being confirmed. IGN discusses the title almost every week, and the concept art/info that popped up a few days ago reinforced the claims of the IGN team. However, another bit of info from DVD Feed, an Australian video game collector of sorts, may reinforce the existence of a Kid Icarus title. A listing has appeared on PALGN which updates its list with new games added to DVD Feed, and believe it or not, Kid Icarus Wii is on a new list.
At this point, Kid Icarus on the Wii seems to be a tangible idea, and perhaps (hopefully) we'll hear more at E3.

1. [WII] Mario Kart Wii (Nintendo) – 107,000 / 1,227,000
2. [PSP] Monster Hunter Portable 2nd G (Capcom) – 82,000 / 1,992,000
3. [WII] Wii Fit (Nintendo) – 53,000 / 2,039,000
4. [WII] Link's Bowgun Training (Nintendo) – 49,000 / 141,000
5. [NDS] Meccha! Taiko Drum Master DS! Adventure of 7 Islands (Bandai Namco) – 34,000 / 133,000
6. [NDS] Pokemon Ranger Batonage! (Pokemon) – 27,000 / 535,000
7. [WII] Deca Sporta (Hudson) – 22,000 / 207,000
8. [WII] Wii Sports (Nintendo) – 21,000 / 2,979,000
9. [NDS] We're Fossil Diggers (Nintendo) – 17,000 / 102,000
10. [WII] Super Smash Bros. Brawl – 16,000 / 1,620,000