Miiverse will be going through heavy maintenance starting tomorrow. The service will be affected starting at 6 PM ET / 3 PM PT, which lasts until Tuesday at 4 AM ET / 1 AM PT.
In other news, shop maintenance is scheduled for Monday. The Wii U and 3DS eShops, Wii Shop Channel, and DSi Shop will be unavailable between 4 PM ET / 1 PM PT and 8 PM ET / 5 PT.
Here is the latest update from Miiverse Marty!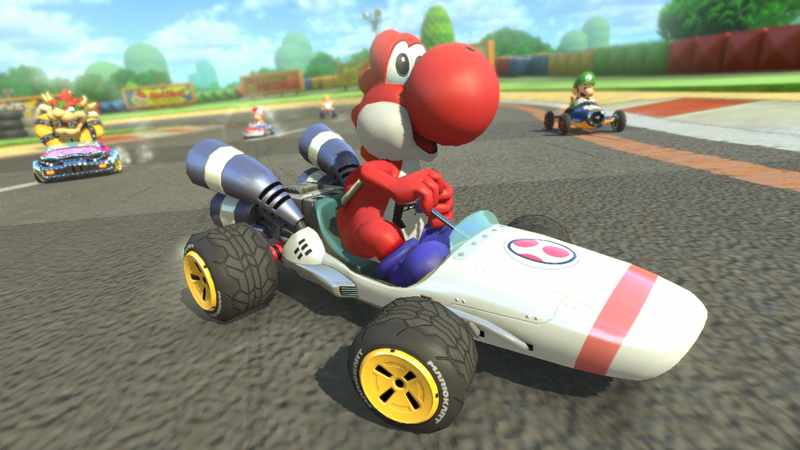 Some new details have emerged regarding Mario Kart 8's first DLC pack, which is set to release in November. The pack includes 4 extra vehicles that can be used and we now know what one of those vehicles will be – Mario Kart DS's B Dasher. Here's the release from Miiverse:
Mario Kart DS's popular vehicle, "B Dasher" will be available on DLC Pack 1. 4 vehicles will be included in the DLC Pack 1, and "B Dasher" will be one of them. "B Dasher" is a top speed oriented vehicle for circuit. Have fun!
Today's Super Smash Bros. screenshots finally place the emphasis on the Wii U version once again. Director Masashiro Sakurai showed the return of the Castle Siege stage from Fire Emblem.
Check out today's images below: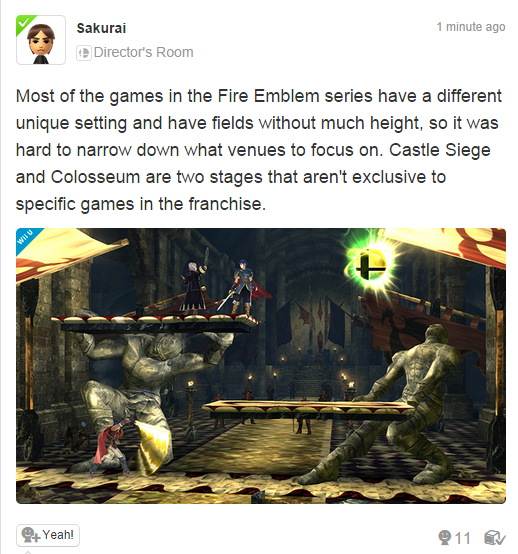 Today's Super Smash Bros. screenshot gives us a look at the Fighter Records window. Take a look below: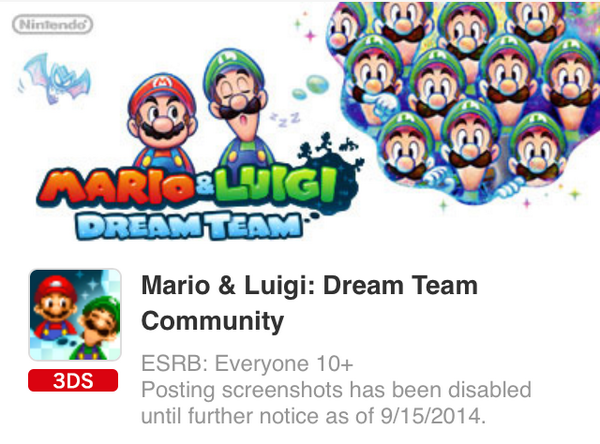 Last night, a significant glitch was found within Mario & Luigi: Dream Team. This basically allowed users to share images outside of the game on Miiverse.
In light of the exploit, Nintendo has now gone ahead and disabled all screenshot sharing on the Mario & Luigi: Dream Team Miiverse community. If/when the functionality will return is unknown at present.
Also, Conquest data where players seem to be losing on purpose will be removed from the calculations. And lastly, there's no point in working on this mode too much on your own, so don't overdo it…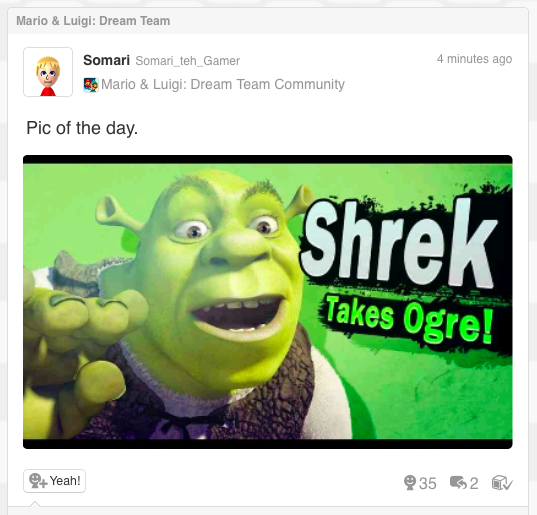 The Mario & Luigi: Dream Team section of Miiverse has been flooded with images unrelated to the game since yesterday. This has been done by taking advantage of a glitch, which Nintendo patched with update 1.1 last year. Those without the update have been able to upload photos of any kind.
Nintendo should be looking to re-address the glitch as soon as possible. In the meantime, moderators have been doing everything they can given the circumstances – be it banning users, deleting posts, removing photos, and more.
Update: Miiverse can be used when playing Smash Bros. on a New 3DS unit. It won't work on regular 3DS models due to insufficient memory.
---
At the moment, there's no Miiverse support for Super Smash Bros. 3DS. There's simply no way of posting to Nintendo's social network currently. Whether or not this will change in the future remains to be seen!
According to Miiverse's Marty, a new update is out today for the social network.
It includes some changes to post-filtering (Wii U/3DS) as well as the addition of a reminder function to saved posts (3DS). An update to the user page of the web version of Miiverse has also been made.
Check out Marty's Miiverse announcement below: