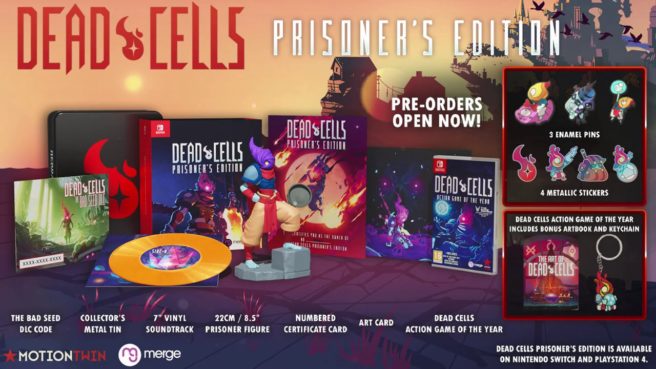 A new special physical release has been announced for Dead Cells on Switch. Known as "The Prison's Edition", the megabundle is said to be "the ultimate physical version of the game for fans and collectors alike."
The entire package is presented in an embossed tin, emblazoned with the Dead Cells iconic flame logo. A 22cm-tall figurine of the Prisoner is also included, who is brandishing one of the game's stranger weapons, the Vorpan. You'll also be getting three collector pin badges, four metallic stickers, an exclusive print art card, a numbered collector's certificate, and a 7", two-track, orange vinyl record. The tin is also packed with a Switch copy of Dead Cells – Action Game of the Year (containing the game, a bonus artbook and keyring) together with a digital code allowing access to the new The Bad Seed DLC.
Dead Cells – The Prisoner's Edition will be released on June 23 for $109.99.
Source: Motion Twin PR