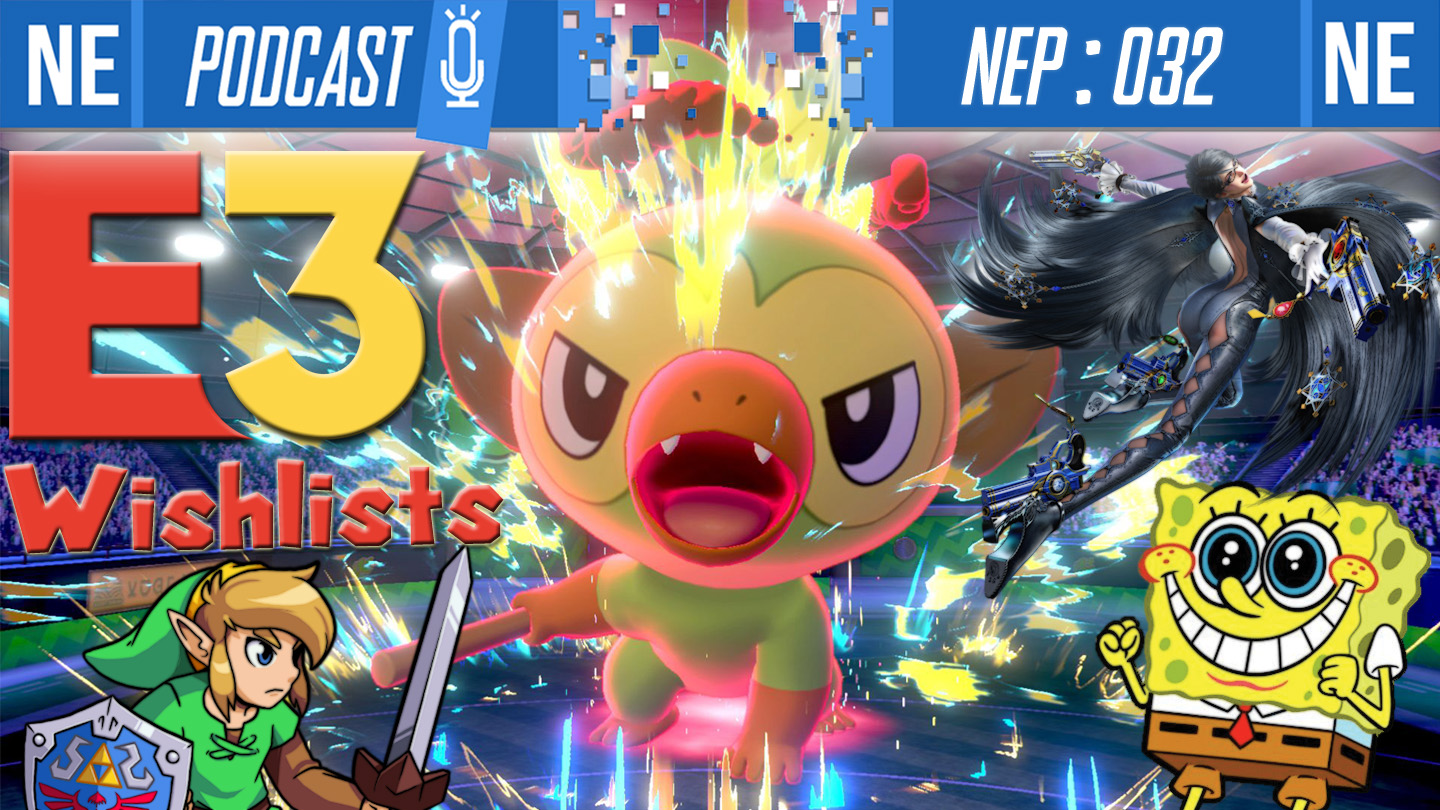 Hello my beautiful Sobbles, Grookeys and Scorbunnies! More bonus time on NEP with another double length episode! E3 got us lit up, so we talk about the recent game leaks and announcements all over the place. Particularly, we dive real deep on the Pokemon Sword and Shield details we got from the Direct. The tea is particularly good this week.
Following that, we have a fun chat about E3 wishlists, both realistic and idealistic, and then answer some awesome listener mail we got this week. You all really pulled through on this one!
To celebrate E3, we're doing double content all month long… probably! We hope you're enjoying! The best way to support our show is to recommend the podcast to others, and rate us 5 stars on iTunes!
Thank you so much for listening!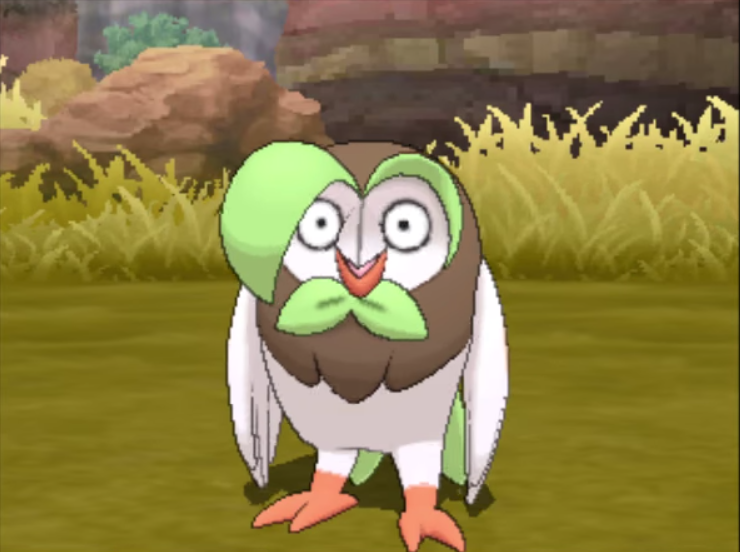 Yesterday's Pokemon Direct revealed quite a bit on new information on Pokemon Sword & Shield, including several new Pokemon. However, another new Pokemon might have been hiding in plain sight, Serebii reports. Head past the break for the information and two images of this possible new Pokemon.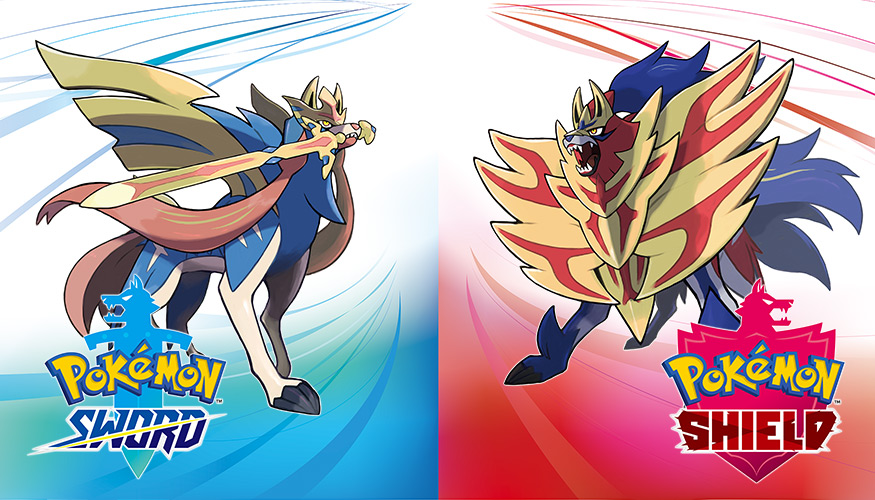 Not too long ago, Nintendo announced the Nintendo Switch Game Vouchers program. If you're a Nintendo Switch Online subscriber, you can obtain two vouchers for $99.99 that can be used on select titles. Rather than buying a pair of games digitally for a combined total of $120, you can save $20 if you spend your money right.
Pokemon fans will be happy to hear that the vouchers can now be redeemed for Pokemon Sword and Pokemon Shield. Just remember that they can only be purchased through July 31. Vouchers will then need to be redeemed within 12 months from the purchase date.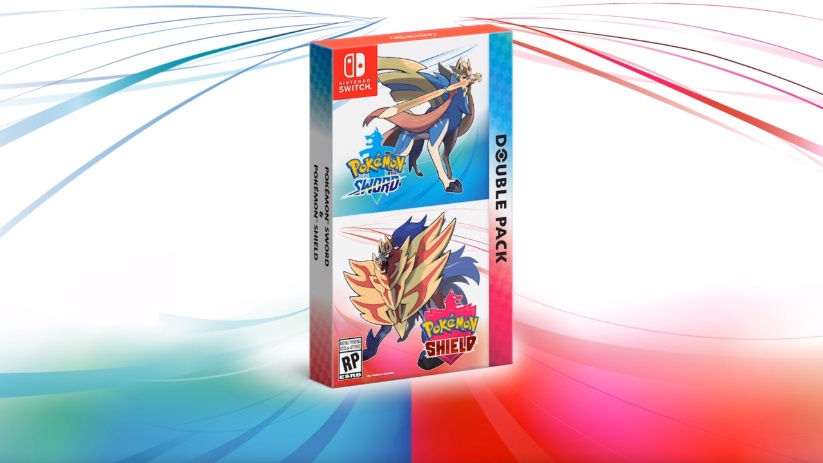 Update 2: The Pokemon Sword/Shield Double Pack is now live on Amazon.
---
Update: The Pokemon Sword/Shield Double Pack is now up for pre-order on GameStop here.
---
Original: Best Buy has opened pre-orders for the newly-announced Pokemon Sword/Shield Double Pack. You can pre-order it here. Note that if you're a My Best Buy member, you'll receive a $10 reward certificate after the release.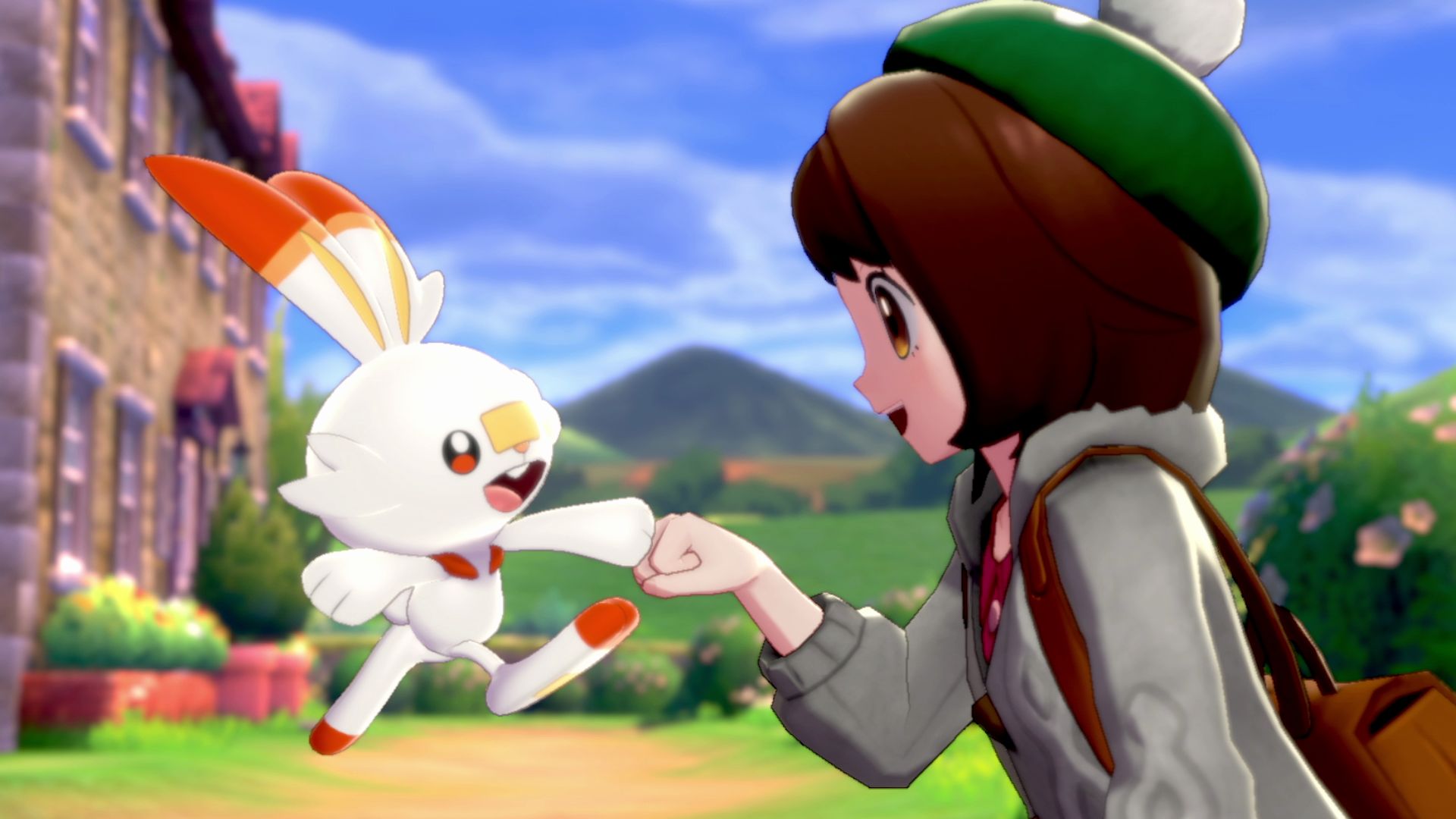 A Pokemon Direct aired earlier today, treating fans to all sorts of details about Pokemon Sword/Shield. Interestingly, some of that information may have leaked a couple of leaks ago without many people initially noticing.
A thread posted on 4Chan contains a mix of what was covered in today's presentation as well as details not yet confirmed. This person accurately named Hop as your rival, researcher Sonia being the granddaughter of Sword and Shield's professor, and Wooloo. The Dynamaxing mechanic and raids were also brought up, along with accurately describing the new Legendary Pokemon and how the Wild Area plays out.
As for what hasn't been announced yet, the leaker claims the following is in Pokemon Sword/Shield: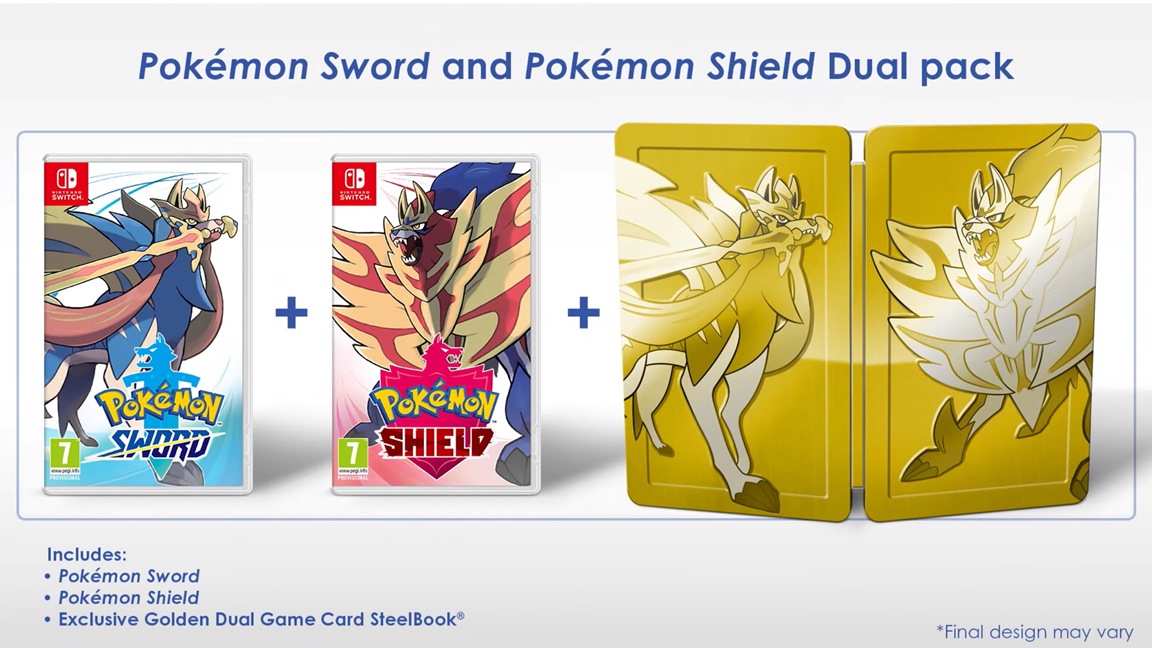 During today's Pokemon Direct, it was announced that Pokemon Sword and Pokemon Shield will be receiving a double pack. However, the European presentation included something not in the North American broadcast.
Europe's double pack will include a golden steelbook, pictured above. On top of that, you'll naturally receive both games in the package.
We'll let you know if we receive any news about the steelbook in North America.
The Pokemon Company has passed along a ton of screenshots and art from Pokemon Sword and Pokemon Shield. View the full set below.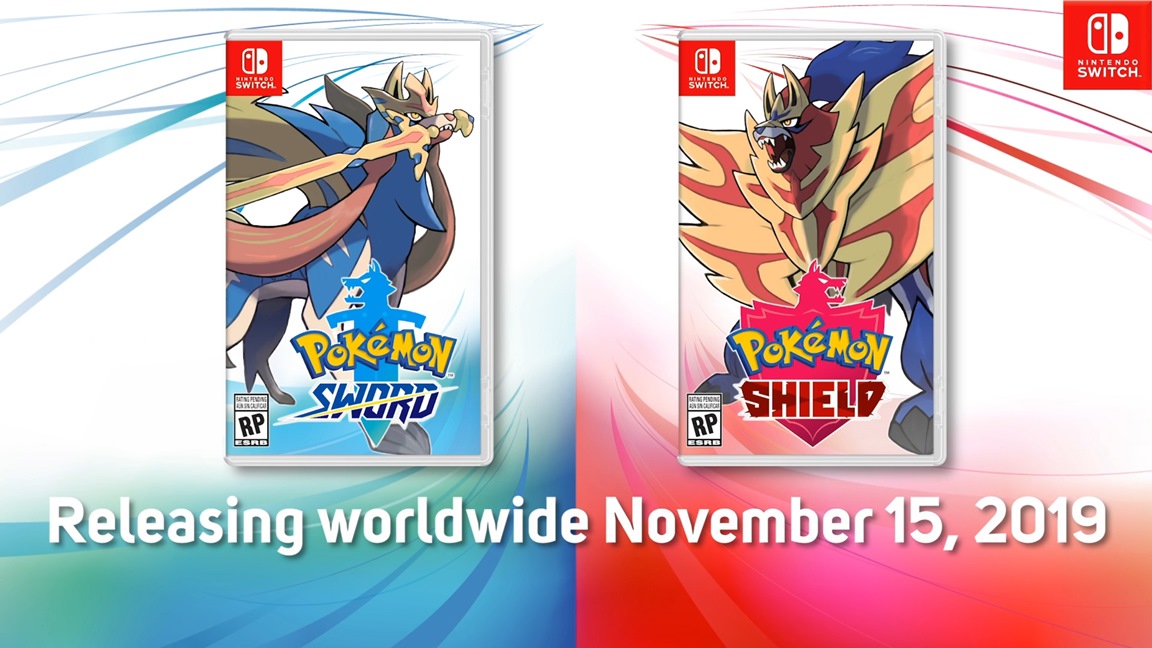 The Pokemon Company has put out an official announcement recapping all of the new Pokemon Sword/Shield news from today's Pokemon Direct. We also have more concrete details on the new Pokemon shown and more.
Here's the complete announcement:
New game features, Pokémon native to the Galar region, and the launch date for Pokémon Sword and Pokémon Shield, the newest additions to the main series of the Pokémon video game franchise, were announced today during a Pokémon Direct online presentation. Developers at GAME FREAK inc. also provided a closer look at newly discovered Pokémon from the Galar region, the setting of the highly anticipated games. The Pokémon Sword and Pokémon Shield games will be launching November 15, 2019, exclusively on the Nintendo Switch system.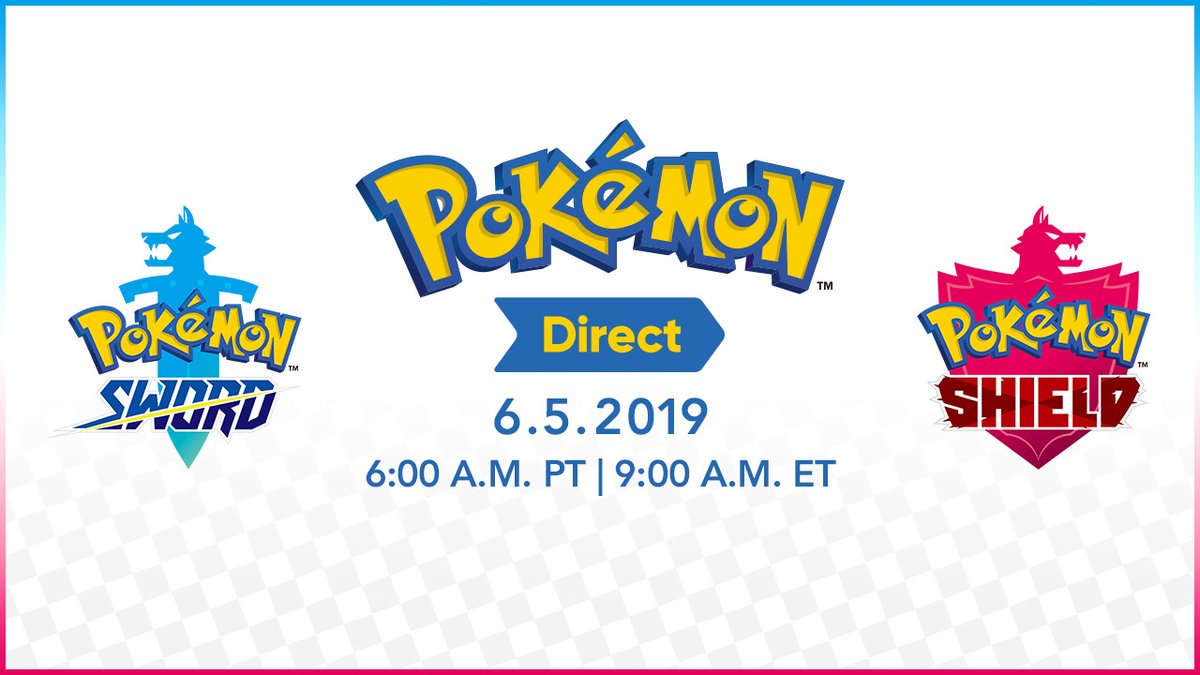 The full presentation for today's Pokemon Direct featuring Pokemon Sword/Shield has now been posted online. If you missed it, you can watch it below.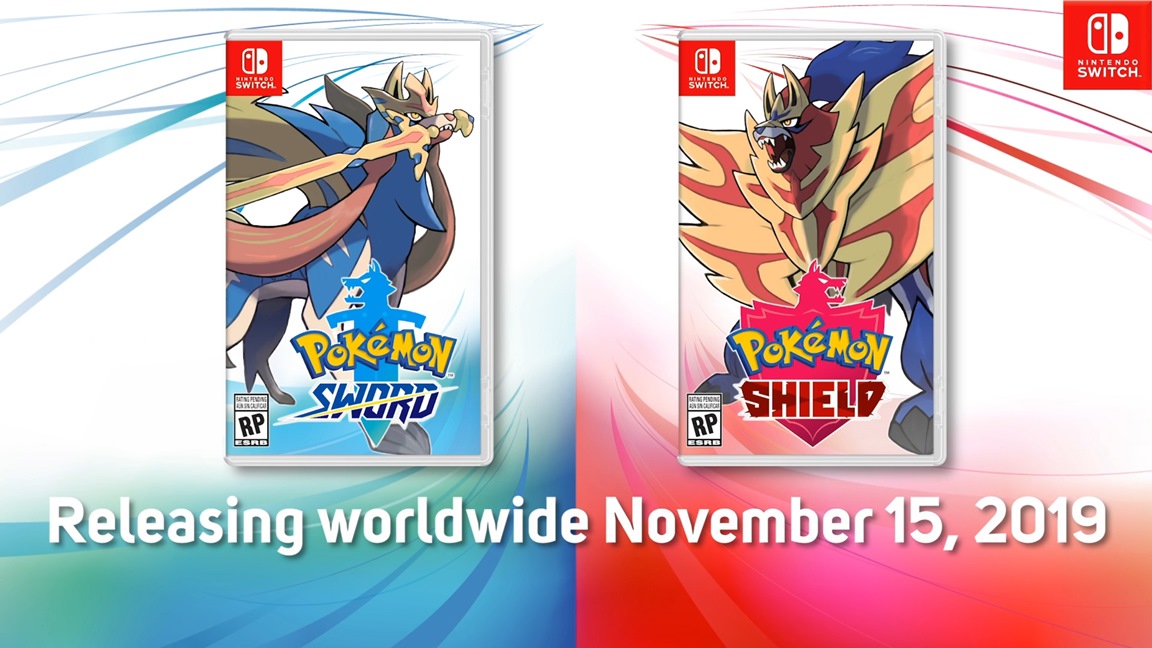 During today's Pokemon Direct, a final release date for Pokemon Sword and Pokemon Shield was announced. The two titles will be launching on November 15.
Legendary Pokemon Zacian and Zamazenta will star on the boxart, as shown above. A double pack containing both versions is also planned.