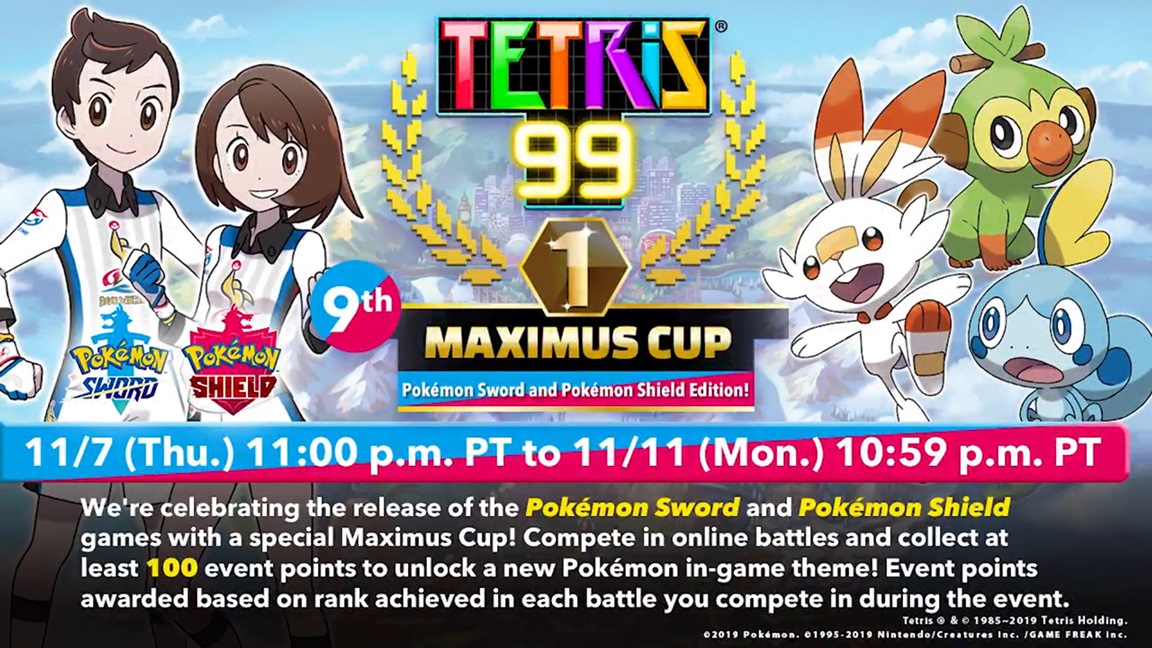 Nintendo will soon be kicking off a new game-themed Maximus Cup for Tetris 99. Next week, Pokemon Sword/Shield will be featured. Those who earn 100 points can earn a special theme.
The event will run between November 7 and November 11. Find a video showcasing the Pokemon Sword/Shield theme below.
Before you set off on your grand adventure in the Galar region, play in this special #PokemonSwordShield themed #Tetris99 MAXIMUS CUP! Earn at least 100 event points to get this custom theme. @Tetris_officialhttps://t.co/jrWEmtmcey pic.twitter.com/vsupyEejoF

— Nintendo Versus (@NintendoVS) November 1, 2019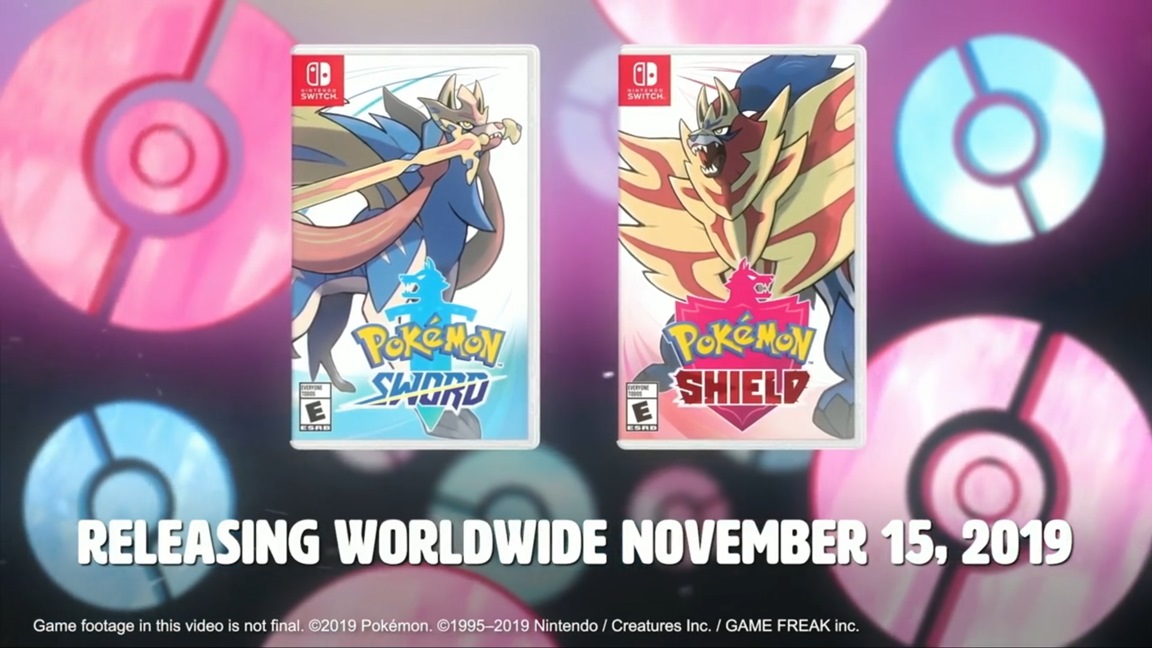 Much like last year's Pokemon titles, Pokemon Sword and Pokemon Shield won't support cloud save backups. That news comes straight from the games' eShop listings.
Given what happened with Pokemon: Let's Go, Pikachu and Pokemon: Let's Go, Eevee, this isn't all too surprising. Cloud saves are usually disabled when there is concern about manipulating the experience, especially when interacting with other players.
Nintendo provided the following explanation last year when it was asked why Splatoon 2 doesn't have cloud saves enabled: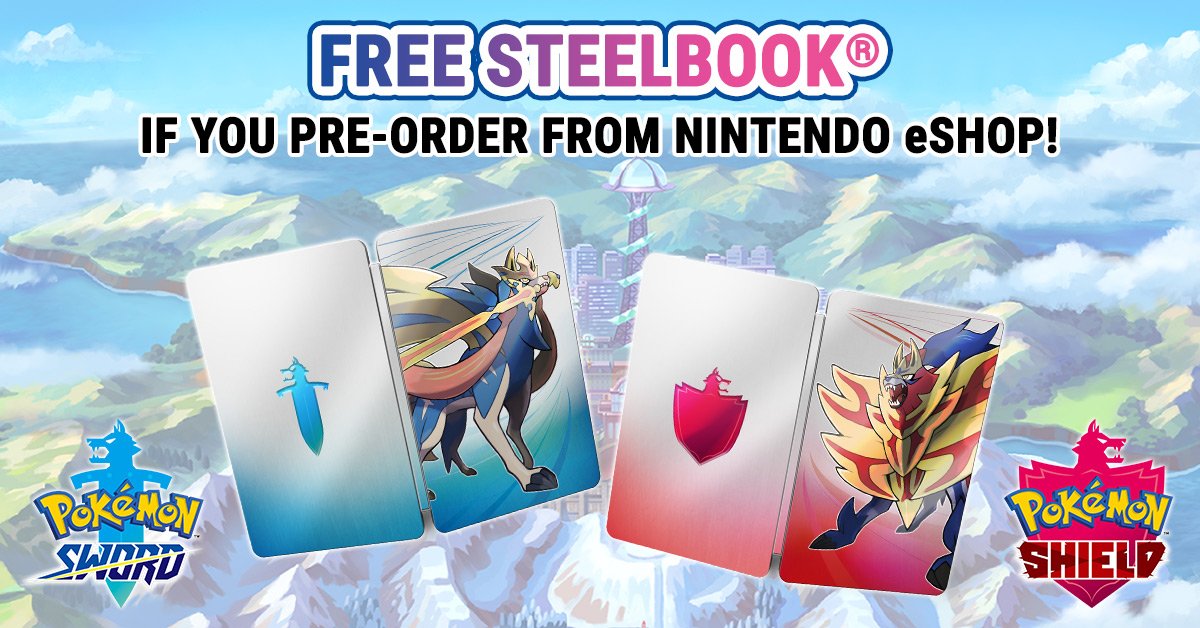 After the pre-load option for Pokemon Sword/Shield started on the Japanese Switch eShop last night, the same can now be said of Europe as well. On top of that, a bonus is available. Those who pre-order the game will receive a free steelbook case while supplies last. We have a look at the designs above.
Pokemon Sword/Shield launches for Switch on November 15.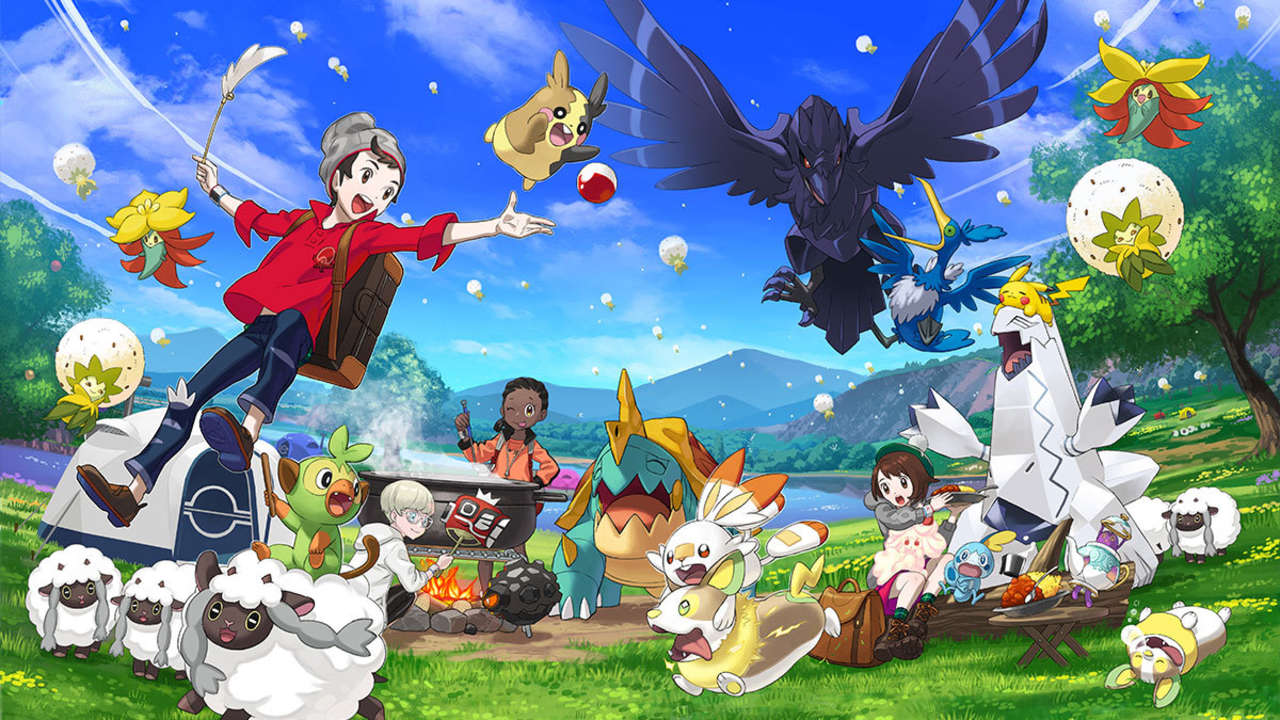 Pokemon Sword and Pokemon Shield can now be pre-loaded – in Japan at least. Other regions should follow shortly. While we wait for the pre-order option to be extended overseas, there is some notable information to share.
We previously heard that Pokemon Sword/Shield would require around 10.3GB. The final size, it seems, will actually be slightly lower than that. The Japanese eShop pages now show an updated size of 9.5GB.
Source: Switch eShop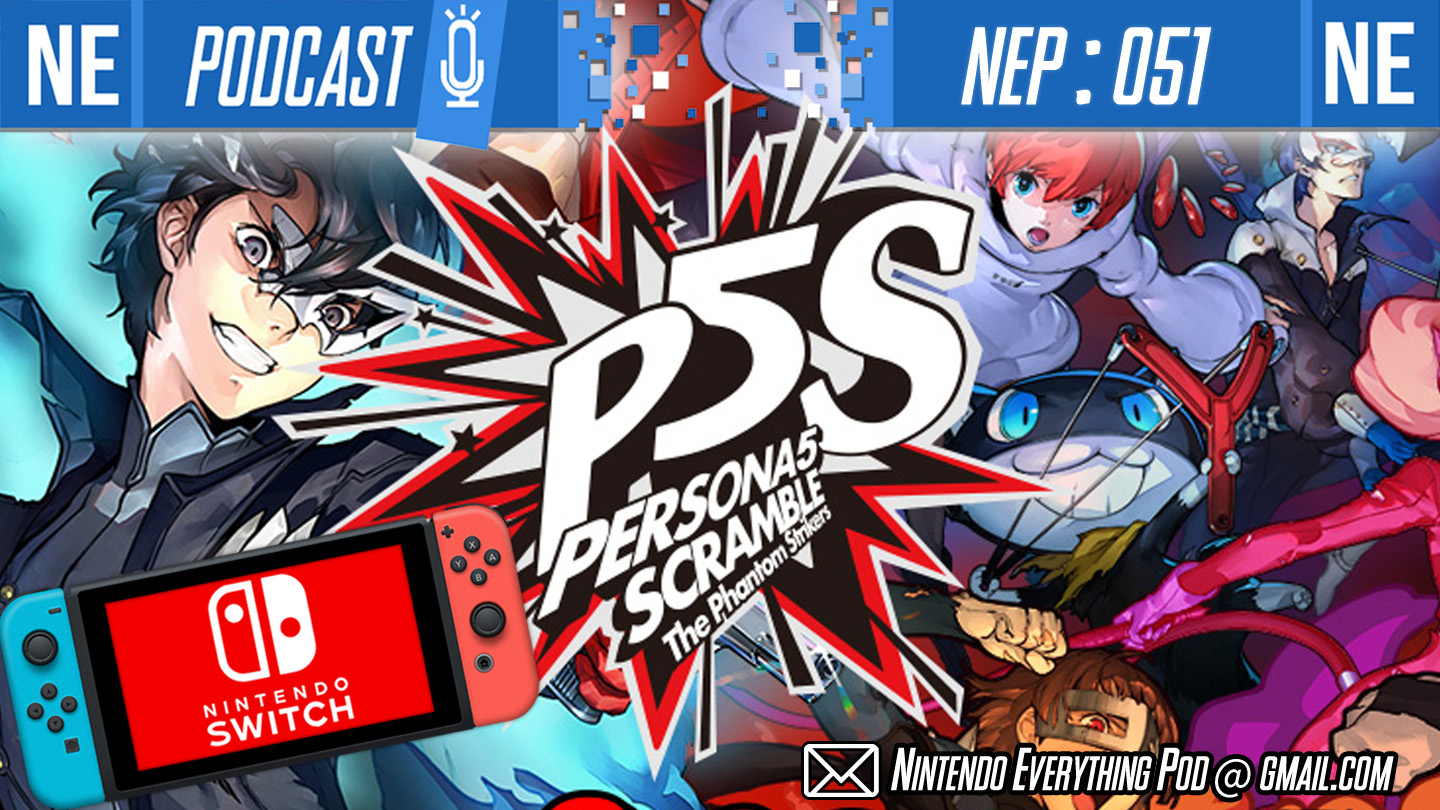 Hello, my phantom thieves! This week on NEP, we're introducing our Fallout 76 inspired subscription membership service: Nintendo Everything Podcast 1st. It just works! Then we comb over all the details of Persona 5 Scramble, which Galen has a "Revelation" about… Oni isn't pleased, but quickly regains happiness as the gang discuss Swery and Suda51's new collab project. And, of course, the weekly dose of Pokemon gets added to the mix, as well.
If you're enjoying NEP, please consider giving us a 5 star review on Apple Podcasts, aka new iTunes. It's incredibly helpful in getting us exposed to new listeners through algorithms, so we would greatly appreciate your help. Thank you for listening!
This week, the podcast is sponsored by Koei Tecmo. Check out Atelier Ryza: Ever Darkness & the Secret Hideout, releasing on Nintendo Switch October 29th in North America, November 1st in Europe.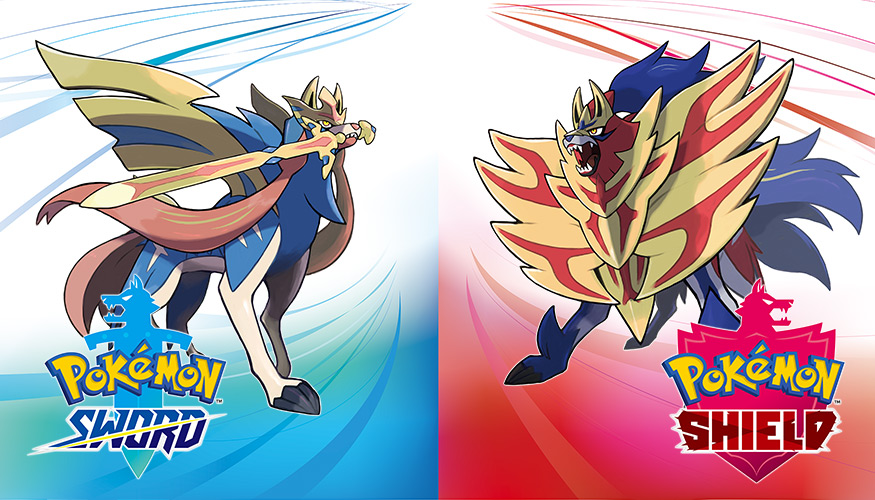 Game Freak shared some news at E3 2019 earlier this year regarding Pokemon Sword/Shield that left many fans disappointed. Unlike past entries, not all Pokemon will be included this time around. We still don't have a complete list as to which creatures are in and which aren't, but the bottom line is that some Pokemon are being cut.
Speaking with VG247, producer Junichi Masuda again weighed in on the situation, stating that Game Freak always hopes to develop "the most interesting game possible and make a more enjoyable, richer experience for the fans." And since the team is able to "give people a greater attachment to the Pokemon that are in the game," the studio has no regrets about the decision made with the national Pokedex.
Masuda shared the following when asked if the fan response gave Game Freak any pause for thought, and if he believes this is the only way to go in the future: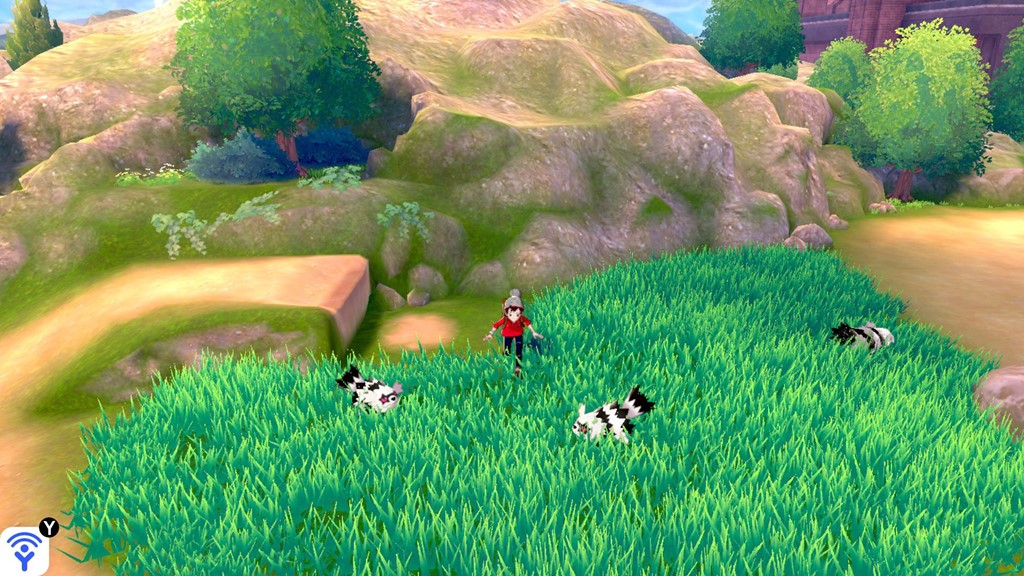 Tall grass may not immediately come to mind as an important element of Pokemon, but it's something that Game Freak concentrated on while developing Sword and Shield. Speaking with Famitsu, director Shigeru Ohmori said that it took the team "about a half-year of disagreements until it took its shape."
Here's the full exchange between Famitsu, Ohmori, and producer Junichi Masuda, courtesy of Siliconera: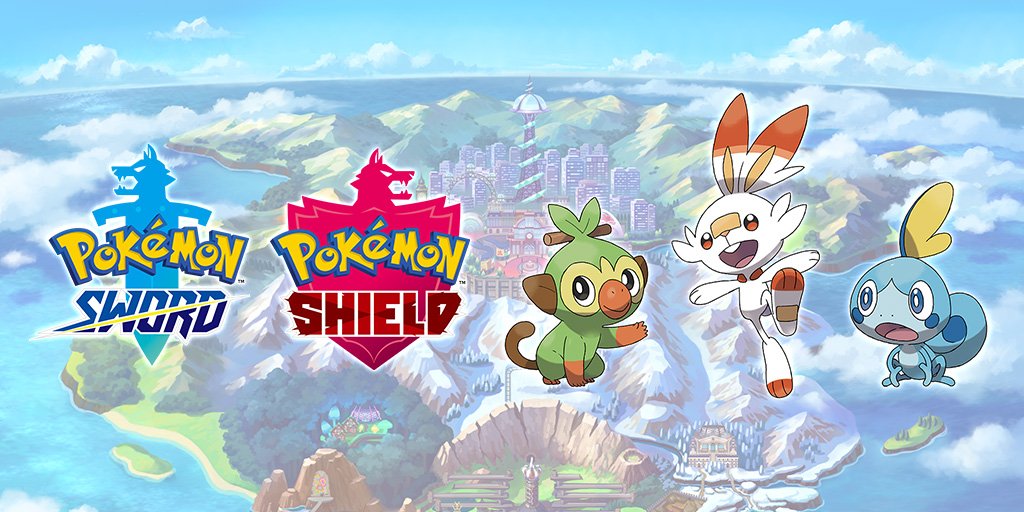 Like the games they were proceeded by, Pokemon Sword/Shield have received regular news update and announcements. However, The Pokemon Company has taken a different approach as to how it shares that information. Whereas many of the new Pokemon were revealed prior to launch of previous generations, there are quite a few that are still being kept under wraps. We still haven't seen the starter evolutions even though Pokemon Sword/Shield are less than a month away, for example.
This was indeed an intentional move, The Pokemon Company has confirmed. Rather than showing almost all of the new Pokemon ahead of time, they want fans to encounter them while playing. It'll certainly be more surprising to see what sort of new creatures were made for this generation by actually going through the adventure.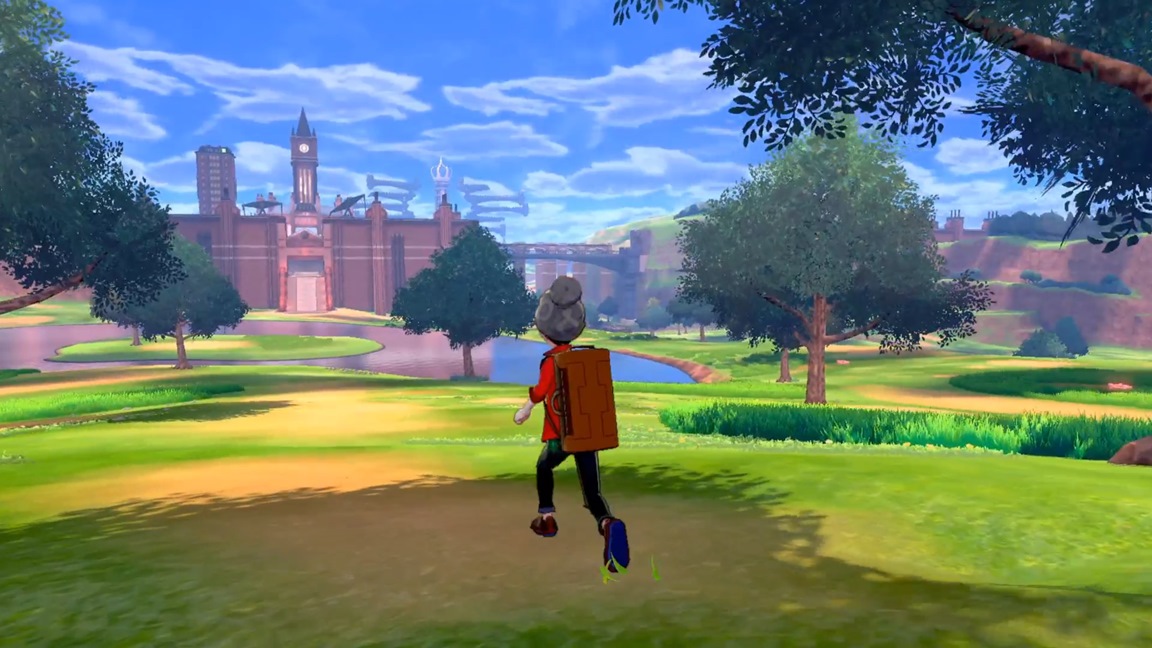 Pokemon Sword and Pokemon Shield have received another short gameplay video showcasing the Wild Area and its different weather patterns. Give it a look below.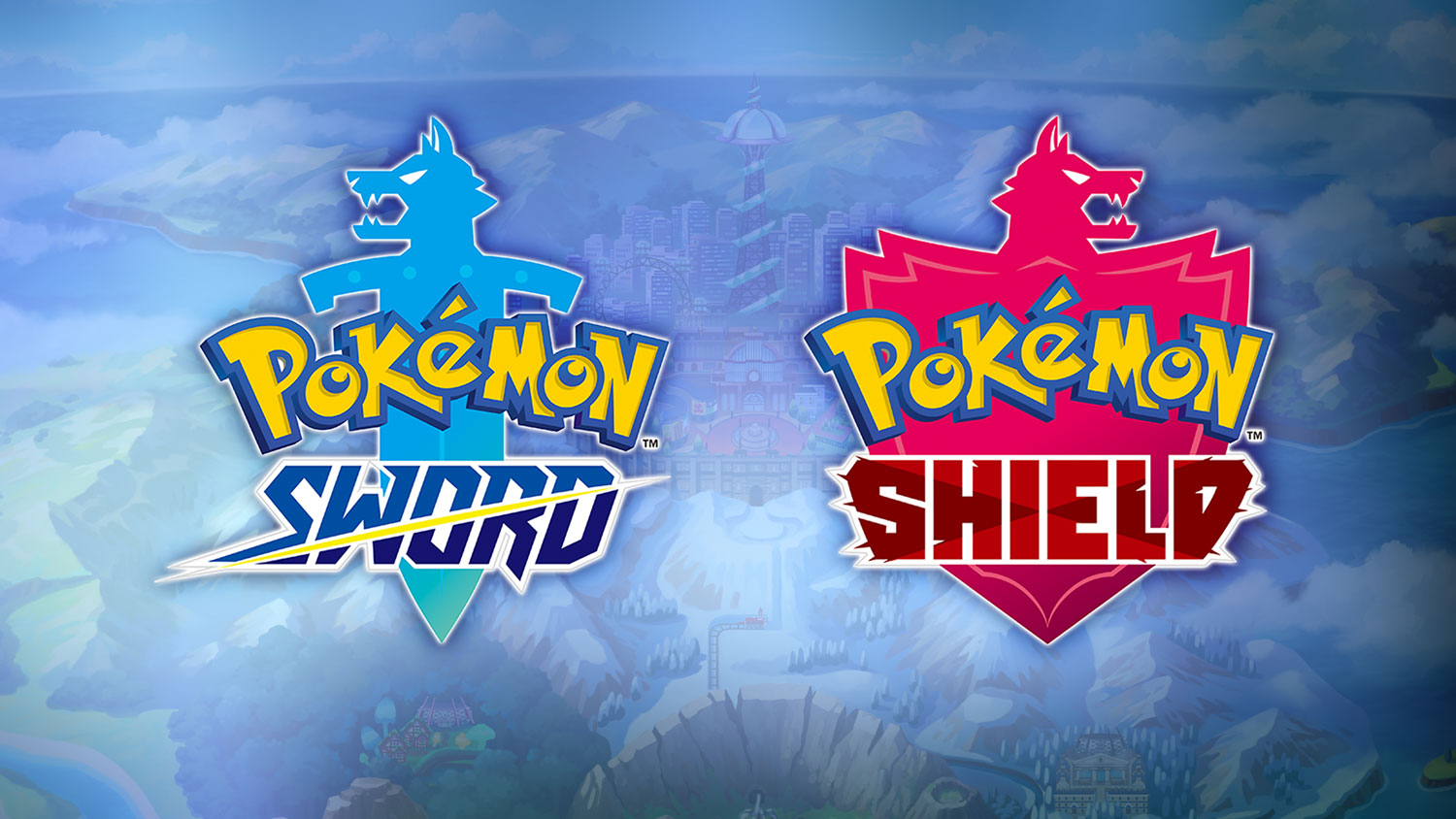 The Pokemon Company just published a new Japanese trailer for Pokemon Sword & Shield. The video doesn't contain any new information, instead showing off every new Pokemon that has been officially revealed so far.
Pokemon Sword & Shield are out worldwide on November 15.