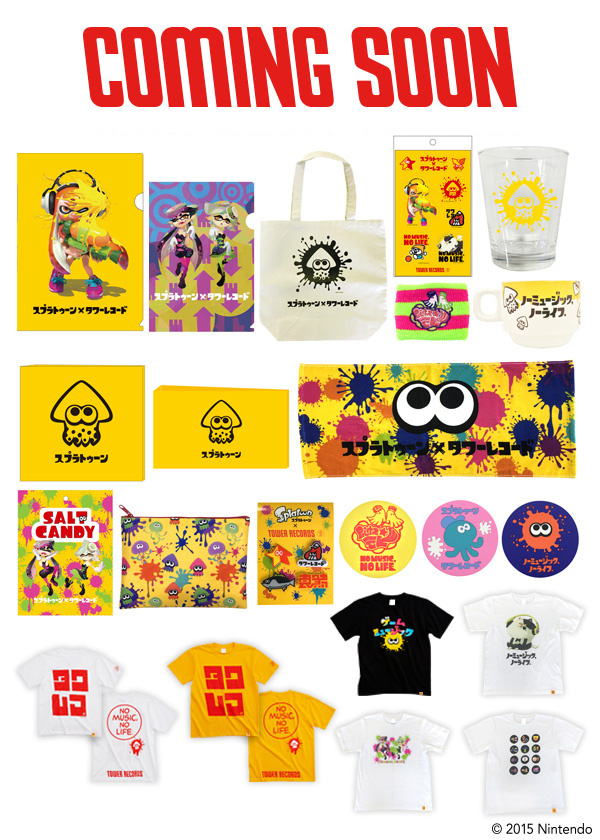 Tower Records is promoting Splatoon in a big way. Starting on June 24 and ending on July 24, a special Splatoon-themed sale will be running.
Tower Records is planning on offering items like T-shirts, apparel such as mugs, stickers, and pins, confectionery, and more. Limited edition items including a backpack and water bottle will also be up for grabs through scratch cards distributed in store. If that wasn't enough, the Splatune soundtrack will be sold as well, and free Squid Sisters-inspired stickers will be available on a limited basis.
Making the whole thing even neater is that the collaboration T-shirts will be added to Splatoon. We don't know when exactly, but we'll let you know when we hear more.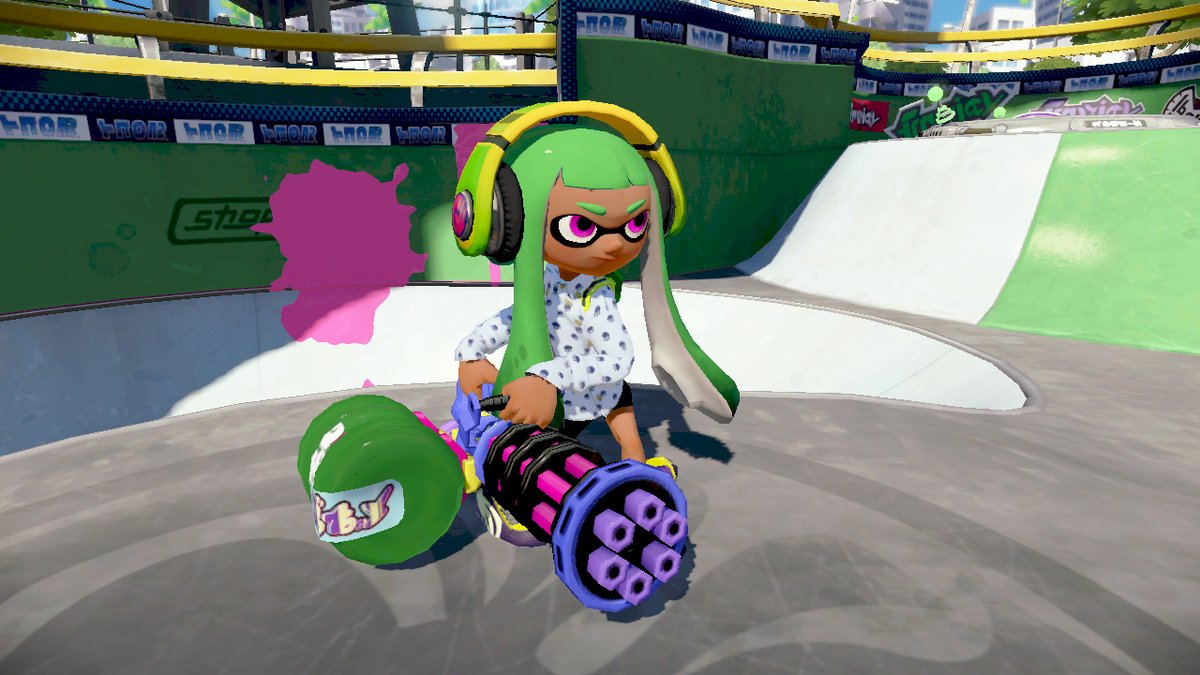 GameXplain has posted more footage of Sheldon's Picks Vol. 2 in Splatoon. Get another look at the weapons below.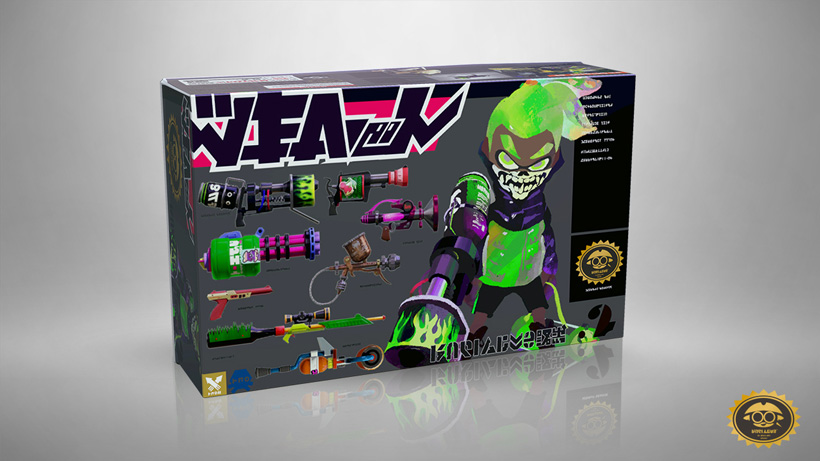 Last night, Splatoon added a new set of weapons in the form of Sheldon's Picks Vol. 2. You can get a good look at the different weapons below.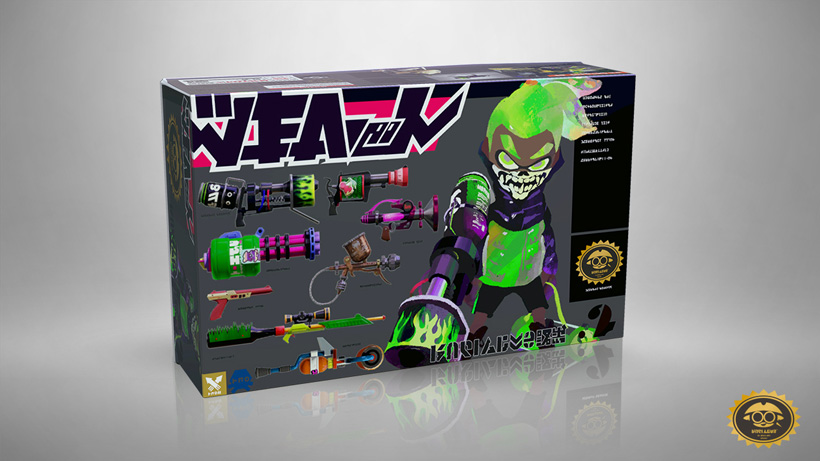 The newest update for Splatoon is now live. Players can now download version 2.8.0.
We've covered this update quite a bit in recent weeks. Of course, the main highlight of Sheldon's Picks Vol.2. Nintendo has also balanced weapons and gear abilities, adjusted stages, and made other fixes.
If you missed them, the full patch notes can be found below.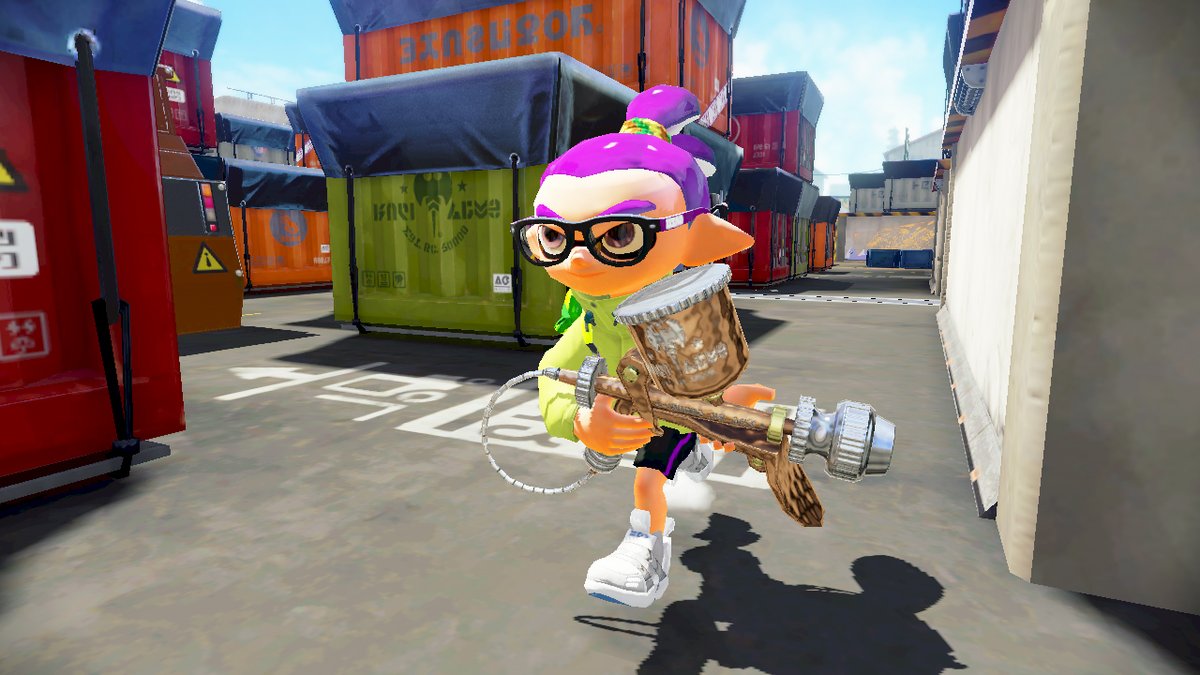 Nintendo has introduced the final two weapons for Sheldon's Picks Vol.2 in Splatoon. Today, we have images and information about the Aerospray PG and Heavy Splatling Remix.
Here are some new screenshots:
And the rundown of both weapons:
Aerospray PG
The Aerospray PG is best described as a little update to the Aerospray MG that Sheldon built from his grandpappy's blueprints. No matter how you describe it, it's definitely a hand-crafted work of art. Burst Bombs help claim turf and the Kraken crushes enemy defenses.
Heavy Splatling Remix
Meet the Heavy Splatling Remix. It's not a remix to your favorite headbanger – It's, uh, a remixed version of the Heavy Splatling. Warm up the crowd with the Sprinkler sub and then drown 'em out with the devastating Killer Wail for an encore.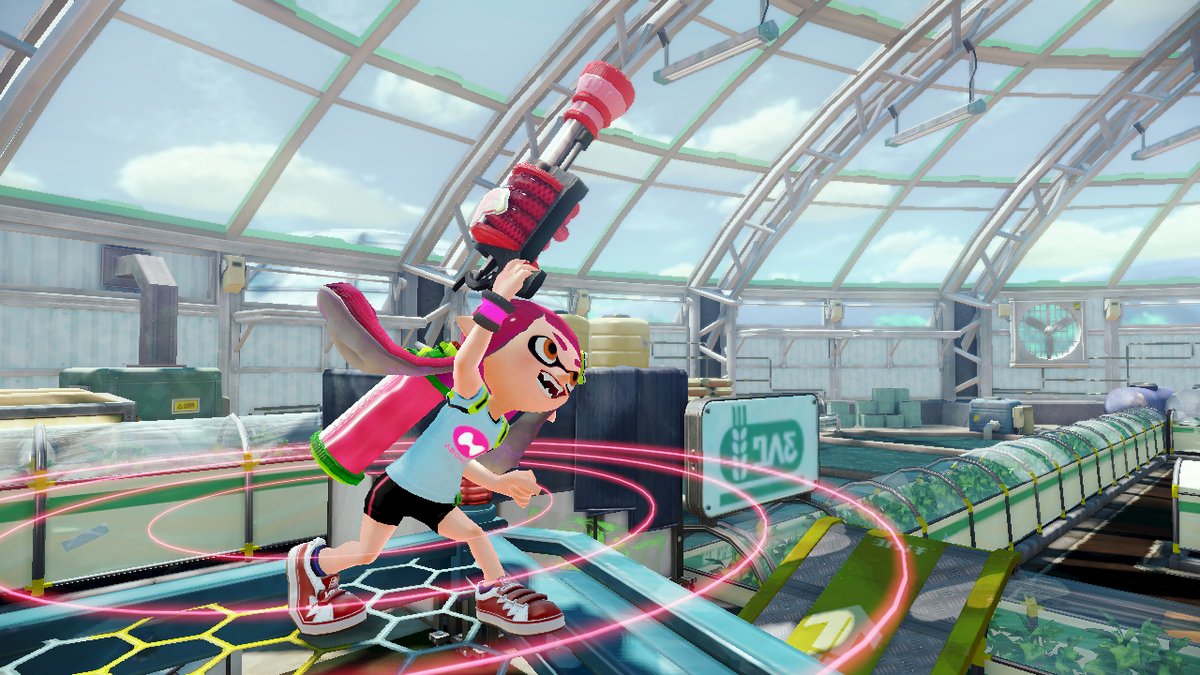 Splatoon will be adding Sheldon's Picks Vol.2 in just a few days. Nintendo is continuing to show off weapons that are coming to the game with screenshots and details.
Here are a few screenshots showing the Cherry H-3 Nozzlenose, CoroCoro Splat Roller, and Sploosh-o-matic 7:
And overviews of each:
Cherry H-3 Nozzlenose
Check out the super sweet Cherry H-3 Nozzlenose. The Splash Wall sub weapon lets you leverage the great range of the main, while the Bubbler is perfect for turning the tables in a pinch.

As Sheldon puts it: "It's super cute with its fruity color scheme and cherry-themed sticker!"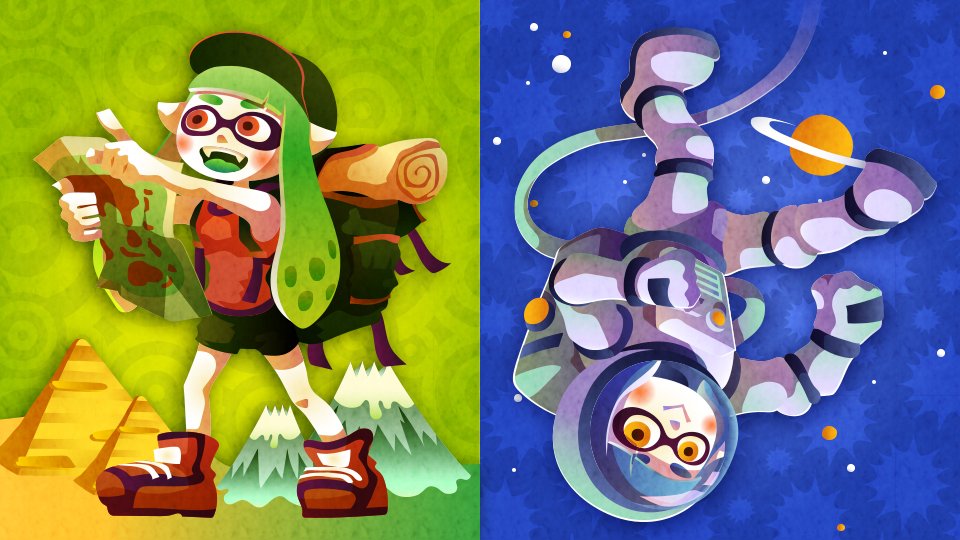 Splatoon's next Splatfest has been announced for Europe. Starting on June 11, players can participate in an event which asks if their dream trip would be a world tour or a space adventure.
The next Splatfest is on 11/06 at 19:00 CEST and asks: what's your dream trip? A world tour or a space adventure? pic.twitter.com/G8LAvo7GKY

— Nintendo of Europe (@NintendoEurope) June 4, 2016
As of now, the 15th Splatfest has not been announced for North America or Japan. We'll let you know if that changes.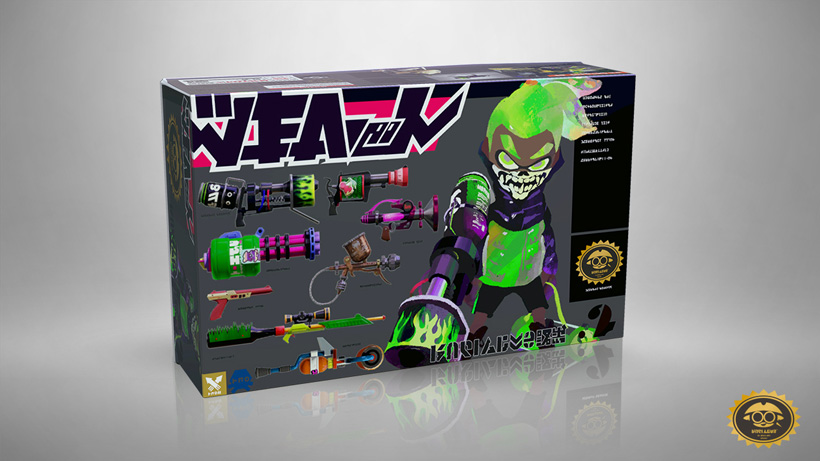 Splatoon's next update will be jumping in next week, and now Nintendo has posted the official changelog.
New weapons and gear
-Nine new weapons added, available in the weapon shop Ammo Knights
—Please note: the new weapons and gear will appear in the shop following the release of the software update.
-Two new kinds of gear added, available in the shop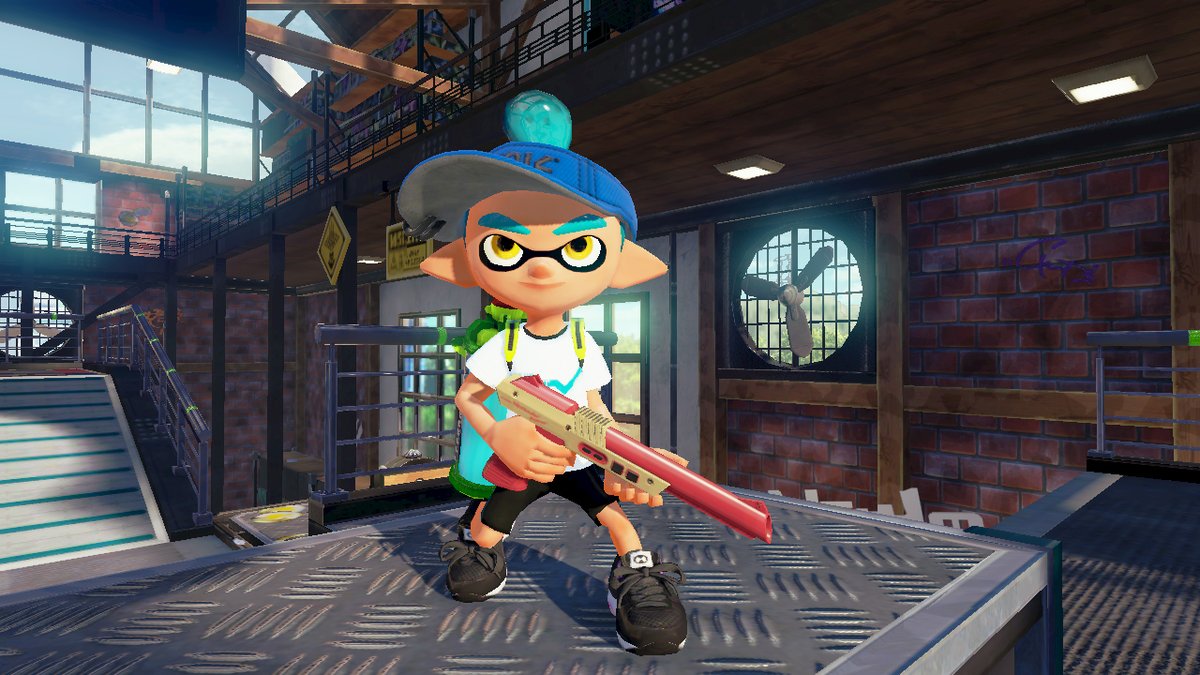 The Japanese Splatoon Twitter account issued some screenshots of the weapons included in Sheldon's Picks Vol.2. We have a look at four of them. The names may be different in the west, but they're currently going by these names:
– Bento Splat Charger (Splash Wall sub, Echolocator special)
– Bento Splatterscope (Splash Wall sub, Echolocator special)
– N-ZAP '83 (Point Sensor sub, Kraken special)
– Necro Range Blaster (Burst Bomb sub, Killer Wail special)
Here are the new screenshots:
We should be seeing the other four weapons before Sheldon's Picks Vol.2 drops next week.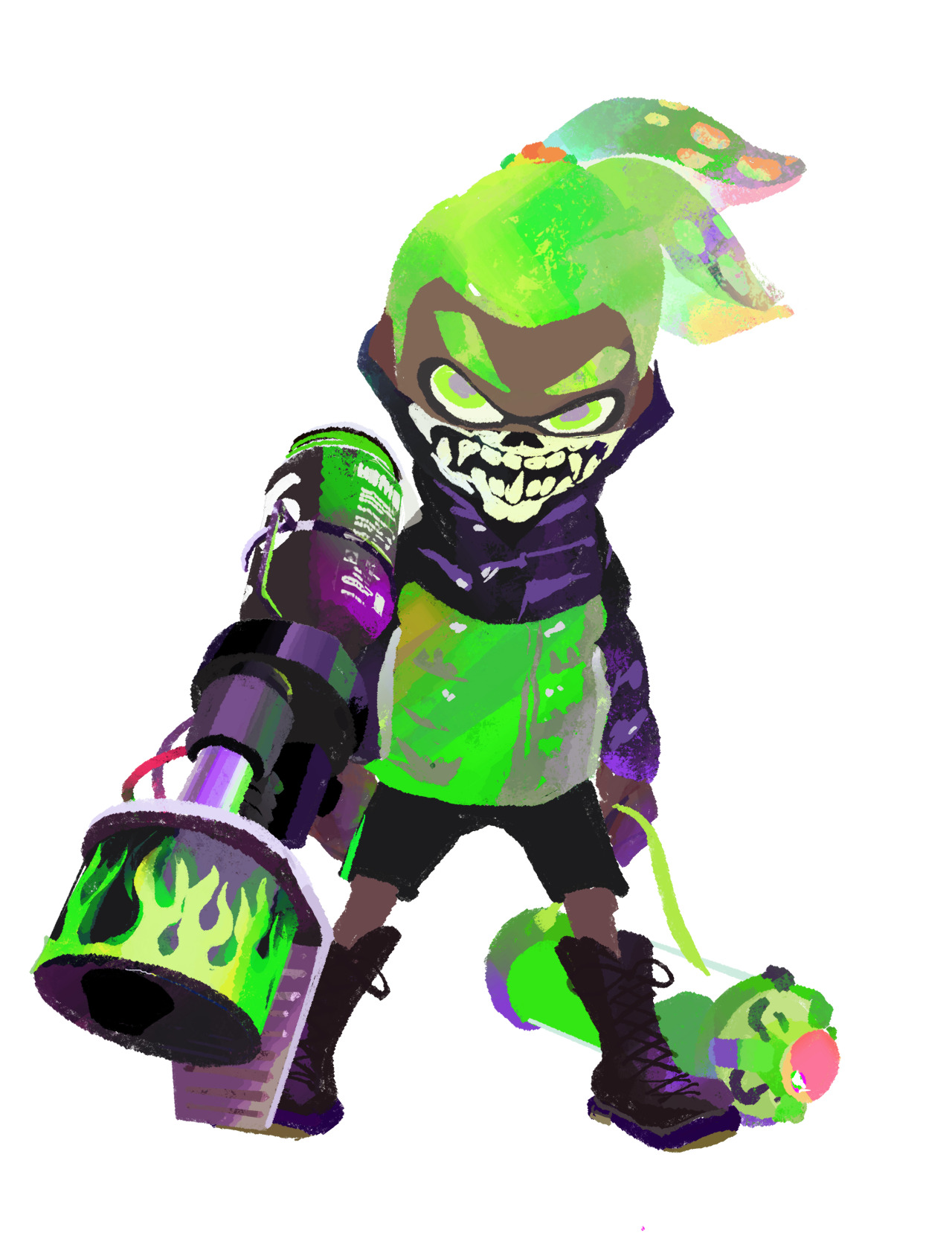 Nintendo will release a new update for Splatoon on the evening of June 7 (June 8 in Europe), the company has announced. The patch will be version 2.8.0.
The main highlight of Splatoon's latest update is the addition of nine new weapon combos through Sheldon's Picks Vol.2. Additionally, there will be weapon balance adjustments and bug fixes.
Maintenance will also be taking place next week. That's scheduled for the following times:
– 5:50 PM PT (June 7) – 7 PM PT (June 7)
– 8:50 PM ET (June 7) – 10 PM ET (June 7)
– 1:50 AM in the UK (June 8) – 3 AM in the UK (June 8)
– 2:50 AM in Europe (June 8) – 4 AM in Europe (June 8)
Please note that due to the update, server maintenance is scheduled to occur from 5:50 PM – 7 PM PT on Tue, June 7th.