Nintendo has confirmed a North American release date for Hyrule Warriors. It will be available on September 26.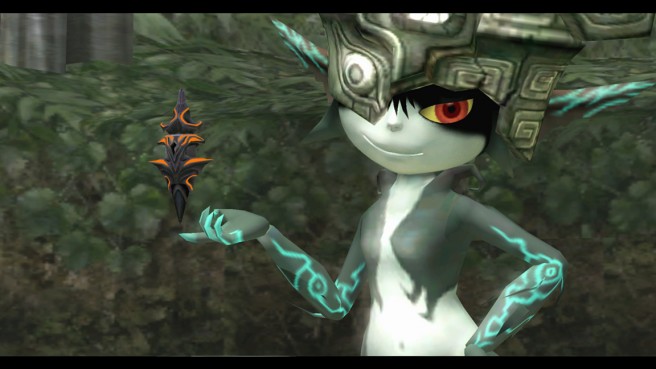 Information leaking out of this week's Famitsu confirms new playable characters for Hyrule Warriors. Princess Zelda will be included on the roster, as will Midna from The Legend of Zelda: Twilight Princess.
Zelda appears to come equipped with a sword made with magic, and a bow can come into play as well. Meanwhile, Midna fights by using her hair and summoning the wolf of a shadow produced by magic.
Famitsu also touches on other things such as how King Dodongo and Lizalfos are in Hyrule Warriors. There's also multiplayer with one person playing on the GamePad while the other plays on the TV.
Looking at the images above, I'd definitely say that Hyrule Warriors has seen a visual improvement since we first saw the game. What about you guys?
Even more Hyrule Warriors details and developer comments have come out of this week's Famitsu. Once again, the information comes from producers Hisashi Koinuma and Yosuke Hayashi as well as Nintendo's Eiji Aonuma.
Here's the latest information from the magazine:
Koinuma on whether we'll see a similar selection of wide-ranging characters…
"Out of all the playable characters [in Hyrule Warriors], there are some surprising characters that made us say 'why did you pick this one?!'" added Zelda series producer Eiji Aonuma.
– Koinuma said Aonuma didn't have any requests for certain characters to be included
– Tecmo Koei took care of most of this
– He also joked that Hyrule Warriors has so many characters, that his own staff would get mad at him if he were to ask them to do something similar
– Hayashia said characters can change their weapons and have a completely different fighting style
– Weapon enhancements and character growth systems included
– The Fire Rod-type item seen in the trailer isn't from the Zelda series
– If a rod like that existed in The Legend of Zelda, we wouldn't be able to use it in the same way
– Weapons and other important in Hyrule Warriors are acquired through treasure chests
– Hayashi also said that the iconic treasure chest opening animation has been prepared for all of the playable characters
"This is actually a very valuable scene [in The Legend of Zelda]. And this also applies to Hyrule Warriors." – Aonuma
– According to Hayashi, The Legend of Zelda games have very high-quality boss fights, and if Tecmo Koei were to try emulating something similar, they wouldn't stand a chance
– Bosses will instead have a Warriors touch by having instances where you'll face a bunch of smaller enemies to charge up your meter, then unleash a special attack on the boss
– There will also be more Zelda-like features, such as strategically using items that can be found around stages to take on the boss
Message for the fans…
Koinuma: "We plan on having Hyrule Warriors' first playable demo at E3 this year. With E3 being the opener, we'll be releasing more and more new information afterwards, so please look forward to it!"
Hayashi: "After watching the trailer that will be shown at E3, it would make us happy to know that you guys will get a better idea of what we're trying to do. We'll sequentially reveal the other playable characters, so don't miss it!"
Aonuma: "I believe it's safe to say that this title was born as one of the answers from thinking of a new The Legend of Zelda game. By all means, we'd love to have as many people possible enjoy this game."
Cut down entire legions of enemies as Link™, Impa and other Legend of Zelda™ characters using over-the-top powerful Dynasty-Warriors-style moves. This tour de force through the beloved locales of Hyrule will have you battling the fiercest enemies in Zelda history. Think tactically and conquer missions in the most efficient way you can to save Hyrule!

The delicate balance of the Triforce has been disrupted, and Hyrule Kingdom is once again being torn apart by a dark power, this time lead by Sorceress Cia. Now it's up to the legendary hero Link to face hordes of enemies and find the missing Princess Zelda™. Advance the story to unlock new playable characters with unique moves and weapon types. Collect Rupees and other useful items to upgrade weapons and craft badges, which you can use to bolster each warrior's abilities. Then unleash the full power of your attacks with intense combos to clear wave after wave of Bokoblin hordes. You'll have to get your gloves dirty to save Hyrule this time.
Hyrule Warriors, the imaginative upcoming game for the Wii U console, combines the action-packed game play of Tecmo Koei's Dynasty Warriors series with the iconic characters and worlds from The Legend of Zelda series. In addition to the focused action game play of leading one soldier against a massive horde of enemies, the Dynasty Warriors series is also known for its epic storyline. In this game, players control Link as he faces a powerful new enemy – the evil sorceress Cia – and her army to rescue the captive Princess Zelda. For the first time ever, Princess Zelda's loyal Hyrulean Captain Impa makes her debut as a playable character. Impa equips a huge sword and can perform powerful combos to defeat enemies. Many other surprising playable characters make appearances in Hyrule Warriors, and each playable character will have signature weapons and action animations.

The first stage of the game takes place in Hyrule Field, a location that will be very familiar to fans of The Legend of Zelda series. The game-play structure of most of the stages bears a close resemblance to the Dynasty Warrior games, so Hyrule Warriors is a game that can truly be enjoyed by fans of both The Legend of Zelda and the Dynasty Warrior series. Players must defend or reclaim areas by fighting against hordes of enemies and using different types of flashy and powerful moves. Players will encounter new enemies such as Sorceress Cia, but some familiar enemies like Bokoblins and Lizalfos from The Legend of Zelda series will also appear in the game.

For more information about Hyrule Warriors, visit http://www.zelda.com/hyrule-warriors.
Source: Nintendo PR
StreetsAhead has translated more information from the Japanese Hyrule Warriors website. This time around, we have the full rundown of the introduction page. You can find it after the break.