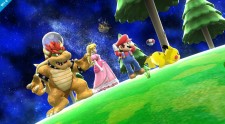 13 hours ago
By
Brian
(
@NE_Brian)
4 Comments
Update: Nintendo has provided the following statement:
"There seems to be some buzz online today about the launch date of Super Smash Bros. We would like to clarify that the speculation about a Spring 2014 launch date for Super Smash Bros. on Wii U was the result of a misquotation in an interview. The original article has since been rectified and we have no further announcements to make at this time."
Original: So much for that supposed spring release for the next Super Smash Bros. German outlet Nintendo-Online has received confirmation from Nintendo that the game doesn't have a set timeframe for launch.
Yesterday, talk of Smash's release date surfaced after Bernd Fakesch, general manager of Nintendo of Germany, said it would be out in addition to Mario Kart 8 in the spring. Mario Kart 8 is still on track for spring 2014 – as it always has been – but that's not the case for Smash Bros.