Some more footage has emerged of Mario Kart 8, this time showcasing an extensive look at all of the game's courses. While the footage isn't entirely shot from a racer's perspective, it gives a good look at what to expect when the game drops.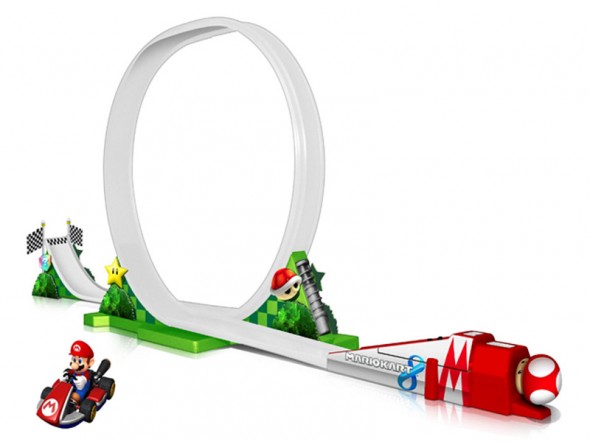 It looks as if Nintendo is geared up and ready for a bigger presence in the merchandise world with a set of new goodies set to hit stores relatively soon. Among them is your Mario showing from plushies to mini play-sets of various stages, and a picture of what look to be figurine mock-ups for other characters like Link, Zelda and Pit among others. Perhaps most impressive however is the Mario Kart 8 branded loop tracks, which look to be pretty elaborate with a number of different characters available for purchase.
The release window is currently listed as 'September 2014' so hopefully we'll have more info in the following months
Check out Banter Toys for more pictures of the full line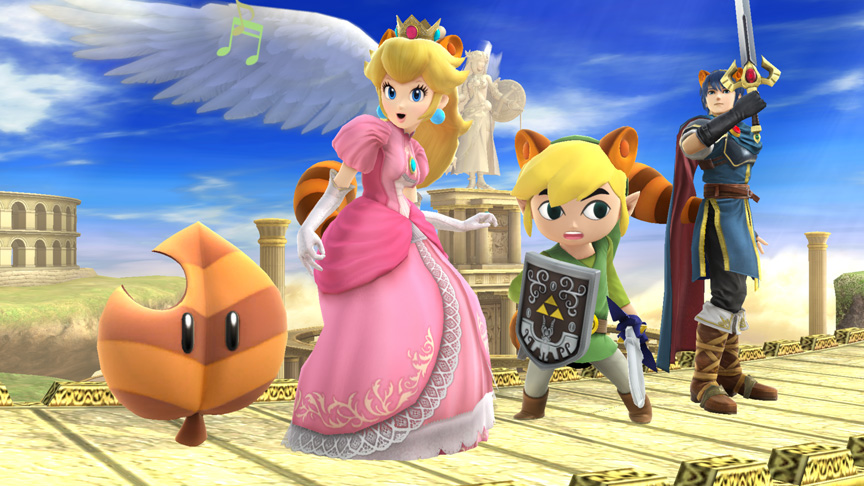 Today's screenshot details a new item, the Super Leaf. Sakurai explains:
With the Super Leaf, any fighter can have ears and a tail. You can also float in the air by pressing the jump button. We're still figuring out whether you'll be able to attack with the tail…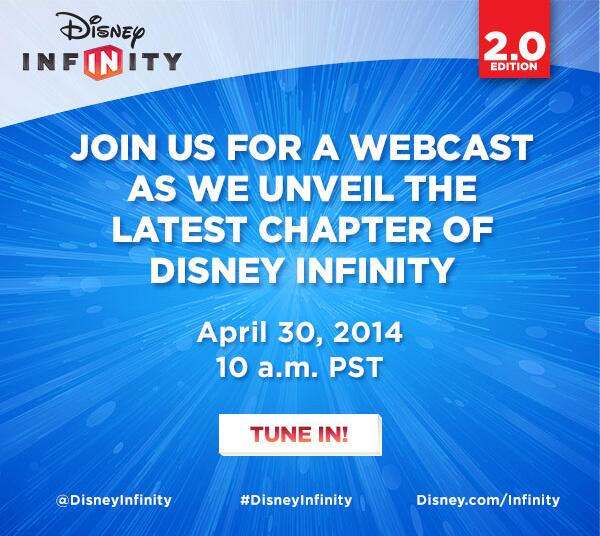 Today it was announced that there will be a launch event for Disney Infinity 2.0. The event will take place at 10am PST on April 30th and is to be held at Pacific Theater's Cinerama Dome in Los Angeles. Alongside the event will be a live stream for the folks at home so you check out all the action. We've embedded the stream below, so you can catch it when it goes live!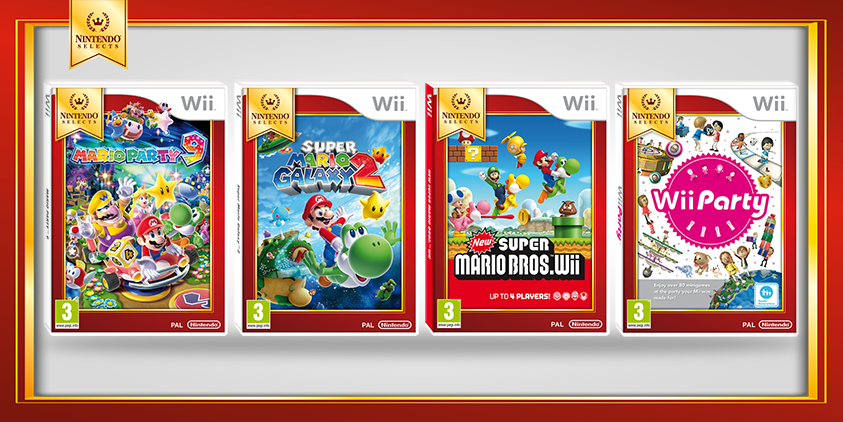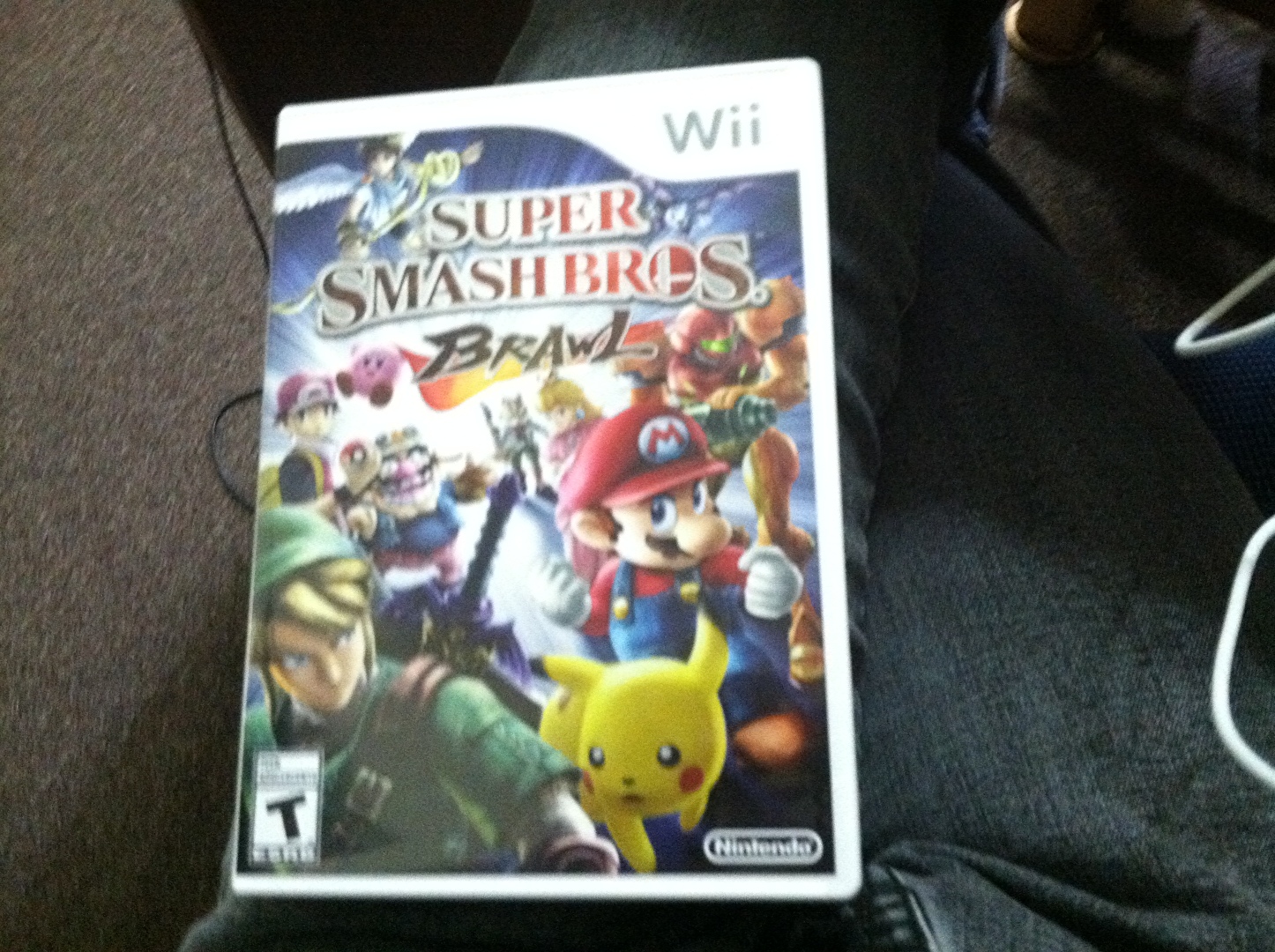 With the shutdown of the Nintendo Wi-Fi Connection in May, games that previously carried the WFC logo appear to be getting a reprint. This will remove any indication of the once available functionality as well as a modified ESRB rating logo to reflect the lack of online.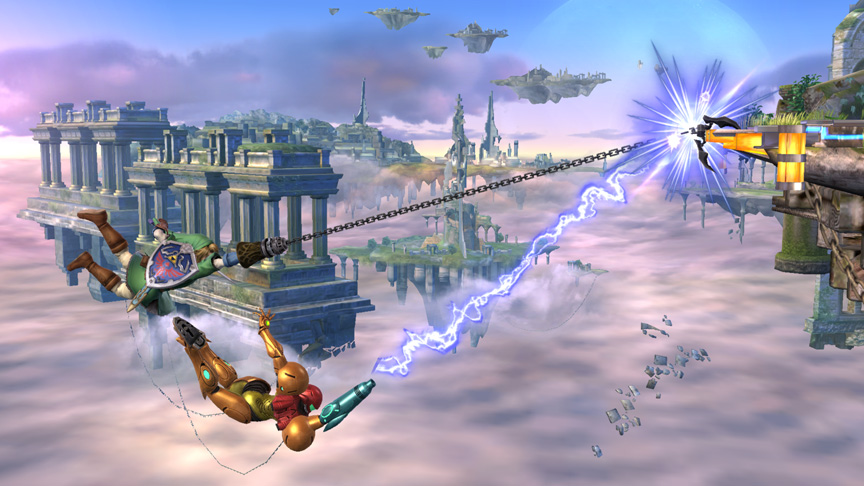 Today's screenshot gives us a look at tether recovery! Sakurai had the following to say alongside the picture:
Tether recovery? Yes, you can! And from even longer range than before. Multiple fighters can latch on–who actually grabs hold is determined by the same rules as the standard ledge grab.
It's no secret that Nintendo's president and CEO Satoru Iwata has been under the pump in recent months with the company's current financial standing. In an interview with Japanese news outlet Diamond, Iwata had the following to say about the Nintendo going forward (translated by the folks over at Siliconera):
"Surely, a lot of people around the world must think 'Nintendo is a company that is just for video games,' about us, and I believe that there are more and more of our own employees who've begun to think like that," said Iwata. "Some employees that are in charge of making things, are often kept positions where they have to think of how they can make the game in front of them more fun, so I don't think it can be helped if others outside of our company think like that."

"So, even if the fact that our focus being video games won't be changing, I felt the need to take this occasion to say 'Nintendo is a company that can do whatever they want'."

"This subject came to light when Yamauchi passed away, but I felt that 'our surroundings are greatly changing. We need to redefine what Nintendo must do, from this point on'. However, I felt that saying 'Nintendo will do anything,' was also the wrong  idea for the company."

"Yamauchi was one to always say 'Nintendo is a company for entertainment, and it shouldn't be for anything else,' and he didn't necessarily think that 'entertainment = video games'. I've been wondering how to express Yamauchi's feelings, and I've been thinking about it non-stop, even during the New Year's holiday break."

"Lately, the words 'QOL' (quality of life) have come up," says Iwata. "Entertainment is there to improve people's quality of life. After your basic needs, there's entertainment. However, when it comes to 'improving people's quality of life,' I didn't know the difference between us and household appliance makers."

"At the start of this year, I finally figured that 'improving people's quality of life with fun,' with emphasis to the 'fun' would be perfect for Nintendo. And that's when I decided to use this as a focus during the financial results meeting in January and wrote the manuscript for the presentation."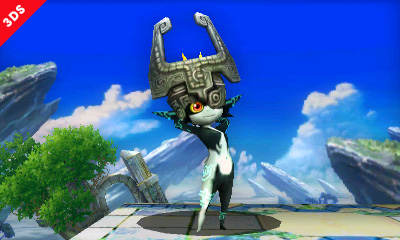 To go with today's screenshot, Sakurai passed along the following info:
The Assist Trophy, Midna! This is the 3DS version. She's going to grab and throw things all over the place. Her uncontrollable, whimsical nature remains intact.
This week's European Nintendo Downloads are as follows:
Wii U
Child of Light – €14.99 (£11.90)
Stick it to the Man – €7.99 (£6.99)
Wii U Virtual Console
Castlevania II: Simon's Quest – €4.99 (£3.49)
3DS
Mario Golf: World Tour – €39.99 (£34.99)
*A free download code is available for Mario Golf (Game Boy Color) for those who purchase Mario Golf: World Tour from the eShop by 05/29/2014. This will be the exclusive way to access the game before it's official Virtual Console release
Mario Golf: World Tour: Free-Trial Course Pack (DLC, free)
Mario Golf World Tour: Mushroom Pack (Nintendo) €5.99 (£5.39)
Mario Golf World Tour: Three-Pack Set (Nintendo) €11.99 (£10.79) (Until 5/31/2014, regular price €14.99/£13.49)
Etrian Odyssey: The Millennium Girl – €39.99 (£34.99)
Hometown Story – €29.99 (£29.99)
Mystery Case Files: Ravenhearst – €11.99 (£10.79)
Azada – €11.99 (£10.79)
Cave Story – €7.25 (£6.00)
[Demo] The Denpa Men 3: The Rise of Digitoll
[Demo] Conception II: Children of the Seven Stars
Wii U Virtual Console
GALAGA – €4.99 (£4.49)
=====
Price Reductions
3DS
Tappingo – €1.99 (£1.69) until 05/15/14
Darts Up 3D –  €2.99 (£2.49) until 05/31/14
Bird Mania Christmas 3D – €0.99 (£0.89) – Permanent price reduction