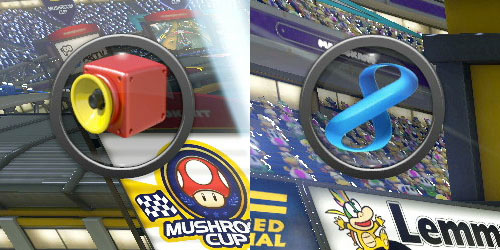 Piranha Plant and Boomerang Flower items join the fray across original and reimagined courses

3rd April 2014 – Nintendo today revealed new information on Mario Kart 8, the latest instalment in the fan-favourite racing series launching exclusively for Wii U on 30th May – in stores and on Nintendo eShop. For the first time in HD, Mario Kart 8 introduces original course designs that highlight the game's new antigravity feature, which allows players to race upside down or up vertical surfaces. Racers will also enjoy a variety of series-favourite features including the return of 12-player online competitive play*, four player lo cal multiplayer, hang-gliders, underwater racing and motorbikes.

New features include:

Nintendo has lifted a new embargo on Mario Kart 8, and several press previews are now starting to arrive.
– Retro tracks have been given a noticeable upgrade
– 16 returning tracks
– 16 new courses
– Largest selection of playable characters
– Confirmed characters:
Mario
Luigi
Peach
Daisy
Yoshi
Bowser
Donkey Kong
Toad
Toadette
Koopa Troopa
Wario
Waluigi
Rosalina
Baby Mario
Baby Luigi
Baby Peach
Baby Daisy
Larry Koopa
Morton Koopa Jr.
Wendy O. Koopa
Iggy Koopa
Roy Koopa
Lemmy Koopa
Ludwig von Koopa
Metal Mario
Shy Guy
Lakitu
– Retro courses feature anti-gravity sections
– Glider and underwater additions return
– Toad's Turnpink, Moo Moo Meadows, Mario Circuit are back
– Toad's Turnpink features ramped lorries that flip you onto new vertical track sides and let you storm past swaths of traffic hazards
– Moo Moo Meadows now has an elegant skybox, dynamic lighting and lush green fields
– GBA Mario Circuit has been altered so that part of track is tilted to a 45 degree angle
– Split screen with up to 4 players
– 30 FPS in split-screen
– At least 2 new weapons
– Piranha Plant item from last year's Super Mario 3D World included
– The pot will gobble up passers-by
– Mario's Boomerang Flower power-up is included for the first time as a three-shot weapon with homing abilities, able to pick off anyone in a large radius
– Earn coins from item boxes
– Up to 10 to collect in a race
– Can no longer pick up additional items while holding a weapon behind your kart
– Horn is still present on the GamePad
– Options to toggle between a live view of the main screen, a map of the track layout and a list of the current player rankings
– Edit Highlight Reel option at the end of each race
– Select parameters to automatically generate a video of your playthrough
– Choose the clip length, specific characters for the camera to follow and a focus on key racing moments such as item use or stunt jumps
I'm not generally big on announcements of previews (that sounds odd just to type that!), but we do have a brief update to share about two upcoming Nintendo titles. First, new previews for Mario Golf: World Tour will begin rolling in tomorrow. Coverage for Mario Kart 8 is expected in a big way next week. Expect tons of posts about each!
A few Mario Kart 8 accessories will be available in Japan for the game's launch in May. These include two different Mario wheels and GamePad cases.