GameSource recently had the opportunity to interview David D'Angelo from Yacht Club Games. The discussion isn't in English, but we were presented with a couple of noteworthy translations.
Here's what D'Angelo shared regarding Nintendo's support for Shovel Knight:
Nintendo was very helpful. They provided a great deal of marketing from featuring the game on the eShop and their website, to bringing the game with them to conventions around the country. They were also helpful behind the scenes, dealing with technical questions and listening to our wildest dreams. Creating Shovel Knight for the Wii U and 3DS was a smooth process, but of course, still a ton of work. Building a game for any platform comes with its own challenges and making a game feel unique and at home on the console is an important but hard problem to tackle!
On the topic of Shovel Knight's sales, D'Angelo stated:
The game is selling really well on Nintendo platforms, and hopefully we'll continue to keep making games for their systems. We love Nintendo, and they have been really great to work with for Shovel Knight.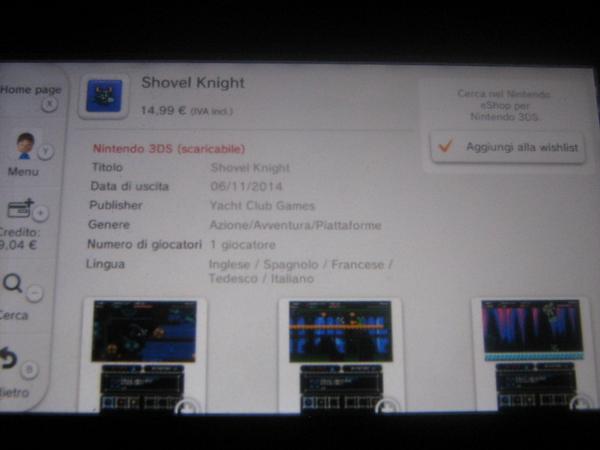 Update: Here's what Yacht Club says about the eShop listing:
@JeGeekJePlay Seeing that release date is a surprise to us honestly! Possibly a mix up?

— Yacht Club Games (@YachtClubGames) October 22, 2014
@JeGeekJePlay The Wii U and 3DS versions should be released on the same day! Though we're still waiting to find out when that is exactly.

— Yacht Club Games (@YachtClubGames) October 22, 2014
---
The European Wii U eShop has apparently dated several games for Europe.
First up, Shovel Knight will apparently launch on November 6 for €14.99. Yacht Club Games previously confirmed that the game would be launching in Europe and Australia next month, but a specific date wasn't shared.
Also due out on November 6 is the eShop version of Disney Infinity 2.0. Wii U owners will be able to purchase the title for €29.99.
Last but not least, Picross e5 is slated for November 11 (with a €5.00 price point).
Note that while these dates are likely accurate, they have not been officially announced.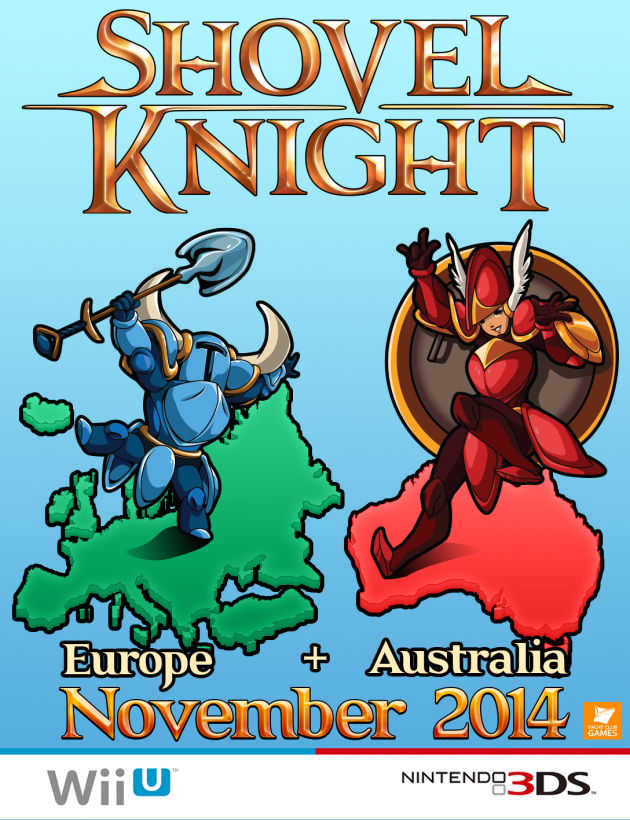 Shovel Knight will finally be released in Europe and Australia next month, Yacht Club Games announced today. That launch month applies to both Wii U and 3DS. An exact date is still being nailed down, but November is now locked in.
The 3DS version of Shovel Knight has been updated to version 1.1, developer Yacht Club Games has announced. Grab it by heading to the eShop, visiting the "Settings/Other" tab, and then selecting "Updates".
Today's patch mainly addresses crash issues with the home menu. There is also an option in Shovel Knight's main menu that makes updating to new versions easier.
Good news for those of us outside of the US waiting to get our hands on Shovel Knight, it's officially been classified in Australia! Hopefully this means other regions will follow soon, I'd imagine Yacht Club Games will have an official press release in the coming days.
Shovel Knight players on Wii U will be able to download update 1.1 later today. The patch will also be making its way soon to 3DS.
Here's the full rundown of the update:
General

•Fix: Timing issue where the Inventory screen could be opened with the game unpaused.

•Fix: Getting captured by Treasure Knight's chest while using the Ichor of Boldness leading to a missing Shovel Knight.

•Fix: Cheats not carried over in New Game+ when a file is reloaded.

•Fix: Falling into pit during final boss battles leading to soft lock.

•Fix: Escaping final battle with Propeller Dagger.

•Fix: Fall through floor if using Dust Knuckle when defeating Polar Knight during Round Table.

•Fix: Enchantress blocks frozen by creative Chaos Orb use.

•Fix: Entering Enchantress fight with shovel drop causing crash.

•Tweak: Fixed a portrait and added one slacker to the Hall of Champions.

Wii U

•Game can now be played with out the GamePad! "Please re-connect GamePad" message will only display if it was your last used controller before disconnect or if you were displaying the game on the GamePad screen.

•NEW: GamePad screen can be toggled between Main and Sub type by pressing the "Select Button" within the Pause Menu. Quicker than going all the way to the video option menu!

•Fix: Crash when the battery died on GamePad with certain Wii U system features enabled.

•Fix: Music not resuming if a Miiverse post is selected while the inventory is open on screen.

3DS

•NEW! Update option on the main menu makes updating to new versions of Shovel Knight a breeze! Welcome to the internet future, medieval knight man!

•Fix: Home menu crash issues
When the update hits 3DS, we'll be sure to let you know!
Yacht Club Games is currently planning Shovel Knight's launch for Japan, which may (or may not) directly involve Nintendo.
One fan asked the studio on Twitter if there are any arrangements with Nintendo to get the indie game out on the Japanese eShop. Yacht Club wrote back with the following:
@Yvale_Bastion We're working through a few possibilities. Might be some exciting details incoming on that front.

— Yacht Club Games (@YachtClubGames) August 6, 2014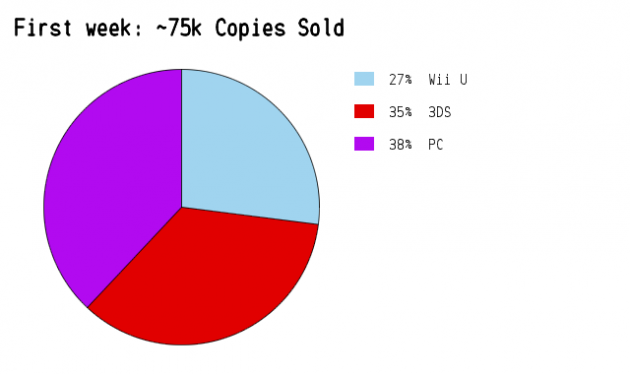 Yacht Club Games shared a comprehensive breakdown of Shovel Knight's sales in a new blog post.
In its first week, the indie title managed to sell 75,000 copies (taking out Kickstarter pre-sales). Yacht Club said, "It blew our 2x-4x pre-sale expectation out of the water".
There are a few reasons we think our preorder prediction ended up being such a conservative estimate. One is…we were a Kickstarter! That's not quite the same thing as a preorder. People could only attain the preorder for a limited time, so the stats aren't 100% aligned with what a preorder would do. We think due to the PC nature of Kickstarter, we saw a higher amount of sales on Nintendo's platform when the game actually got released. Nintendo users are more inclined to buy the game day one rather than through a preorder on Kickstarter. Finally, the preorder prediction isn't a set in stone statistic, but more like a guideline for what to expect. We had done a lot of promotion and marketing at conventions and on media sites to prove ourselves over the course of the year, and we think people responded to it in kind! Nintendo also did an amazing job supporting us through their store placement and own marketing channels.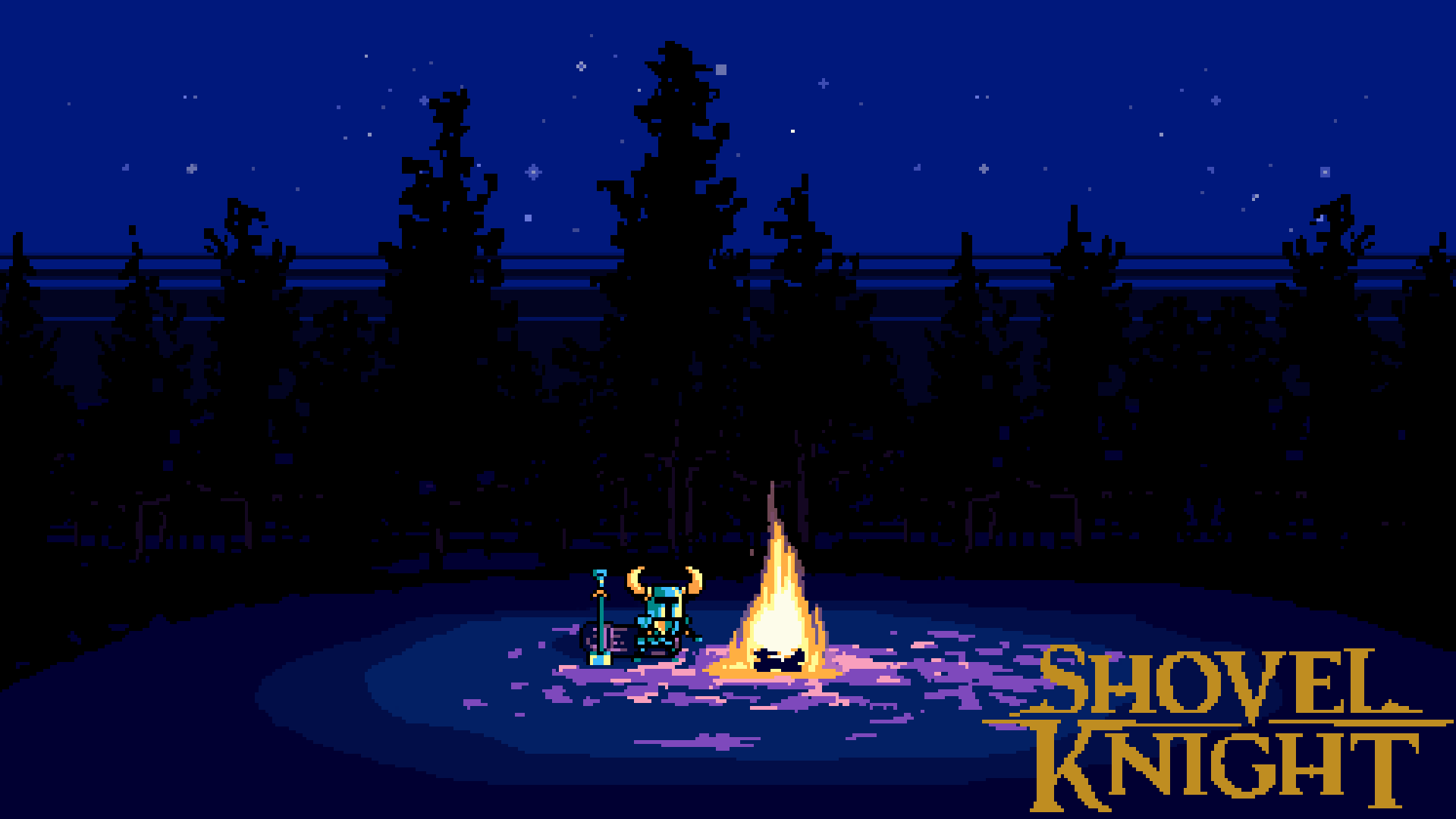 Yacht Club Games is pleased with Shovel Knight's sales performance thus far. The game has only been out for about a month, but the studio's Sean Velasco told Game Informer:
Velasco: I'd say it's doing very well. We are very pleased with where it's at, even this early in the sales time.
Yacht Club's Nick Wozniak also commented on Shovel Knight's sales, stating: "Across all platforms it's exceeding expectations."