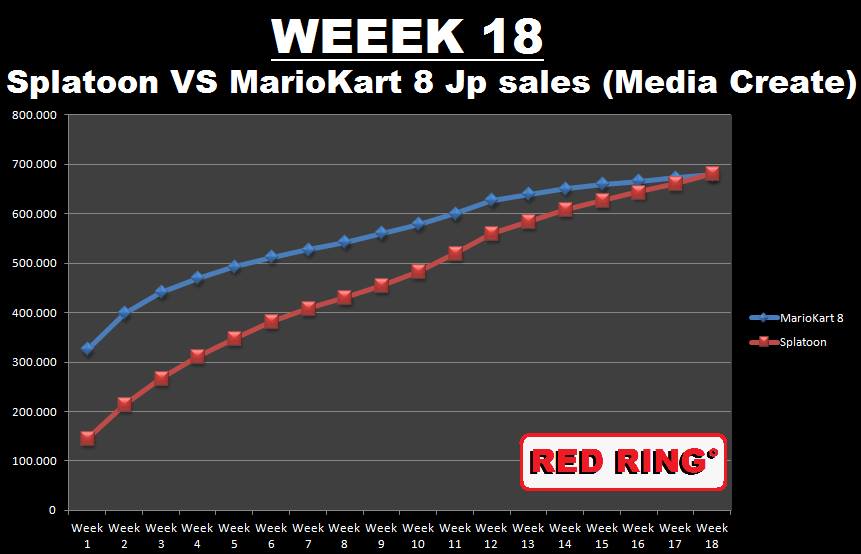 Splatoon has outsold Mario Kart 8 in Japan when lining up the launches of the two games. Through week 18, Splatoon has sold 681,495 copies. That's compared to Mario Kart 8's sales of 678,250 units during the same time frame. Apparently, Splatoon is also Japan's fastest-selling Wii U game.
Thanks to XbroKong for the tip.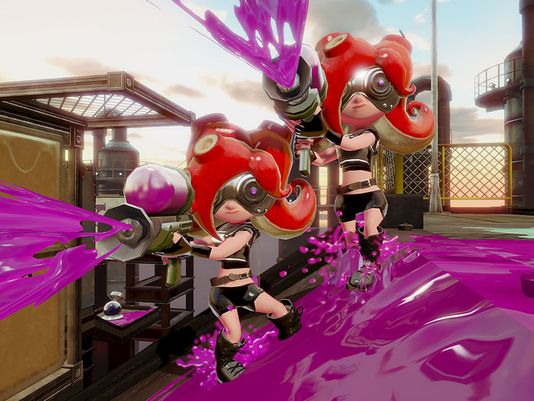 Splatoon players have long been able to hack their game to make Octolings playable. However, a kernel exploit has now been made public based on an older Wii U firmware version, making it much easier for people to modify their Splatoon save files and play as the character.
Normally you wouldn't expect this to have an impact on other players, but that's definitely not the case here. Those who encounter such users should stay in the lobby until they leave, and then play one more match. Why? Well, doing so ensures that the game doesn't put their hacked Octoling character into your Inkopolis Plaza. Because the Plaza isn't programmed to handle Octolings, your game will crash whenever it tries to load them. This includes the title screen as well.
It might be best for you to back up Wii U save data to a flash drive to be safe. If you run into the issues mentioned above, you'll need to wait until the plaza is cleared at the beginning of a Splatfest. Hopefully Nintendo will take care of things via a patch as well.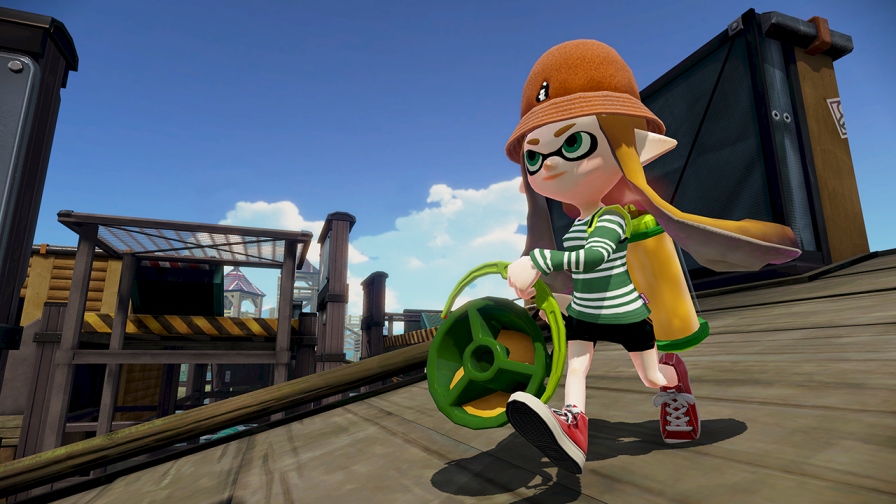 Splatoon's latest weapon, the Tri-Slosher, is now available. Here's an official description from Nintendo:
"The Tri-Slosher is a Slosher-type weapon with three angles of attack! The individual splashes lose a little bit of power, but the wide spread makes it very handy in a tight spot! The Disruptor sub and Bubbler special make this set perfect for in-your-face splatting."
We posted some footage of the Tri-Slosher earlier tonight. You can find the video here..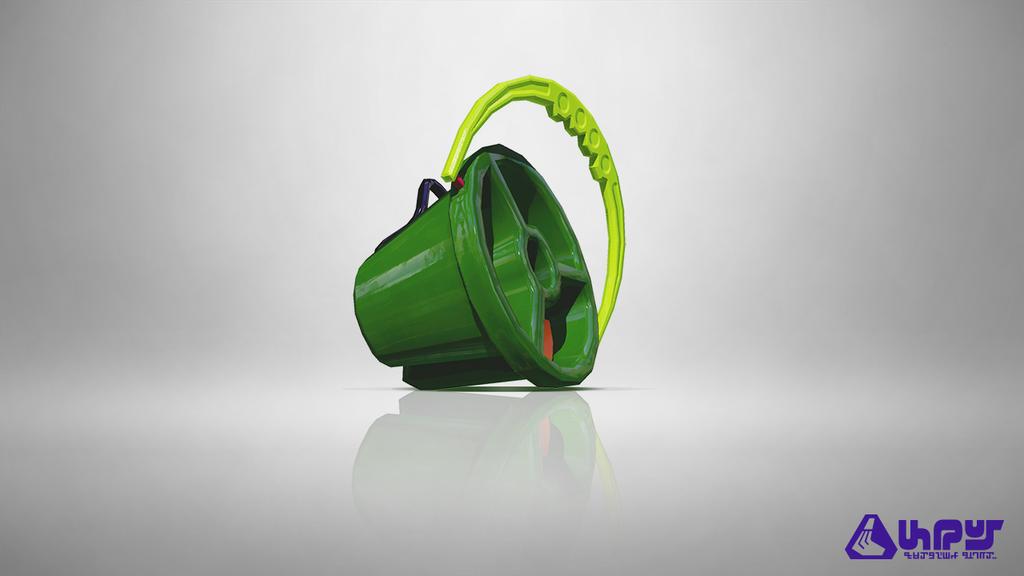 Later tonight, Nintendo will officially be adding the Tri-Slosher to Splatoon. Take a look at some footage of the weapon below.
Thanks to Hank for the tip.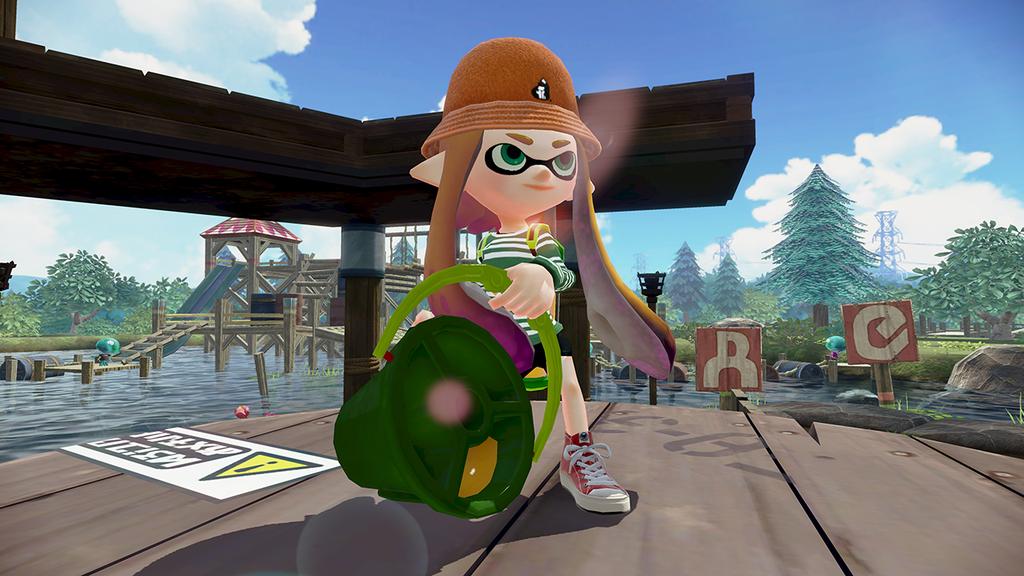 Nintendo has announced the addition of yet another weapon for Splatoon. Later today (tomorrow if you're in Europe!), the Tri-Slosher will be made available.
Here's when the weapon will launch in Splatoon:
– 7 PM PT (Friday)
– 10 PM ET (Friday)
– 3 AM in the UK (Saturday)
– 4 AM in Europe (Saturday)
View a set of screenshots for the Tri-Slosher below.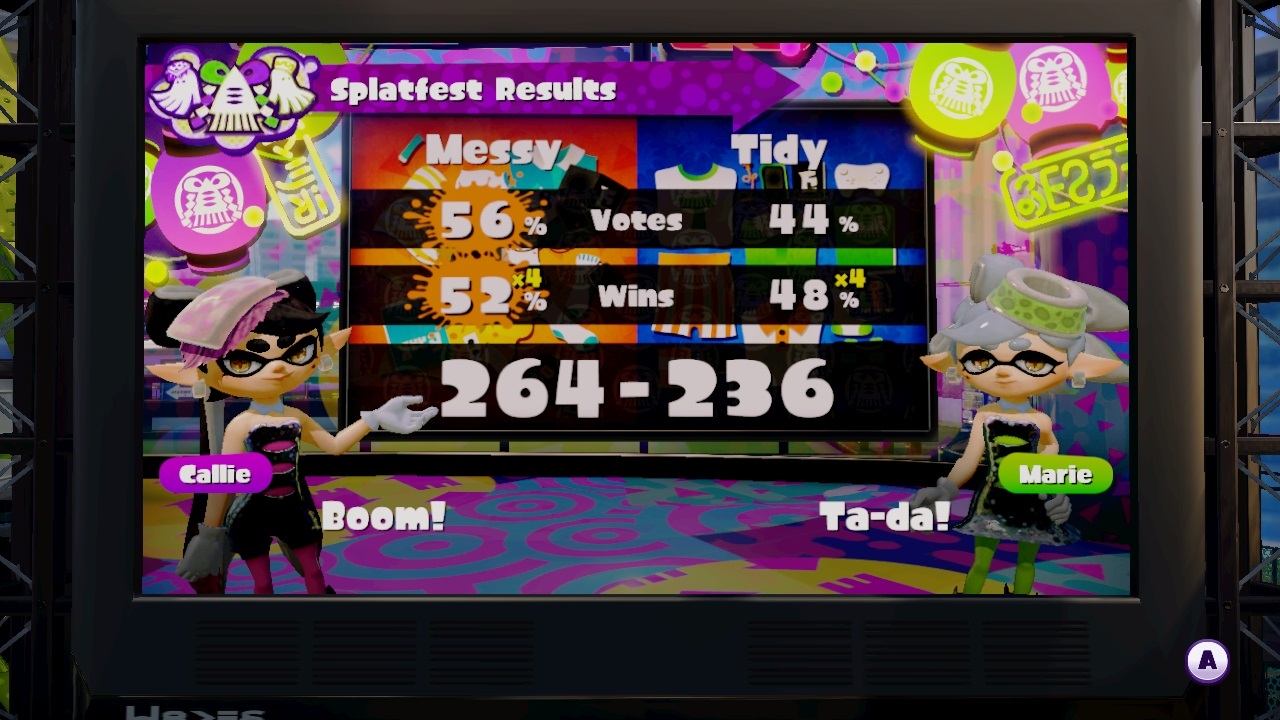 Because of a slight edge in votes and popularity, Team Messy managed to beat out Team Tidy in Splatoon's latest European Splatfest.
The messy side had 56 votes compared to tidy's 44 votes. With wins, which is most important, Team Messy secured 52 percent. In the end, Team Messy had 264 points compared to Team Tidy's 236 points.
Here's the official in-game announcement video: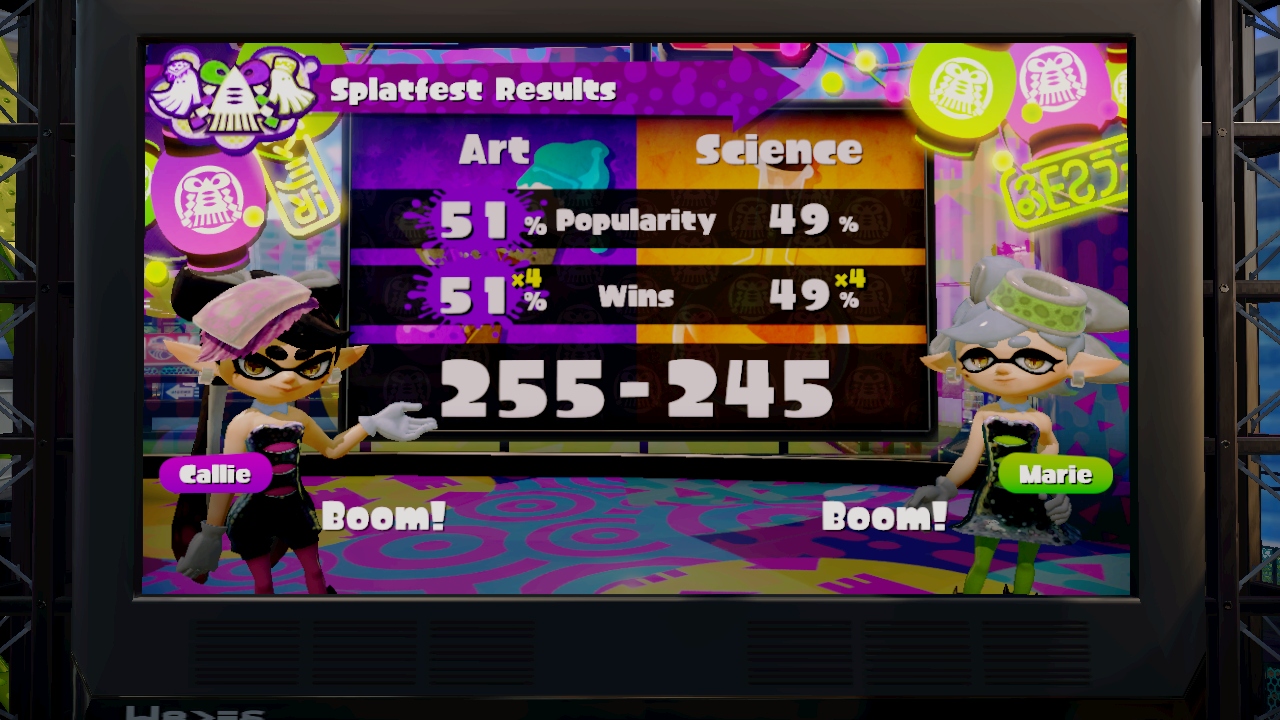 The results are in for Splatoon's fifth North American Splatfest. To say the least, the event was extremely close.
Just two percentage points separated the art and science sides for both popularity and wins. However, it was Team Art that managed to come out on top, though just slightly. The final count was 255 points for art and 245 points for science.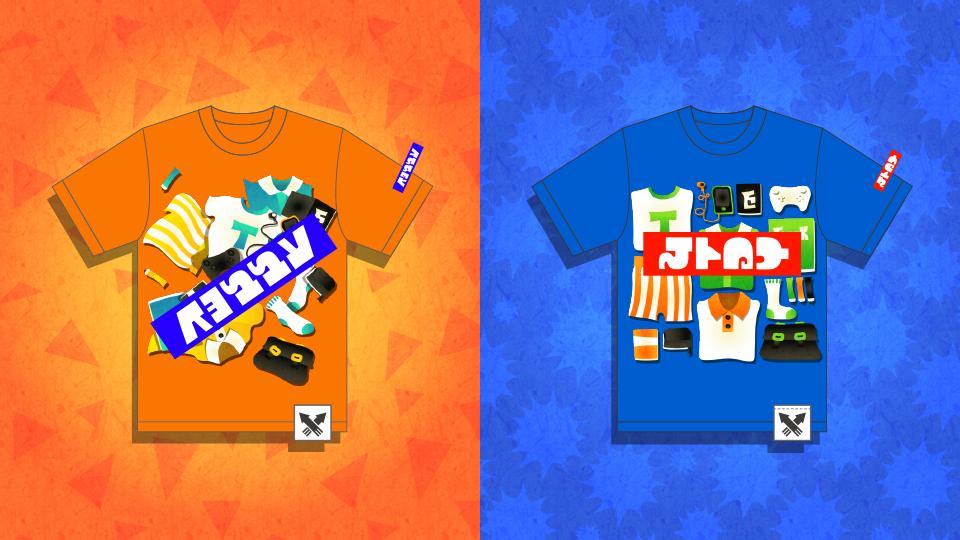 Splatoon's fifth European Splatfest is now up and running. This time around, the two sides are Team Messy and Team Tidy.
Those of you in Europe will have until this time tomorrow to compete in the new Splatfest. Expect the results shortly after it ends.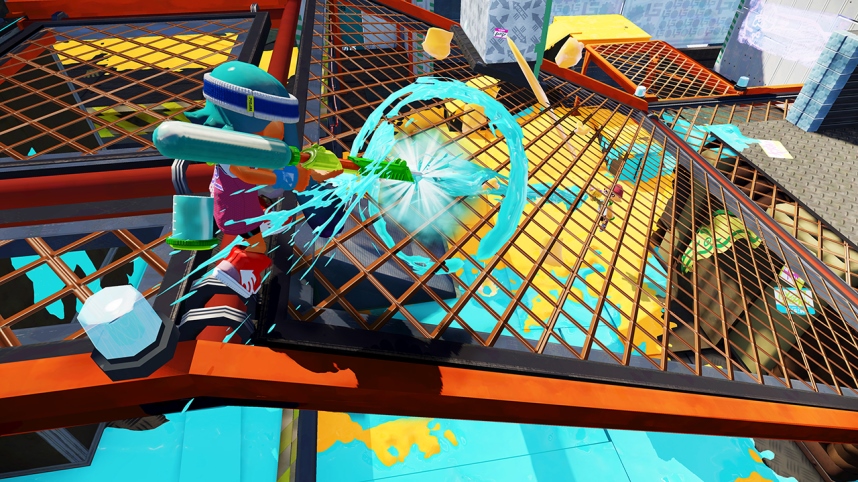 Splatoon's latest map has gone live. Nintendo has added in Hammerhead Bridge, so it's now included in the rotation.
Here's a brief overview of the map:
"Verticality is a feature of the stage, with the terrain split into two distinct layers. Ink assaults can come from any direction, but watch out for attacks from above or below gratings in the floor or ceiling in particular. Battles here are sure to be dynamic affairs playing out in all corners of the stage."
You can get a look at Hammerhead Bridge in video form below.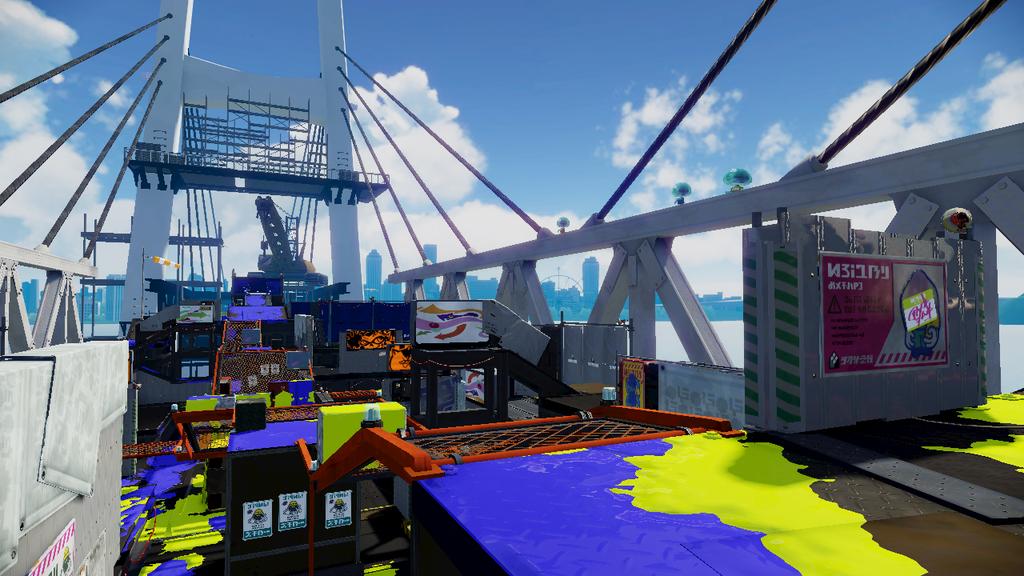 A new stage is being added to Splatoon later today. Via the game's Japanese Twitter account, we've learned that Hammerhead Bridge is going live in just a few hours.
The map will be available at the following times:
– 7 PM PT (Thursday)
– 10 PM ET (Thursday)
– 3 AM in the UK (Friday)
– 4 AM in Europe (Friday)
We have some screenshots from Splatoon's Hammerhead Bridge map below.