Famitsu recently caught up with a few members of The Legend of Zelda: A Link Between Worlds team to gain insight into the project's development. Director Hiromasa Shikata, lead programmer Shiro Mouri, and lead designer Koji Takahashi spoke about a number of topics, including Link's wall-merging ability.
Here's a roundup of what was shared, courtesy of Siliconera's translations:
Shikata on how Link's ability to become a painting and part of a wall came to be…
"The thought of having link become a drawing on a flat surface seemed interesting to me; an idea that came out of nowhere. However, I thought that simply having him be part of a flat surface would've made it no different than a side-scrolling game, so we thought it would be better to have him turn along the corners of the walls, after further consulting with the [other members of staff]."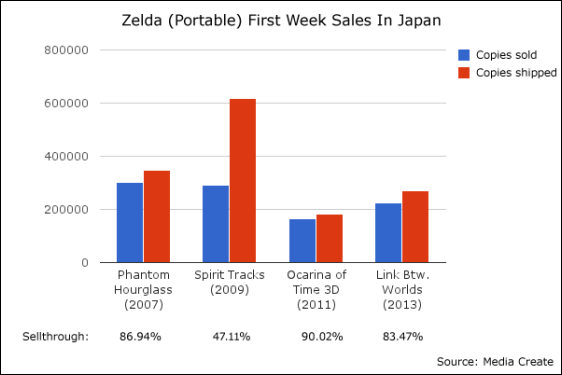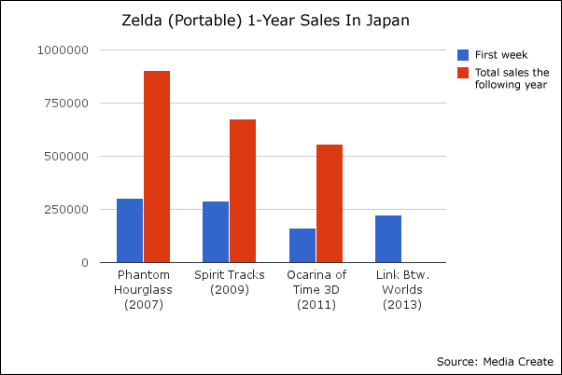 In its first week on the Japanese market, The Legend of Zelda: A Link Between Worlds sold roughly 224,000 copies. This resulted in an 83.47 percent sell-through rate for Nintendo.
A Link Between Worlds climbed to a total of 297,215 units by the end of its second week. The game's shipment sell-through rate also rose to 96.84 percent.
While Zelda: A Link Between Worlds' performance is down compared to Phantom Hourglass and Spirit Tracks, Nintendo has intelligently handled the game's shipments. Spirit Tracks saw an initial shipment of 600,000 copies, but only ended up selling through half that amount for its release. Ocarina of Time, like A Link Between Worlds, was handled much better as the first shipment was slightly more than 182,000 copies, which created a 90.02 percent sell-through rate.
A Link Between Worlds will need steady sales in order to catch up to Phantom Hourglass, one of the best-selling portable Zeldas in recent times. Total sales for the DS title hit 900,000 units in less than two years. Ocarina of Time also sold rather well with sales hitting 560,000 copies by the end of 2012.