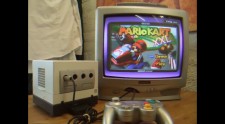 1 week ago
By
Brian
(
@NE_Brian
)
17 Comments
In 2004, Denaris Entertainment created a tech demo for the GBA known as "Mario Kart XXL". It was a means to show off what the GBA was capable of in terms of being able to produce 3D games for the system.
A video surfaced today showing Mario Kart XXL in motion. Give it a look below.
One thing worth mentioning: Manfred Trenz founded Denaris Entertainment. For those who are unaware, Trenz was a designer on the Turrican games.