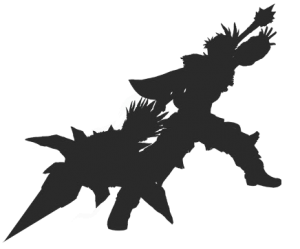 We don't know much about this title other than it is indeed an RPG. More information will be released on August 20.

Activision and EA have announced which games they will be bringing to the GamesCom 2009 event in Germany. We've posted both of the company's lists below.
Activision
– Bakugan
– Band Hero
– Blur
– DJ Hero
– Guitar Hero 5
– Modern Warfare 2
– Tony Hawk: RIDE
EA
– APB
– Army of Two: 40th Day
– Battlefield Bad Company 2
– Brutal Legend
– Command and Conquer 4
– Dante's Inferno
– Dead Space Extraction
– Dragon Age: Origins
– FIFA 10
– Mass Effect 2
– My Sims Agents
– Need For Speed: Shift
– Need For Speed: Nitro
– NHL
– RAGE
– The Beatles: Rock Band
– The Saboteur
– Tiger Woods Online

01./00. [WII] Monster Hunter 3 (Capcom) – 520,000 / NEW
02./01. [NDS] Dragon Quest IX: Defenders of the Starry Sky (Square Enix) – 180,000 / 3,382,000 (-33%)
03./02. [NDS] Tomodachi Collection (Friend Collection) (Nintendo) – 82,000 / 510,000 (+11%)
04./03. [WII] Wii Sports Resort (Nintendo) – 66,000 / 828,000 (-10%)
05./00. [NDS] Puyo Puyo 7 (SEGA) – 52,000 / NEW
06./00. [360] Gears of War 2 (Microsoft Game Studios) – 49,000 / NEW
07./00. [PS2] Hisshou Pachinko*Pachi-Slot Kouryoku Series Vol. 14 CR Shinseiki Evangelion: Saigo no Shimono (D3 Publisher) – 42,000 / NEW
08./00. [PSP] Armored Core 3 Portable (From Software) – 41,000 / NEW
09./05. [NDS] Welcome Home! Chibi-Robo! Happy Rich Big Cleaning! (Nintendo) – 23,000 / 58,000 (-34%)
10./00. [PSP] To Heart 2 Portable Double Pack (Aqua Plus) – 22,000 / NEW

WiiWare
Bonsai Barber (1,000 Wii Points)
VC
The Revenge Of Shinobi (800 Points)
DSiWare
Finally there's City Transport Map Volumes 1 & 2 – 2009 (500 Points)

Lock, Load and Let the Machismo Fly; This Ain®€TMt for Sissies, Folks!

City of Industry, Calif., (August, 2009) – Looking like something out of a Quentin Tarantino movie, the Buckshot™ Pump-Action Shotgun for Nintendo Wii is one of the coolest accessories to hit the video game market since, well, forever. This sucker packs a nasty punch and is sure to inspire the macho fantasies of gamers around the globe.

The Buckshot encases a controller that is similar in function to a Wii™ Nunchuck and uses the pump reload feature to access the B button while the trigger accesses the A button. The rubber grips ensure an easy hold and a fast reload time, making it ideal for such games as Call of Duty 3™, Call of Duty: World at War™, Links Crossbow Training™, House of the Dead 2 & 3 Return™, House of the Dead: Overkill™, Resident Evil: Umbrella Chronicles™, James Bond: Quantum of Solace™, Medal of Honor: Heroes 2™, and much more!


– For DS
– Genterprise handling development
– Releasing November 19, Amazon exclusive
– 3D dungeon RPG
– Map on the top screen
– First-person view on the touch screen
– Somewhat like a realtime experience – ex: boulders will roll at your party even if you do nothing
– Touch screen can be used to examiner traps found in dungeons, solve sliding puzzles

This information comes from Nintendo Power…
"We know a lot of people out there like playing with their friends, with their family, and so we wanted to support that. But the other reason [for the co-op play] is that we kind of wanted to move away from strict survival-horror rules – which are, you're alone, you have to really watch your back, [and] conserve ammo all the time – and move more in the direction of action-horror." – John Calhoun, senior designer of Dead Space: Extraction
As Nintendo Power notes, players will still need to be aware of ammo supplies, as gamers will use ammo from one pool.

– Called Luminous Arc 3: Eyes
– Image Epoch is the developer
– Yasunori Mitsuda is the sound producer
– Strategy RPG
– Isometric perspective
– Control units, destroy the enemy in a number of stages, interact with students/rivals in between fights
– Story: You're a student from the Ulgard Magic Academy
– Branching ending paths depend on the types of friendships/rivalries
– Releasing in Japan this winter