Gematsu has translated another round of details about Bravely Second. The latest information covers asterisk holders that haven't been spoken about much recently, and the Kapu Kapu Maker mini-game that we touched on a bit earlier in the week. View the full overview below.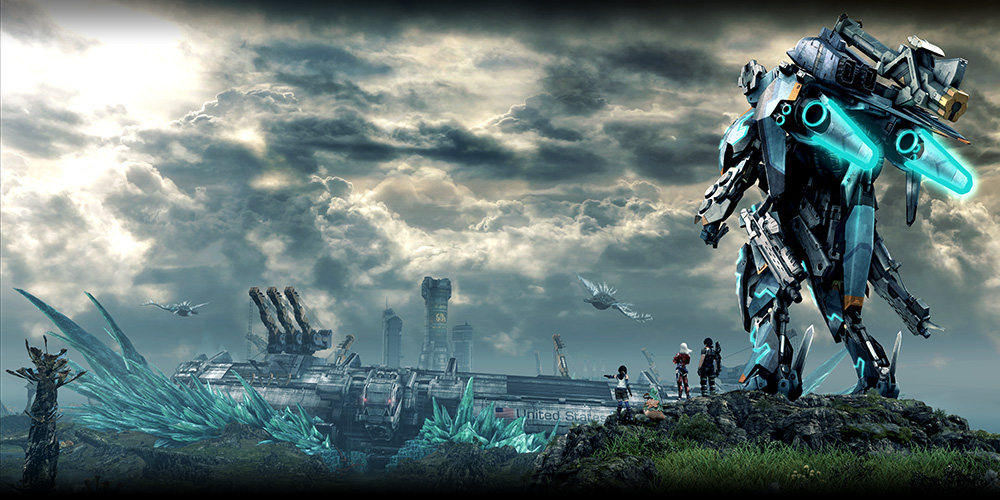 Listings on VGMdb reveal details about soundtracks for both Xenoblade Chronicles X and Bravely Second.
Xenoblade Chronicles X's soundtrack is due out on May 20 for 4,298 yen. Five CDs are included. We know that DefSTAR RECORDS is publishing the soundtrack, and of course, Hiroyuki Sawano is the composer.
Bravely Second's soundtrack is apparently set to arrive on May 20 as well, though we don't have pricing information currently. Two CDs are included. Additionally, Square Enix is publishing the soundtrack directly.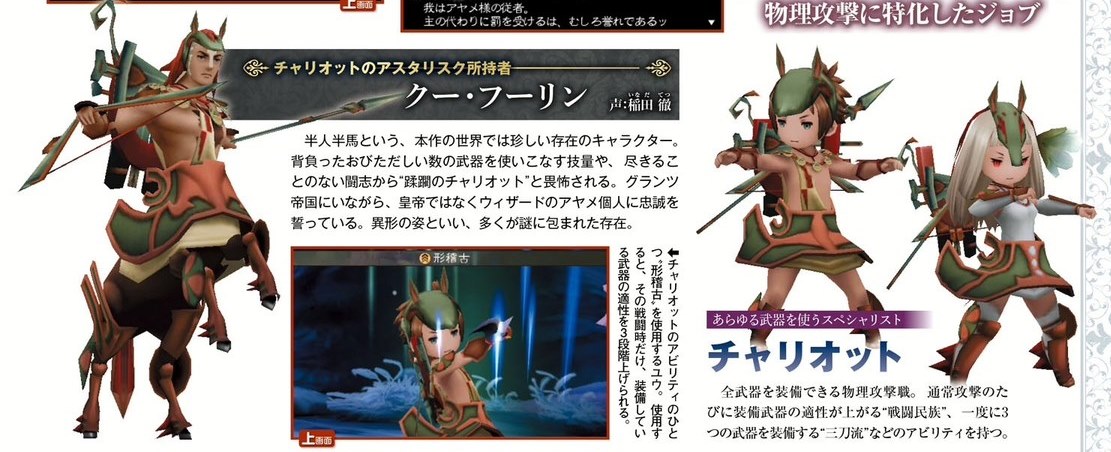 Famitsu has a big update on Bravely Second this week. Among other things, the magazine provides first information about the Chariot job.
The Chariot job is described as a physical attacker who can use all types of weapons. Their abilities include "Fighting Race", which raises the aptitude for equipped weapon for regular attacks. There's also "Three-sword School". This allows them to wield three weapons temporarily.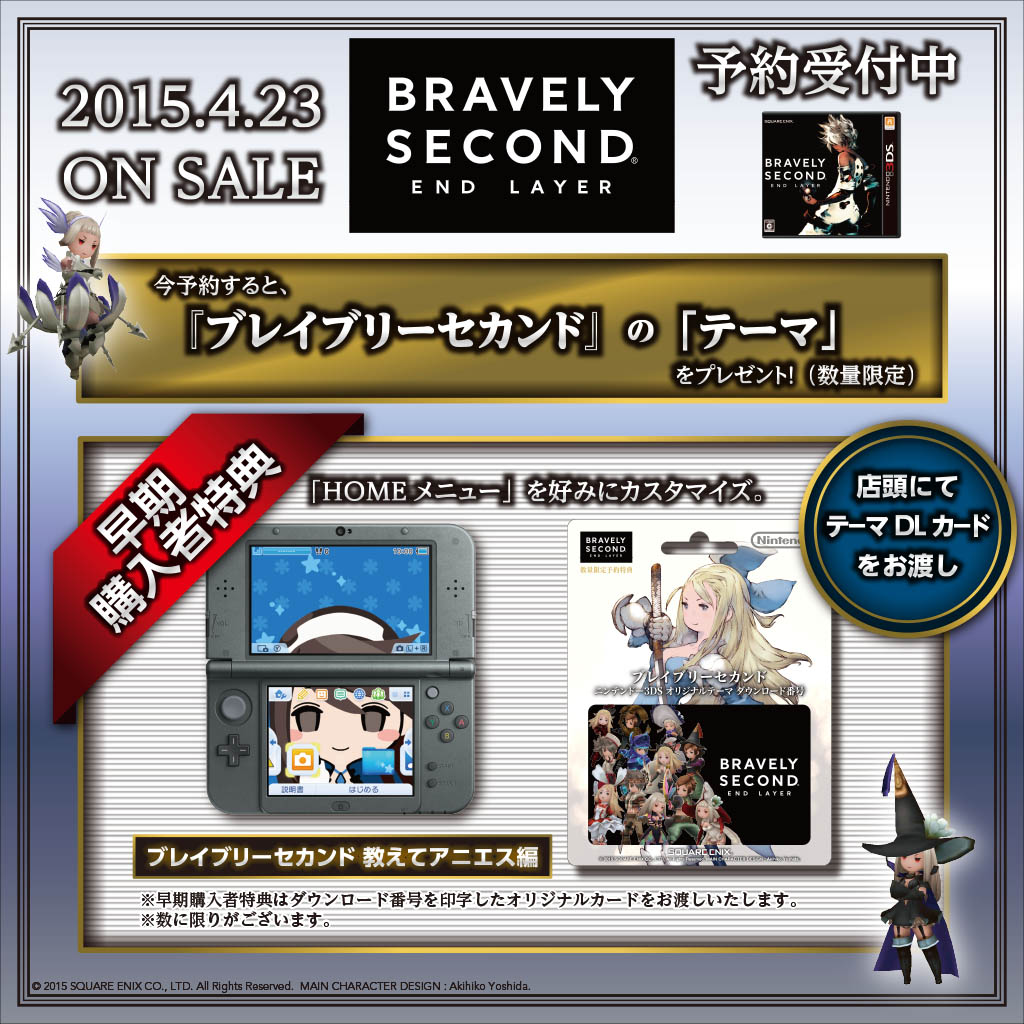 Square Enix is preparing a new 3DS theme for Bravely Second. By purchasing the game early, fans can obtain this special bonus – either physically or digitally.
A download code for the theme will be found on a special card included with Bravely Second (shown below), though quantities are limited. Those who buy digitally will receive a code on their receipts until May 31.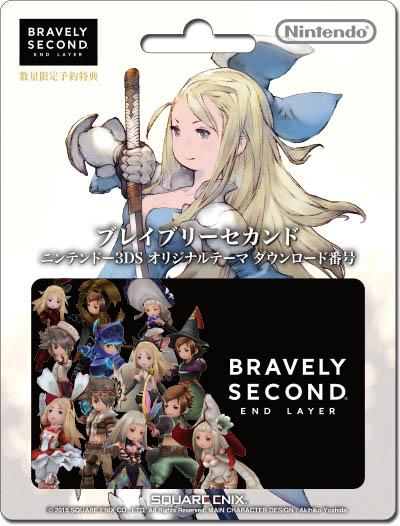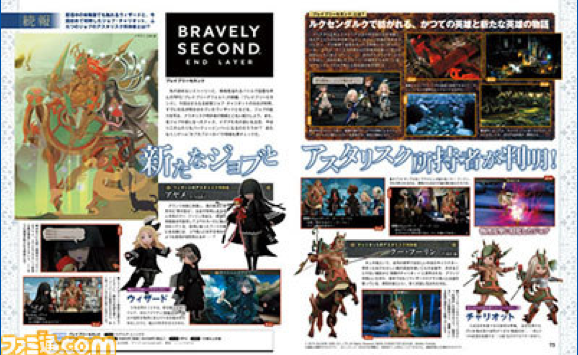 In this weeks Famitsu issue we will be seeing an article that talks about some new information on Bravely Second: End Layer.
One of the new pieces of information we will see talks about new jobs:
– Chariot, with a focus on physical attacks; its asterisk holder is named Cú Chulainn (voice: Tetsu Inada)
– Wizard, its asterisk holder is Ayame (voice: Akiko Yajima).
The article also gives more details on new returning asterisk holders (Barbarossa and Praline à la mode), as well as the CapCap Maker mini-game.
In a new interview with Dengeki, Bravely Second producer Tomoya Asano and assistant producer Shinji Takahashi discussed the game's new jobs (thanks Siliconera). The title introduces jobs such as Cat Master, Patissier, Exorcist, and much more.
Asano first spoke about jobs with the following words:
"Whenever we start thinking about new jobs, we start out by keeping the entire game's balance in mind. We'd like to have this many attackers; there should be this number of offensive mages; let's stick to this number for healers… these are some of the thoughts that go into the balancing. One important thing of the Cat Master in particular is how we created it to be a 'playing around' type [of class]."
Asano added that although Cat Masters were originally created just to have fun with, they ended up being pretty strong. They're fine at attacking and can provide support.
Head past the break for even more job quotes!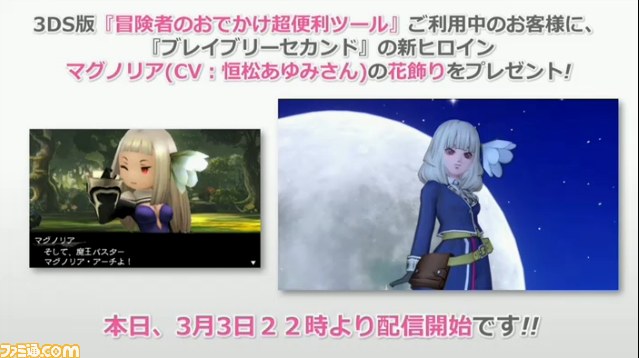 Square Enix has created a new Dragon Quest X collaboration that features an item from Bravely Second. Fans can obtain the flower Magnolia Arch wears.
Getting the item is simple. 3DS owners need to play through the Bravely Second demo, open the Dragon Quest X Convenient Tool For Adventurers On the Go application, and select the option to receive a gift. The flower will then appear in the Dragon Quest X post office.