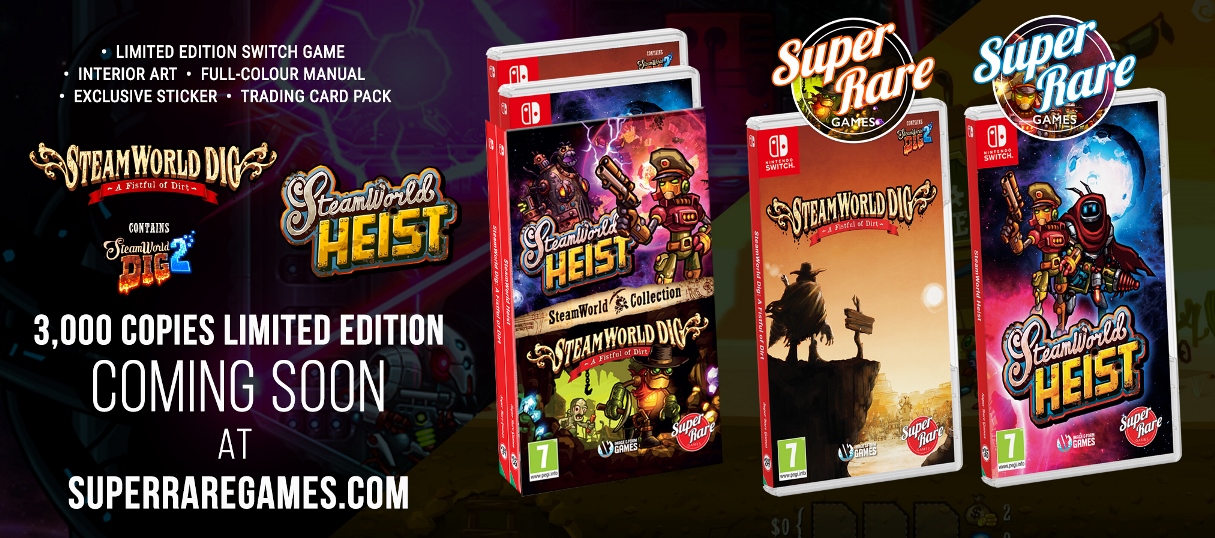 SteamWorld Heist: Ultimate Edition was previously confirmed to be getting a physical release on Switch. Super Rare Games made an official announcement today, and also revealing that SteamWorld Dig will have a boxed version as well.
Pre-orders open through Super Rare Games' website on July 9 at 10 AM PT / 1 PM ET / 6 PM in the UK / 7 PM in Europe. SteamWorld Dig will be getting 5,000 total copies while SteamWorld Heist: Ultimate Edition will see a total of 6,000 units. A collector's double pack will also be available.
Each release includes a full-color manual, interior artwork, an exclusive sticker, and three trading cards randomly selected from a five card set.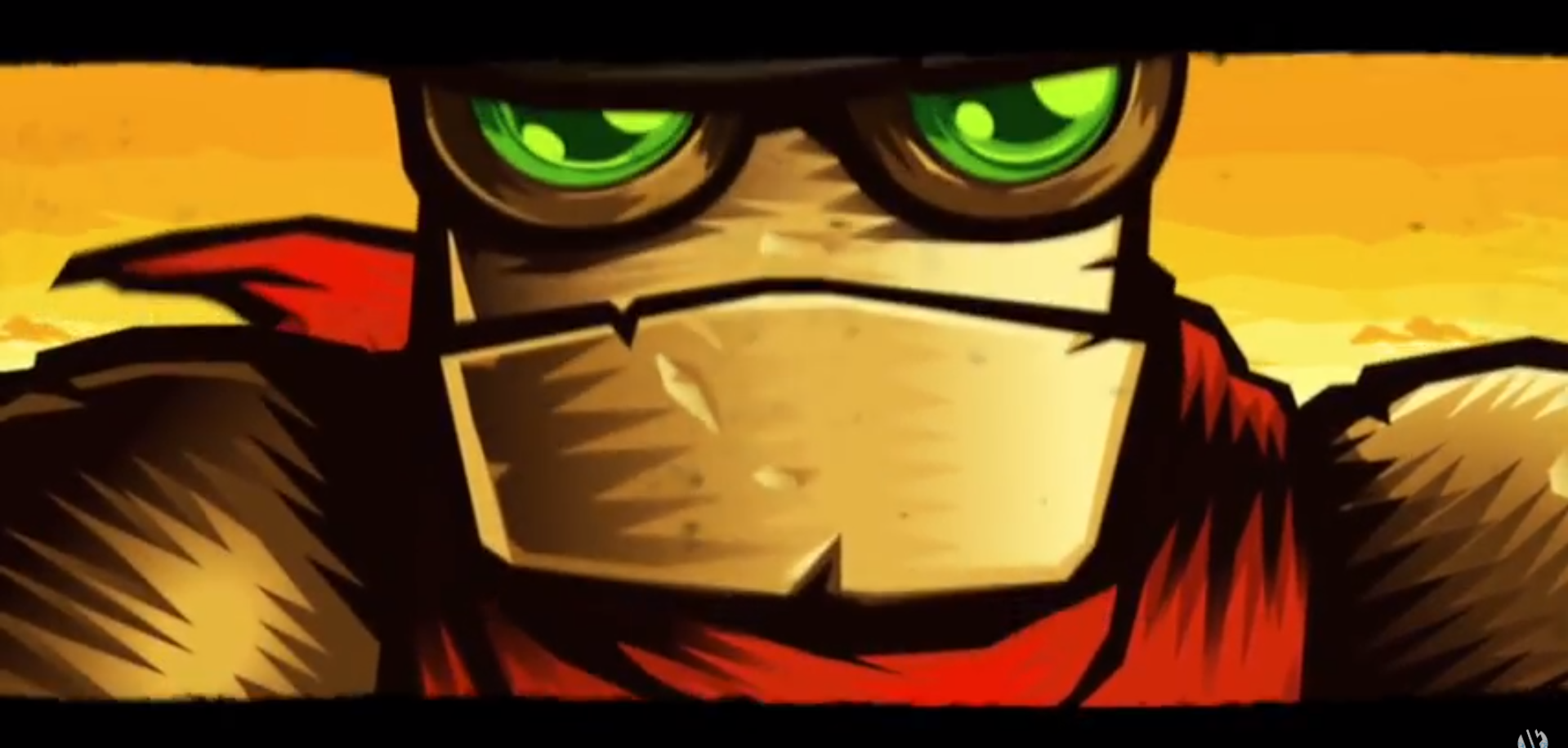 By now, we all know what SteamWorld Dig is all about, or at least heard the name. When the first SteamWorld game released in 2013, it received rave reviews across the board. But that doesn't stop hype from generating from a new trailer, so please, feast your eyes on the below.
SteamWorld Dig: A Fistful of Dirt will release on the Switch on February 1. I can dig that.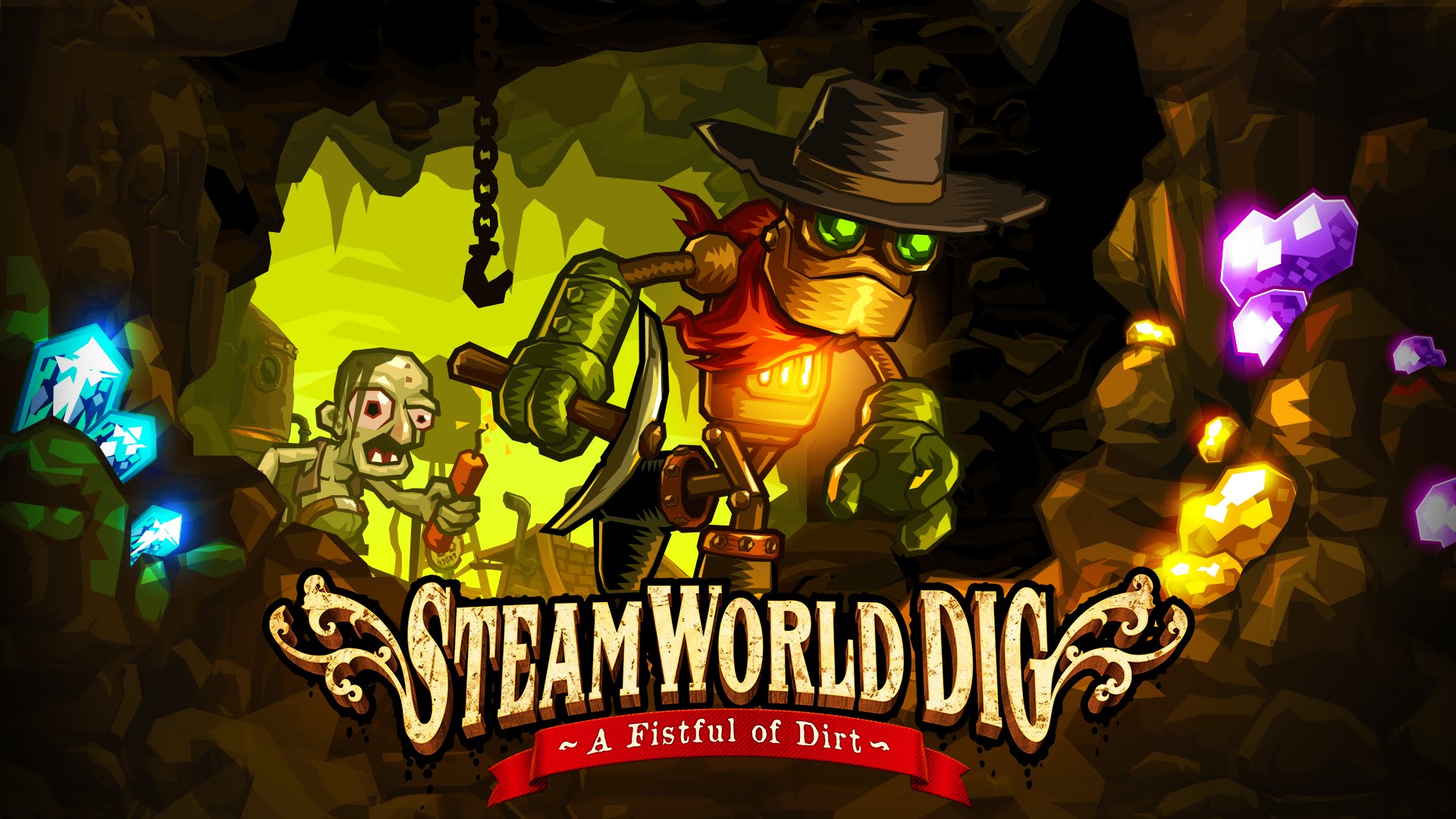 On Thursday, the first SteamWorld Dig will be added to the Switch eShop in both North America and Europe. Take a look at some footage below.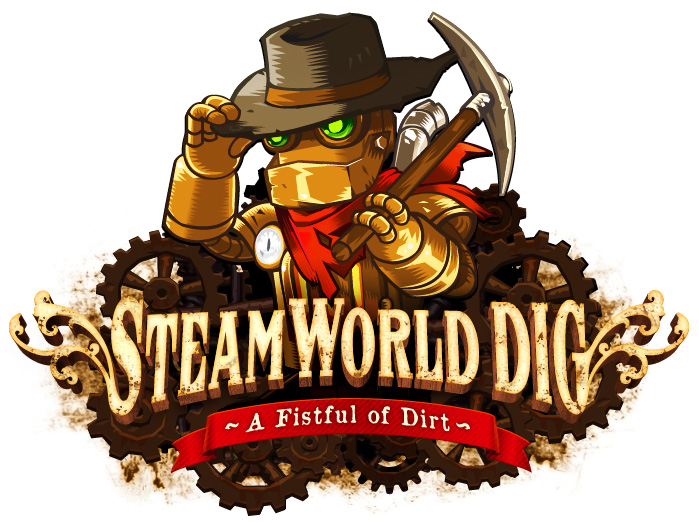 On an episode of Daan Koopman's eShop Action Committee podcast, Image & Form's Brjann Sigurgeirsson has announced that the original SteamWorld Dig will be released on Nintendo Switch on February 1st. On the North American eShop, the game will cost $9.99.
SteamWorld Dig was originally released on Nintendo 3DS back in 2013 and was later ported to other platforms. Its sequel, SteamWorld Dig 2, was one of the most commercially successful and critically acclaimed indie games on the Switch last year.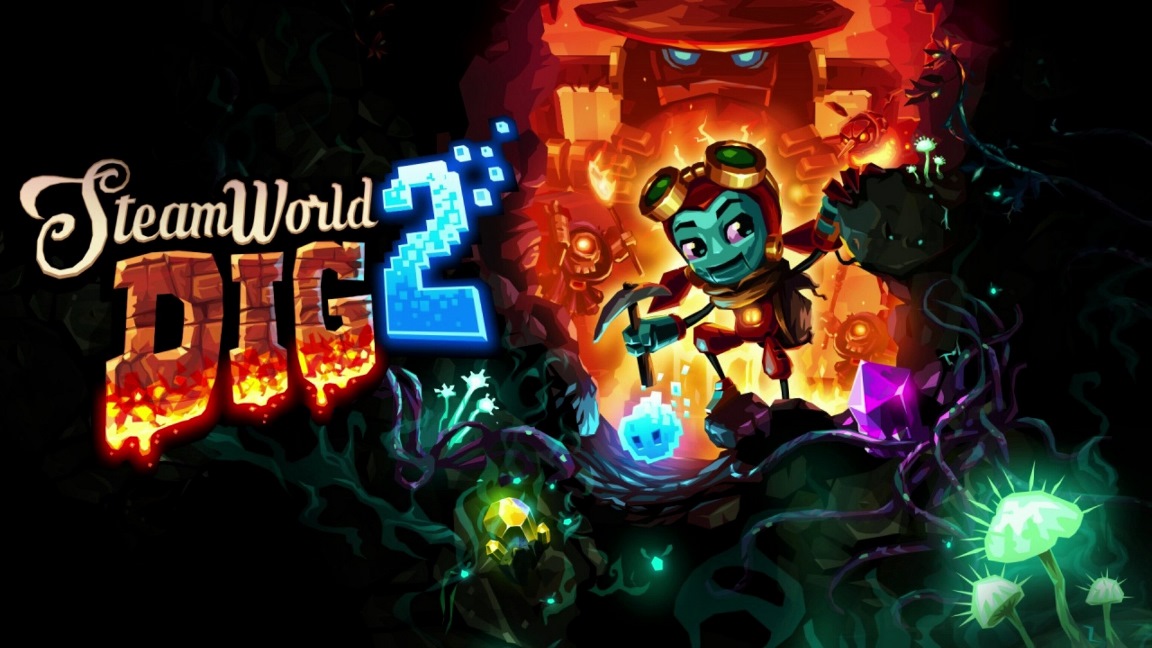 Kotaku caught up with Image & Form CEO Brjann Siegurgeirsson for a look back on the original SteamWorld Dig as well as its sequel. While speaking with the site, Siegurgeirsson revealed that the first game has sold over one million copies collectively.
One reason that SteamWorld Dig did so well is Nintendo's promotion of the game. Siegurgeirsson spoke about how having it featured in a Nintendo Direct a few years ago boosted visibility: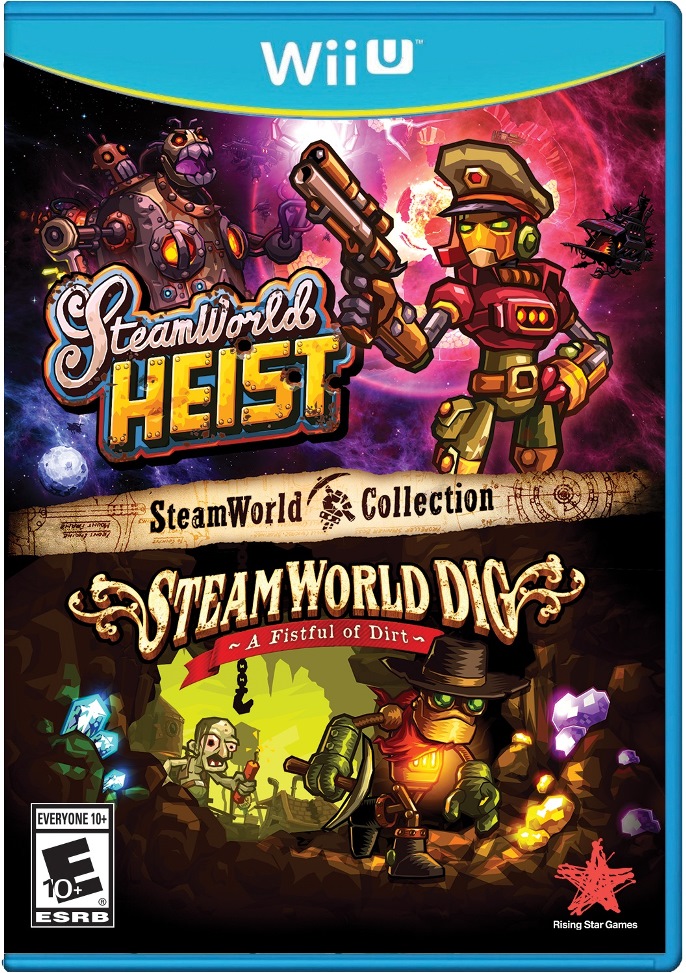 SteamWorld Collection, the physical bundle that contains both SteamWorld Heist and SteamWorld Dig, was originally slated to launch on October 11th in North America. However, the game has now suffered a slight delay – publisher Rising Star Games had to push the game's release back to November 1st because of "manufacturing delays".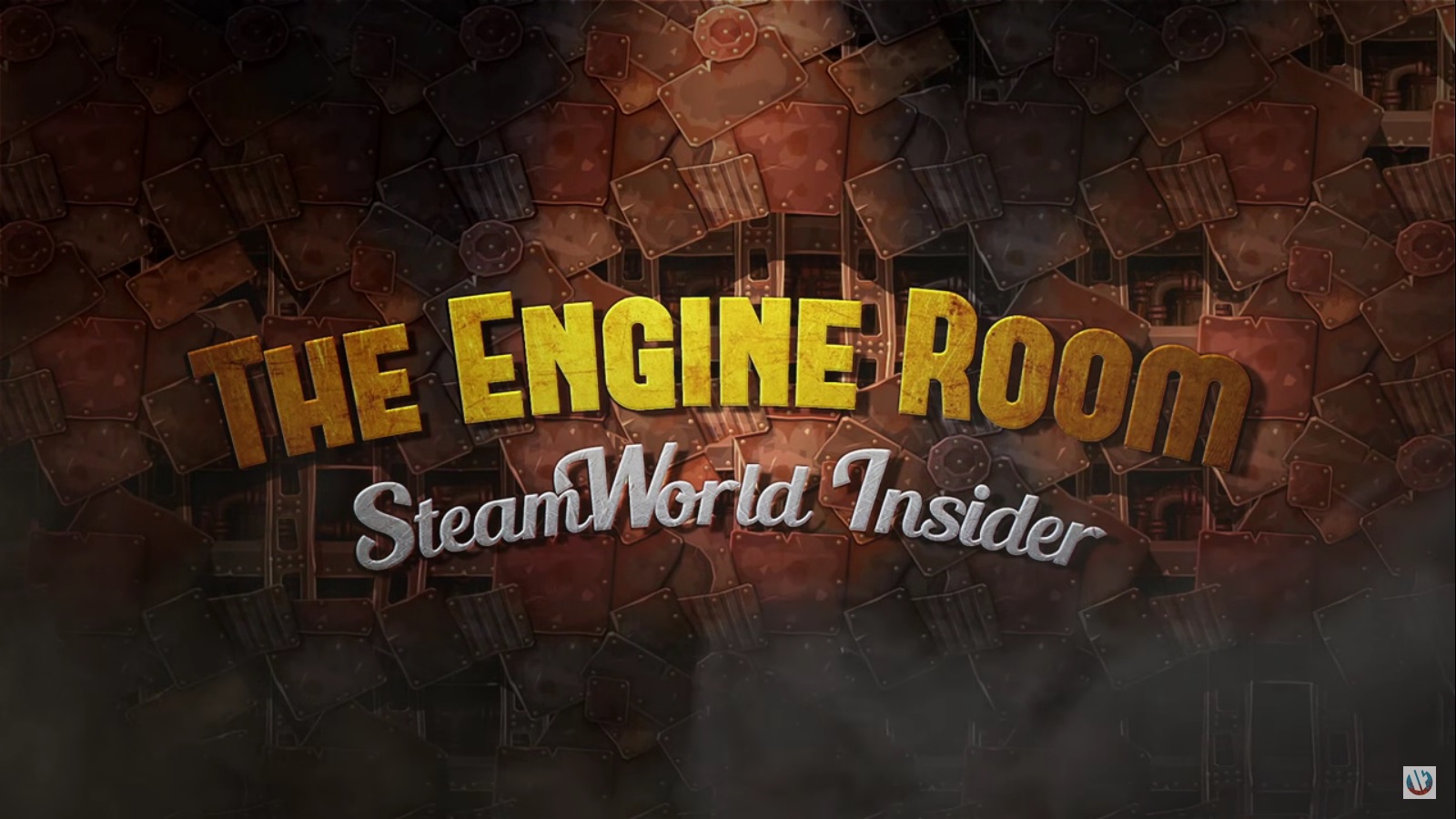 Image & Form is back with another episode of its video series "The Engine Room". Today's edition contains plenty of talk about SteamWorld Heist on Wii U as well as the recently-announced SteamWorld Collection. Check it out below.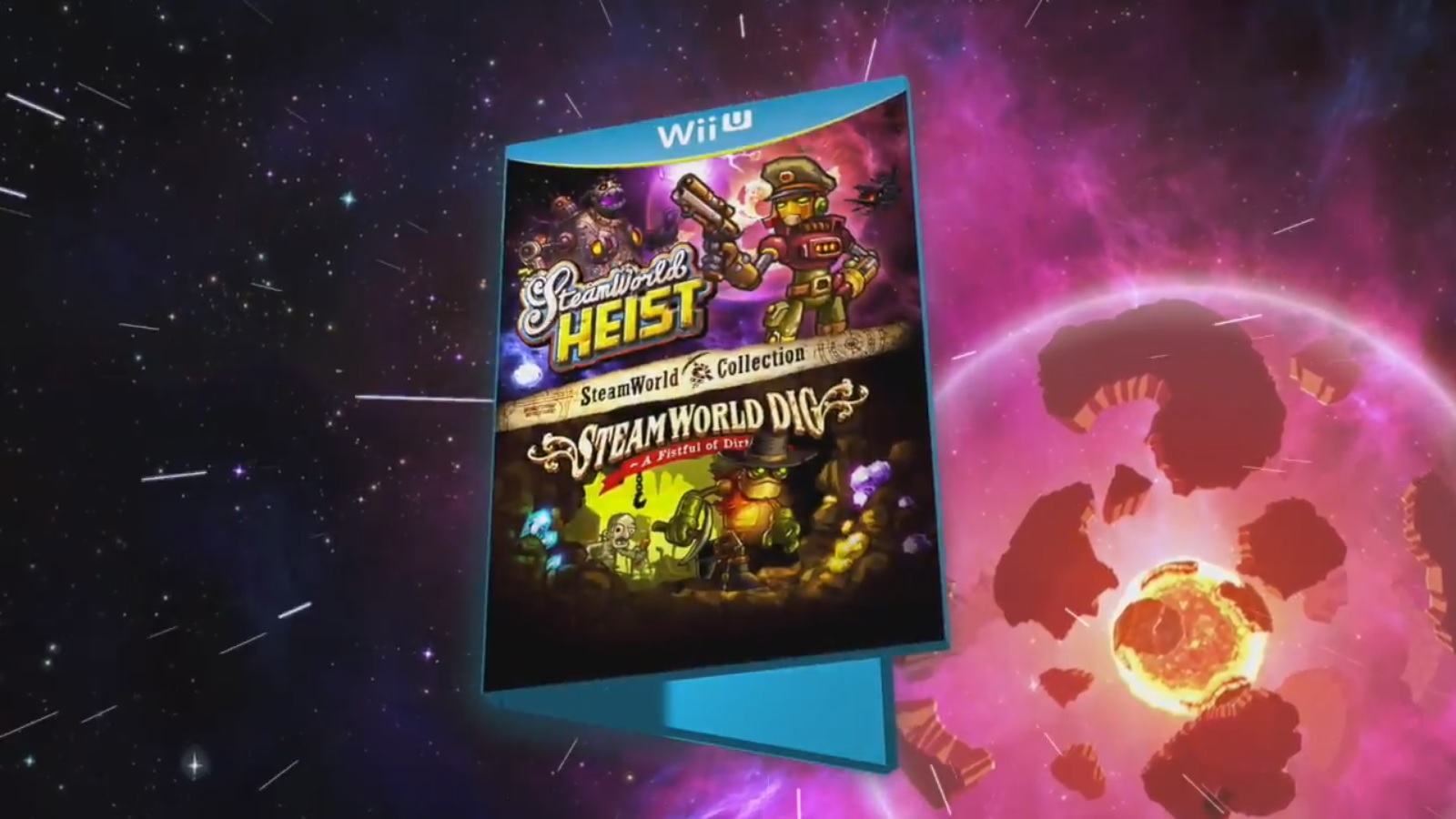 SteamWorld Collection was recently announced for both North America and Europe. It's a physical version bundling SteamWorld Dig and SteamWorld Heist together. SteamWorld Collection will be included in a new "eShop Selects" label in Europe, while Rising Star Games is handling it in North America as a standard release.
We already knew that SteamWorld Collection would be heading to Europe on September 30. In North America, Image & Form has now confirmed a launch date of October 11.
Here's a teaser video that also gives a quick look at the boxart:
SteamWorld Collection for Wii U hits stores on Sep 30th (EU) and Oct 11th (NA). Will you play Heist or Dig first? pic.twitter.com/sVGHkR9NfA

— Image & Form Games (@ImageForm) August 5, 2016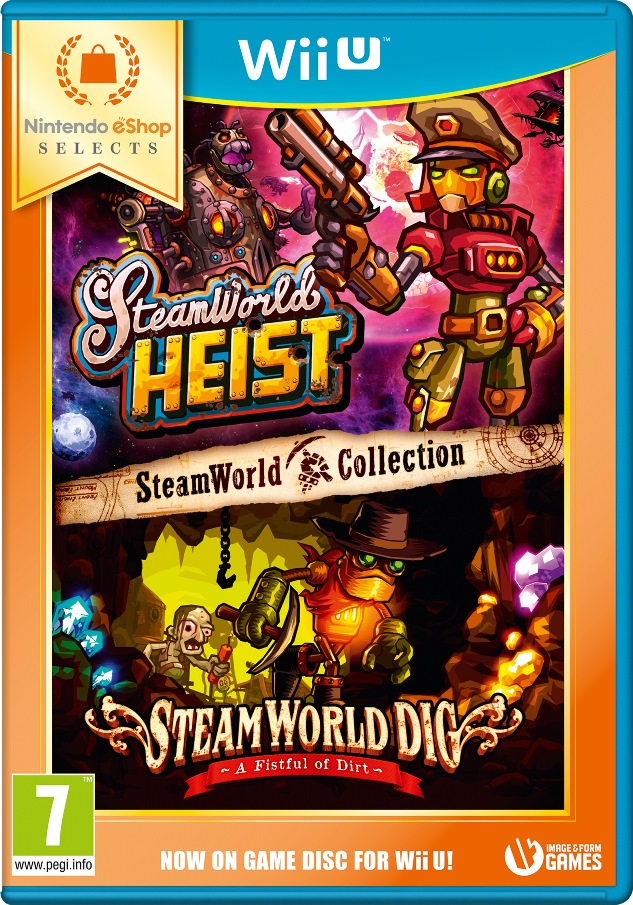 It was announced earlier today that SteamWorld Heist and SteamWorld Dig are getting a physical version in Europe as the packaged "SteamWorld Collection". The boxart is now available, which we've attached above.
And good news for folks in North America. Image & Form confirmed through Twitter that SteamWorld Collection is being released stateside, courtesy of Rising Star Games.
Here's the official news:
SteamWorld Collection disc coming to Wii U publ by @NintendoEurope. Also coming to Americas via @RisingStarGames! RT pic.twitter.com/J9I02s2NXi

— Image & Form Games (@ImageForm) July 26, 2016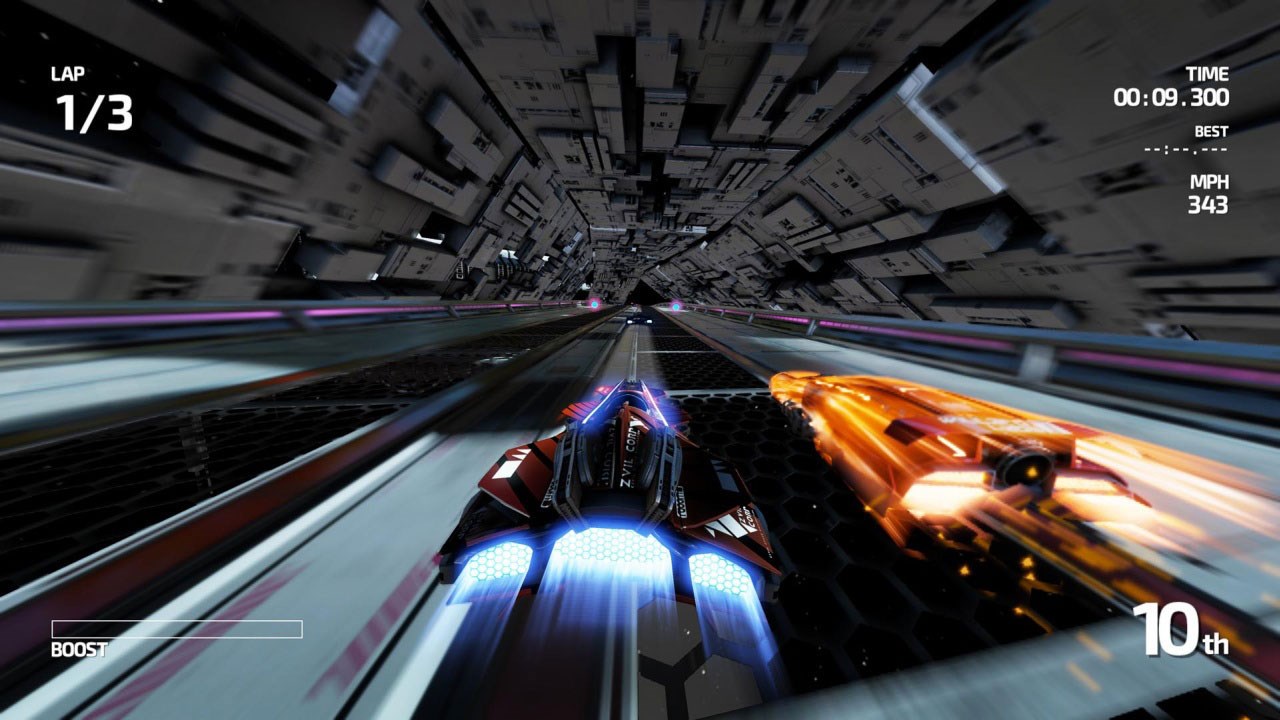 Nintendo announced today that Shin'en Multimedia's FAST Racing NEO and Image & Form's SteamWorld Collection (which includes both SteamWorld Heist and SteamWorld Dig) will get a retail release in Europe as part of the "Nintendo eShop Selects" on September 30th.
FAST Racing NEO's retail release will also contain the eight new courses of the upcoming NEO Future Pack DLC. Those who already own the digital version will also get access to the NEO Future Pack on September 30th.
Similarly, the SteamWorld Collection retail release will also contain the SteamWorld Heist add-on The Outsider, which launches on September 30th as well.
Prices for both games have not yet been announced.
Source: Nintendo PR