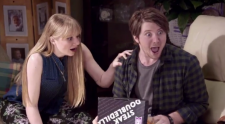 3 hours ago
By
Brian
(
@NE_Brian
)
5 Comments
At this point, I'm sure most of you are familiar with the N64 kid. But just in case you have no idea what I'm referring to, check out this video:
That video was uploaded over nine years ago, and has gained millions of views on YouTube. It goes to show how much it meant to that person having received a N64 for Christmas!
Brandon Kuzma and his sister Rachel, who are now 25 and 22 respectively, recently starred in a new Taco Bell commercial that attempts to recreate the same scene as shown in the original video. View it below.