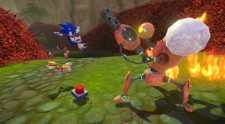 8 hours ago
By
Brian
(
@NE_Brian
)
0 Comments
Nintendo recently held a media event to showcase its upcoming holiday lineup for Wii U and 3DS. There were a few games on hand like Super Smash Bros. for Wii U and Pokemon Omega Ruby/Alpha Sapphire. Sonic Boom was also featured, complete with a presentation from SEGA.
There was one noteworthy tidbit shared during the Sonic Boom presentation. According to GameTrailers' Kyle Bosman, the company revealed that players will be able to unlock an extreme difficulty mode after clearing the game once. However, what exactly makes the mode "extreme" is currently unknown.
SEGA did stress that it's targeting the core audience with Sonic Boom, and there will be difficult portions of the game. There were also frequent mentions of Jak and Daxter. You won't be running through levels too often, as Sonic Boom is primarily a slower-paced adventure experience. There will also be hub worlds that can be expanded over the course of the game.